Chat with Chamique Holdsclaw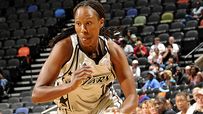 Holdsclaw won gold as a member of the 2000 Olypmic team.
Welcome to SportsNation! On Tuesday, San Antonio Silver Stars forward Chamique Holdsclaw stops by to chat as part of ESPN.com's tribute to Black History Month.
Holdsclaw, an 11-year veteran of the WNBA, was selected by the Washington Mystics with the number one overall pick in the 1999 WNBA Draft. Averaging 16.9 points and 7.9 rebounds, she was named Rookie of the Year and was the first and only female athlete to appear on the cover of Slam Magazine.
A four-time Kodak All-American, Holdsclaw finished her career as Tennessee's all-time leading scoring (3,025) and rebounder (1,295) in men's or women's history. She's led the Lady Vols to three straight NCAA Championships while becoming the all-time leading scorer and rebounder in NCAA women's tournament history.
Send your questions now and join Holdsclaw Tuesday at 1 p.m. ET!
More Special Guests: Previous chats | SportsNation
Buzzmaster
(12:56 PM)
Chamique is here!
kevin (macon ga)
You came into the WNBA with a lot of hype. Do you think your career has lived up to those expectations?
Chamique Holdsclaw
(12:57 PM)
I think I've had a great career. I didn't win a championship or MVP award. I thought the expectations were kind of high. But I feel good that I went out there and did the best I could possibly do.
Jerry (Atlanta)
How's the rehab on your achilles going? Are you expecting to play in the WNBA this upcoming season? If you are, have you decided what team you're going to play for?
Chamique Holdsclaw
(12:57 PM)
My rehab is going well. In the back of my head, I have plans to play this season. The doctor and everyone has marveled at how I've recovered.
kevin (macon ga)
What's the biggest difference in the WNBA compared to 10 years ago?
Chamique Holdsclaw
(12:58 PM)
I think the athleticism. It's a pro league that's lasted. Young girls now can work to play in the WNBA. The players are a lot more skilled. They're 6-4 and athletic. Women can dunk now.
Laura (NJ)
What's your biggest challenge?
Chamique Holdsclaw
(12:59 PM)
My biggest challenge when getting ready for the season, especially as you get older is mentally preparing yourself. The easiest thing is to get in shape and take care of your body. But mentally, we play a lot of games in a short amount of time. We don't get to travel charter like the men!
Matt (Sandusky, OH)
As one of the most versatile players in the WNBA, you have been asked to play every position on the court at one point or another during your time in the league. How would you rank all five positions from your most favorite to your least favorite to play?
Chamique Holdsclaw
(1:00 PM)
My favorite position is going to play small forward. I think I have the ball handling skills. I can take advantage of my size. When you play PG, I don't want to be chasing these quick players around the court.
Victor (monroe,la)
chamique what was it like being with the lady vols and do you and coach summit still talk to eachother?
Chamique Holdsclaw
(1:01 PM)
Yes, I talk to coach often. It was a great experience. There was a lot of hype around our program. Even after you graduate and leave the school, you appreciate her even more. She does a great job of molding young women and that's why my grandmother sent me there.
chef (atlanta)
how do you think the ladyvols will do this season?
Chamique Holdsclaw
(1:02 PM)
Right now, that top four, top five, there is a lot more parity in the game these days. I hope they do better than last season and go and get deeper into the tournament.
Pete (RI)
What does February and BHM mean to you?
Chamique Holdsclaw
(1:03 PM)
It means a lot to me. I just remember growing up and my grandmother would say to me, the opportunities that I have as a woman, I didn't have those opportunities. Even a few years before I was born, the opportunities weren't there. It's a chance to show respect. It's one month, but when I was going to school, all the time it's American history. Honor it, but honor it throughout the year, not just during one month.
chef (atlanta)
who would say in Black History had an impact on your life?
Chamique Holdsclaw
(1:05 PM)
There are so many. Being here in Atlanta, I've really had a chance to meet Dr. King's sister at the Town Hall Meeting. I met her and I didn't realize who she was. She met me and she told me she thought I was a good player. But there is so much to Dr. King and being here in Atlanta, you get to see his legacy first hand. It's inspiring.
Nathan (Missouri)
Hey Chamique, what are you looking forward to this upcoming season?
Chamique Holdsclaw
(1:05 PM)
First and foremost, just being healthy. That's my mindset. Coming back from a torn Achilles. I've had to put a lot of effort into this comeback. I don't want to have pressure to rush things and push ahead.
Kyle (VA)
What do you think of thise situation with Taurasi? Make players think twice about going overseas?
Chamique Holdsclaw
(1:07 PM)
I don't think so. I think Diana is a great player. I haven't followed it much. You have to wait for things to settle down. She's innocent now. It's just someone trying to paint a bad picture. This was an isolated event. All of the years that we've been going over there, I haven't heard of anything like this before.
Shawn (Detroit,MI)
When you retire from the game, would you go into the coaching area or stay as an sports analysts?
Chamique Holdsclaw
(1:08 PM)
We have a lot of Lady Vols in coaching. The last couple of years, they've asked me if I want to coach and they have a position open. Right now, I'm just enjoying the game. After basketball, I want to work with youth programs. I could see myself coaching high school. I want to work with kids. I have a great connection with them. I could see that in my future.
Kim (NY)
Can you talk about the legacy of Pat Summit and what it means for Womens College Basketball?
Chamique Holdsclaw
(1:09 PM)
Wow. When you think of the Lady Vols, you think of the sisterhood of togetherness. What she's done at Tennessee has really helped the game of women's basketball evolve. She's shown that women can be successful and put the programs in an elite level. So much greatness has gone before you.
Chamique Holdsclaw
(1:10 PM)
I just want to say I appreciate all of the fans. Through my ups and downs, you've remained supportive to me. I'm just glad I can go out there and be an inspiration to others.