Chat with Victoria Azarenka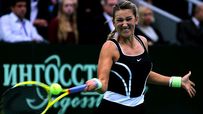 Azarenka has over $5 million in career prize money.
Welcome to SportsNation! On Wednesday, we're going to chat with the No. 9 ranked player on the WTA Tour, Victoria Azarenka.
Azarenka, a 21-year-old from Belarus, enters the 2011 BNP Paribas Open in Indian Wells, Calif. as the No. 8 seed. For her career, Azarenka owns five singles titles and four doubles titles, including the 2009 tournament at Indian Wells with Vera Zvonareva.
Send your questions now and join Azarenka Wednesday at 3 p.m. ET!
More Special Guests: Previous chats | SportsNation
Buzzmaster
(2:55 PM)
Victoria Azarenka will be here at the top of the hour to chat!
jeanette (okc, ok)
thanks for the great exo last night! was roger's, rafa's or mcenroe's serve difficult to return? what fun was that for you!!
Victoria Azarenka
(3:05 PM)
It was a really great experience. The atmosphere was amazing. The crowd was great. It was a lot of fun playing. Roger served one that I couldn't return. It was tough.
chad ashing (texas)
how do you stay focused on tennis with the fame you have recieved?
Victoria Azarenka
(3:06 PM)
I think it's a good question. But it depends on how you adjust to it. I'm the same person that I was before. It's nice to get attention from people, but staying focused on tennis is not hard.
maria (minsk)
good luck in Indian Wells!!!!!What improvements have you made since linking up with new coach Sam Sumyk?
Victoria Azarenka
(3:06 PM)
Thank you for the good luck. We've been working on a lot of things. We're looking for some new things to improve, especially now a lot on the serve. We hope to see more improvement and bring more to the game.
Cole Steele (London)
Which surface do you play your best tennis on?
Victoria Azarenka
(3:07 PM)
My best tennis, I think it always depends on the preparation for a particular surface. But I think hard court is one of my favorites.
Brian Carr (United States)
Do you feel pressure being considered one of the most promising younger players along with Caroline Wozniacki?
Victoria Azarenka
(3:08 PM)
I think there is a little bit of pressure from people outside, but I try to take it in a good way. I look at it as potential to play well. I am on a journey with myself and my fans. I'm not looking too far ahead and am staying in the present.
Tom (St. Louis)
What is your favorite place you've got to travel to becasue of playing on the WTA tour?
Victoria Azarenka
(3:09 PM)
Normally, it's home, because you don't get to be there much. But one of my favorite cities is New York. I absolutely love that city. I hope to one day live there.
Abraham (Austin, Texas)
What's your favorite dish?
Victoria Azarenka
(3:10 PM)
My most favorite thing that kills me every time is ice cream. This is one thing I can not resist. I try my best. That's my favorite thing there is. One of the other things I love is salmon. It's healthy and good to eat.
Dot (North Carolina)
Are there times when you and the coach disagree on things? If so, how do you both solve the issue? I've always wondered about these situations
Victoria Azarenka
(3:10 PM)
Yeah, definitely. You can never be always agreeing on stuff. You just have to be respectful of each other and talk it out. There are always disagreements. That's normal.
Tyler Gibson (Thomasville, NC)
What is your dream tournament to win in your career?
Victoria Azarenka
(3:11 PM)
That would definitely be one of the Grand Slams. I don't care which one. I just want to win one!
Victoria Azarenka
(3:11 PM)
That's a good question, because hopefully one day we have a tournament in Belarus. That would be special to win that one.
Deepa (Louisville, KY)
Hello Vika! I am so excited to be coming to Indian wells this saturday! My friend and I are coming to 2 exciting days of the tournament for our spring break. Are there any cool events you are doing that we should check out?
Victoria Azarenka
(3:12 PM)
I just came here yesterday from the Nike Clash of Champions out in Eugene, OR. Besides that, I'll just be practicing on the outside courts. Hopefully you can get a chance to see me.
Tommy (Wisconsin)
Which is more important to good ranking in WTA, staying healthy or good results in grand slam?
Victoria Azarenka
(3:13 PM)
It's not just one thing or another. So many things have to come together and some times you need some luck. It's hard work. With all of this travel. But health is very important. Without that, you can't do anything.
Jeff (michigan)
How disappointed were you with the results in Dubai and Doha recently and how do you feel know going into Indian Wells and Miami compared to a few weeks ago?
Victoria Azarenka
(3:14 PM)
I was disappointed. But I didn't take it that serious, because there is another week and something else to move on to. There is always a future ahead and the present right now. I'm looking forward to my next tournament and not worry about what happened.
Jay Roberts (Saint Louis, MO)
Victoria,When you have lost a tight 3 set match, what would you do to emotionally recover for the next tournament?
Victoria Azarenka
(3:15 PM)
Yeah, definitely. I've lost 7-6 in the third. 12-10 in the third. You have to take the positive first. It hurts to lose that way, but you fought and gave it all. It's definitely very hard. It's what makes the difference between a player in the top 100 and in the top 10.
Mario (Texas)
What do you think is the weakest part of your game, and how are you trying to improve that aspect?
Victoria Azarenka
(3:16 PM)
Everybody has weaknesses, but no one likes to talk about it. There are things that I need to improve. I'm working on my serve to improve it. I'm always working on my game. That's what's exciting about it.
Victoria Azarenka
(3:17 PM)
Thanks for all of the questions. It was fun to answer. Hope we can do it again some time soon!