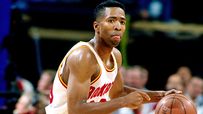 As a freshman at UNC, Smith averaged 9.1 ppg and 5.0 apg.
Welcome to SportsNation! On Monday, former NBA player, and North Carolina Tar Heel, Kenny Smith stops by to chat about his work covering the NCAA Tournament with TNT and CBS.
Smith won an NCAA title as a freshman on the Michael Jordan-led 1983-84 Tar Heel team. He went on to be the sixth overall pick in the 1987 NBA draft. Smith had a 10-year NBA career, winning two titles with the Houston Rockets. He's been with TNT since 1998.
For the 2011 NCAA Tournament, Smith is working with Coke Zero to produce the "Coke Zero Social Arena," an interactive, online experience for fans in following the tournament.
Send your questions now and join Smith Monday at 2 p.m. ET!
More Special Guests: Previous chats | SportsNation
Buzzmaster
(2:00 PM)
Kenny will be here shortly to take your questions!
Buzzmaster
(2:02 PM)
Kenny is here!
Stephen (Tampa)
Can Duke repeat this year? SIngler and Smith are seniors who have been there, with a talented group of youngsters around who seem to be jelling at the right time.
Kenny Smith
(2:03 PM)
I think overall, to win a national championshiop, you need to be able to play different styles. They've proven that all year. They have a great opportunity. As a Tar Heel, it hurts me to say that.
Chris (NJ)
Kenny, Big fan of yours from the Archbishop Malloy years. I've heard Jimmer Freddete compared to everyone from Mark Price to John Paxton and Steve Kerr to Stephen Curry. Which player does Fredette's game remind you of?
Kenny Smith
(2:04 PM)
He doesn't remind me of any of those guys. Because of his ability to get his shot off the dribble makes him different than those guys. Maybe Mark Price, more of him, because Mark shot off the dribble more. But he's a bigger version of that. I heard him say that he's a Deron Williams type. I disagree with that, because I don't think he's as good a passer. But more Mark Price, who, by the way, was possibly an NBA Hall of Famer.
Karl (CA)
so, how much double duty are you pulling with the NBA and NCAA BB watching those games?
Kenny Smith
(2:05 PM)
I'm probably pulling an hour and a half on the weekend. I'm watching one extra game. I would typically watch 1-2 college games over the weekend, but now it's more 3-4. I wasn't watching with that analytical eye that I am now. Over the last couple of weeks, I've watched the tournaments.
Brad (Gadsden,Alabama)
Kenny, What do you think of all the teams that got shafted not making the tournment?
Kenny Smith
(2:07 PM)
I never say that a team shouldn't be there. But there is a lot of good cases. If you put yourself in the situation that you may or may not be in, that happens. There are some teams that they feel they're better than. But when you're the 68th team, 72nd team, you put yourself in that position. It's difficult not to defend the schools that have gotten in. Those schools that did get in can all say they've worked hard and done the right things. So I don't think you can take them out over someone else.
Kyle (NYC)
How much fun will this Coke Social Arena be?
Kenny Smith
(2:08 PM)
I think it's going to be a lot of fun. Go to CokeZeroSocialArena.com. Not always can you go and watch the game and go to Facebook and Twitter online and talk about the games. In the sweepstakes you have a chance to win tickets to the Final Four.
Rob (Miami, FL)
Should the NCAA match up teams on a true 1-64 (68) basis rather than the pod system of keeping teams close to their fan bases?
Kenny Smith
(2:09 PM)
I don't know if it really works out that you're really close to your fan base. They do a lot of the tournament based on where the No. 1 seed is playing. I don't think that it's flawed. I don't see anything wrong with where people are playing. If you're going to win a national championship, you need to be good. That's it.
Nick (Michigan)
What do you make of the general consensus that the B10 is "overrated" in their seedings? Do you think it may have been the Ohio State AD trying to help or HURT the teams in his own conference?
Kenny Smith
(2:10 PM)
I don't know if you can say anyone is overrated or underrated, after the first round, the mismatchs stop. Duke is supposed to beat Hampton. Forget basketball play, you have the ability recruit a far superior athlete. Michigan or Tennessee, after that first round, isn't scared of Duke. After the first round, all bets are off.
John (LA)
Kenny, why has no one mentioned Kyrie Irving's impending return?
Kenny Smith
(2:11 PM)
I don't think he's going to do it. I can't see Coach K risking further injury from a kid who hasn't practiced and no contact and jumping into a prize fight. He hasn't had a chance to go through the training. I would be really surprised if Coach K did that.
T-Meister (New England)
When does everybody come to their senses and realize that UCONN has caught fire and is going to run the table and be the NCAA Champions?
Kenny Smith
(2:12 PM)
They have already caught fire in winning five games in five days. That's even more difficult than winning the NCAA championship at times. But that also means that you're going to win 11 straight games. At this point in the season, I don't think UConn has had a stretch like that. It's hard to win that many games in a row, regardless if I come to my senses or not.
Nick (Michigan)
Any chance one of the dangerous double-digit seeds in the Southeast Region (Mich St., Gonzaga, Utah St., Belmont) can make a Regional Final? A Final Four?
Kenny Smith
(2:14 PM)
We've seen Gonzaga and what they've done in the past. They have great coaching. I wouldn't be surprised if they give the Johnnies a run there. Belmont, by the respected guys that I've talked to, has a chance to make a run. I have seen Gonzaga play. That could be a dangerous game.
Byron (Cleveland)
Kenny. Love your honest commentary. Im dying to know how it is to work with the Chuckster and EJ while the camares are off and you guys are watching games?
Kenny Smith
(2:14 PM)
It's a lot of fun. It's like three guys sitting on a couch watching TV. I always feel like I'm at home more than at the studio.
Josh (North Dakota)
I feel that the southeast bracket is really weak and the East and West is loaded. Thoughts??
Kenny Smith
(2:15 PM)
I always say that there is no easy road to the Final Four. None. You have to play the best and beat the best. After the first round, there are no mismatches. You have to play different styles and beat different teams.
Caleb (Minneapolis)
What would be the most likely 15 over 2?
Kenny Smith
(2:16 PM)
No. That's not going to happen. I think 1 and 16 and 15 and 2, those aren't happening.
C.J. (San Diego)
Which double-digit seed team has a chance to go at least Elite 8?
Kenny Smith
(2:17 PM)
Elite 8? Wow, that's a long way. I thought you might ask teams that would shock some people. Then I would say Missouri, Georgia. Teams that have something to prove. But getting to the Elite 8? I just got them to the 16, how's that?
Kenny Smith
(2:17 PM)
Marquette. They could be a team that could surprise some people. They have really good guard play.
Matt (IN)
Kenny, speaking of Irving...I remember back at UNC when you broke your wrist or hand and had to miss a bunch of time. How hard was it to sit and watch the action?
Kenny Smith
(2:18 PM)
It's very difficult. I had played more games and it was very difficult to sit and watch. You know that you can help. The fortunate thing for Duke is they still won the ACC tournament without him. It's very frustrating sitting on the sideline for losses or enjoyment.
Vinnie (ATL)
From a guy covering both the NBA and NCAA tourney, are the one-and-dones hurting the college game. I prefer the NBA now because of this reason.
Kenny Smith
(2:19 PM)
I'm not a person who believes that if you're good enough to do something that you can't. I think some GMs made some bad decisions in drafting guys who weren't ready. But I'm not a guy who says if you're good enough to do something you have to wait. Guys like LeBron come in and are ready.
Kenny Smith
(2:19 PM)
I don't think there are any more high school players that can come in and do that. 7 or 8 years ago, the league was much younger. Now, it's not.
Kenny Smith
(2:20 PM)
North Carolina! See you in the Final Four!
Buzzmaster
(2:20 PM)
Thanks for chatting Kenny!