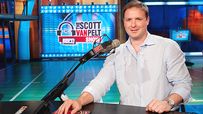 Welcome to SportsNation! On Wednesday, ESPN Radio's Ryen Russillo will be stopping by to chat.
Russillo is co-host of The Scott Van Pelt Show on ESPN Radio, which runs 1-4 p.m. ET. Listen live

He also hosts the NBA Today podcast on ESPN.com. He has covered the NBA draft since 2003 and prior to joining ESPN, he was a TV studio analyst for Boston Celtics games.
Send your questions now and join Russillo on Wednesday at 4 p.m. ET!
More Ryen Russillo: ESPNRadio.com | Chats | Search | SportsNation index
ESPNRadio.com
(3:57 PM)
Ryen is here early. Fire away.
Brian (Bay Area, CA)
Your "Smokin Hotties" Charlie Sheen impersonation makes me laugh without fail.Keep up the good work on the NBA Today Podcast.
Ryen Russillo
(3:58 PM)
Thank you.
Curtis Hintz (Hotchkiss, Co)
Did you see SVP on the Fab Five movie? Does he look better with hair or without??
Ryen Russillo
(3:58 PM)
Way better without. People have talked about his hair for 72-straight hours. He says no topic has approached this one on his Twitter account since its inception.
Mike (Ohio)
Any comment on the whole thing with Jalen Rose calling people like Grant Hill an "Uncle Tom"? Sounds to me like a lot of sour grapes.
Ryen Russillo
(4:00 PM)
I think it was a reflection of how Jalen felt at the time. I also think a lot of people think this way. I got an e-mail today that I thought was interesting. What if Grant Hill had said in a documentary about Duke that he thought the Fab Five were thugs and gang bangers? Probably wouldn't have gone over very well. Definitely more outrage. So if Grant is upset, I understand, but I still think Jalen was talking about how he felt at the time.
Chris (Chicago)
Any reason to think the Bulls WON'T be in the Eastern Conference Finals if they snag one and get to face Indy then Magic/Hawks.
Ryen Russillo
(4:01 PM)
They're not going to lose to Indiana. The Hawks won't beat Orlando. I still wonder if Orlando can beat anyone in the second round, so no, it's starting to size up that way. Their path to #1 is easier than Boston, but I wouldn't write them in with pen.
Nick (CT) [via mobile]
Ryen, in your opinion does the Knicks fire Dantoni after this season unless they make a miraculous run in the playoffs?
Ryen Russillo
(4:03 PM)
Depends on who's in charge. The problem with D'Antoni is that he makes your team exciting, fans enjoy it, players love playing his system, but Legler told me this a few weeks ago: his staff just does not address defense. And I heard that that's why they didn't want Corey Brewer, because he couldn't play offense. So how far can you really go trying to outscore people every night?
Jason (Bmore)
Have you listened to Rae's latest cd and if so what do you think about it?
Ryen Russillo
(4:03 PM)
I just got it. Still wrapped up in my car. Will be listening on the way to the gym in 20 minutes. Maybe 30 if you guys don't suck.
ALbert (Columbia,SC)
what does the nfl lockout ean
Ryen Russillo
(4:04 PM)
Where do I start with this one?
Bruce Koole (Loveland, CO)
Do you see Kemba Walker playing half-heartedly and clocking out early to prepare for the NBA draft, just like Wake Forest last year?
Ryen Russillo
(4:04 PM)
Never. How could you even ask that after watching what he did in the Big East Tournament? As tough a player as I've seen.
Ice Cube (LA)
"Must be the single cause Nate Dogg singing on it"
Ryen Russillo
(4:05 PM)
Listened to Warren G and Nate Dogg '93-'94 non-stop. Was a huge Start the Night CD.
Byron (Cleveland)
Ryen, Will the Cs ever get their top 9 players to play in one game this year? If they can, how does that stack up against the rest of the league?
Ryen Russillo
(4:06 PM)
It's crazy, isn't it? The other night I was watching, I forgot I was watching the Celtics. They just are going to rest Shaq until they're ready to go in the playoffs, and if it costs them the #1 seed, they probably feel they can beat Chicago on the road.
Kevin in Baton Rouge [via mobile]
It's been awhile. what's up?
Ryen Russillo
(4:08 PM)
Been hosting this radio show, doing some NBA stuff, had some TV a few weeks back, was in Texas and Colorado, went to a casino for a night, family came to visit, I started eating more desserts. That's about it. What's up with you?
Paul (Columbus OH)
Who ends up with #8 seed in East? Seems like Pacers are peaking at the right time.
Ryen Russillo
(4:09 PM)
If peaking means winning back-to-back games against the Knicks after going 3-10, then they are on fire!
George (Houston)
Do you try and limit your workouts to an hour, or do you just go until you feel it's time and your sets aren't as productive?
Ryen Russillo
(4:10 PM)
I'm about 45 minutes to an hour. Depends on how awkward it gets with all of the smokin' hotties checking me out.
jon rettig (chico ca)
What up russillo hey tryin to finish fillin out my bracket and wonderin what the status of dukes pg. Is he goin to play and how much of a diff will he make for duke?
Ryen Russillo
(4:11 PM)
You must listen to the show a lot. We only spent two hours on this today. Chance he could play. No one is 100% on it. If he does play, it changes the game for Duke.
Lisa (White Hall, MD)
How is SVP handling the embarrassment that is the Terps..mind you I am an alumni as well
Ryen Russillo
(4:11 PM)
Not well. He has been off his game all week considering they weren't invited to the NIT.
Will Riley (Boston)
Is Hansbrough going to get drafted? I know he isn't in mock drafts, but I'd say it is 10 to 1 odds he ends up on the Celts as the 58th pick.
Ryen Russillo
(4:13 PM)
Maybe. These picks are really more about you being able to tell girls when you're out that you were technically drafted into the NBA. There is not a lot of success with these picks. I believe Kevin Pittsnogle was a late addition to the Celtics. Remember a lot of people saying how great he would be in the pick and pop, and that he'd stretch the floor and was a great rebounder who would play some backup center defensively. Or, he could be removed from our consciousness in the span of 12 months.
John (cuse')
Everyone around me including friends and family all have facebook accounts. I refuse to get one because all it seems to do is get people caught up. Why don't people realize this before they post all kinds of personal stuff?
Ryen Russillo
(4:14 PM)
There seems to be this thing in society where we want to show off these lifestyles that a lot of us don't even really have, but then we get mad when we get busted on stuff (pictures with girls, pictures out, etc.). I propose we just all admit we do weird stuff and from this point forward, vow to not be offended by anything unless it's really mean and hurtful.
Henry (Vegas)
Any reason to think this isn't the year Pitt advances to the final four?
Ryen Russillo
(4:16 PM)
They are setup for it. BYU and Florida are your three and two. WISC is a team that matches up well with Pitt because of their style, but the other three #1s have a tougher path (unless Kansas State becomes nasty again).
todd (denver)
RR, keep up the good work, love your attempts at humor, what's up with Fri podcasts? I need it to keep me going on a late friday afternoon at work...
Ryen Russillo
(4:16 PM)
We have a new one coming up Friday. Billy King, GM of the Nets. We had a great one today with Chad Ford.
Dan ((Florida)
NBA is unwatchable. I don't see the passion in the game nowadays. College is a million times better, man.
Ryen Russillo
(4:17 PM)
You obviously did not see the passion from JaVale McGee last night in his pursuit of the rare block triple-double.
Chris (Delaware)
Do you like Mark Cuban's idea of intentionally sucking after Dirk leaves? I might have missed your thoughts on a previous show.
Ryen Russillo
(4:18 PM)
I haven't read exactly what he said, so I'll take your word, but the worst thing you can be in the NBA is a 30-50 team, especially in the East. So to get a franchise guy, you have to have top-five picks. You have to. This isn't an opinion. I've studied this. Credit Cuban for realizing it, where as the Maloofs fought it for years and now they're stuck with one of the worst teams in the NBA.
Eric (Madison)
Being that time of year...What is the best excuse you have ever used to get out of work?
Ryen Russillo
(4:20 PM)
A called-off fake engagement. Told people at work that my fiancee that no one knew sent me back her ring and I needed a couple days to re-group. I talk about this every year. It really is genius because if your co-workers truly believe you are engaged, and you never told any of them, that means they think you're creepy so they definitely won't want to talk to you about it. They will talk behind your back a lot, but you know that happens to you already.
Travis stevens point wi [via mobile]
Got bombed last friday and tried to spit humpty dance at karaoke and failed miserably. Thoughts?
Ryen Russillo
(4:21 PM)
Appreciate the choice, but rapping hammered is hard, man. Unless you know the song without prompter, don't do rap at karaoke.
Jim (Denver)
George Karl is as underrated as they come. Can Denver sustain this success and carry it over into next year?
Ryen Russillo
(4:21 PM)
I actually think things are going to get a lot harder when the schedule changes here soon.
Mickey Matusik (Panama City, FL)
I am really interested in radio. Two questions: How do you pay enough attention to other sports on top of the NBA and then go on the radio and have all of that knowledge flow though smoothly about all different sports topics? Also, how would someone get to where you are besides hard work and never giving up?
Ryen Russillo
(4:23 PM)
I would suggest get really good at faking it. Over my career, I've been pretty amazed at how little a lot of people study or watch games. I don't have much of a life because I always thought you had to know everything, which I understand I don't. Being knowledgeable about sports is like reading the internet: you're never going to be done. When I would hear talk show hosts talking about a game that I knew they didn't watch, I would get so mad, so I never wanted to be that guy. But I don't have a lot of balance, so I may start making up stuff.
Fred (Pitt)
Do you see any real comparison of Cam Newton to Ben Roethlisberger? Regardless of anything, Roethlisberger was winning for a longer period of time at Miami U.
Ryen Russillo
(4:24 PM)
I can understand that. Tough to bring down, both really good outside of the pocket, both had some accuracy questions. I think Cam is probably the better leader. I think that's a decent comparison.
Whitey Bulger (South Boston)
Is there anything better than seeing Dikembe Mutombo yelling at Cowherd?
Ryen Russillo
(4:24 PM)
I'll have to check that out later.
BSB (Philly)
Any comment on the Grant Hill/ Jalen Rose thing?
Ryen Russillo
(4:26 PM)
At the beginning of the chat. Look, I think you have to give credit to Jalen for saying how they honestly felt about Duke at that time. What is unfortunate is that it's an opinion that is embraced too much today. I couldn't believe how many people on Twitter were so happy that those guys said that about Duke. I don't know if it's a race thing, perception thing, or that Duke wins, but I really enjoyed the Fab Five movie.
Hogan (Chicago)
Heading to Vegas for my bachelor party this weekend...any suggestions on something to do to make it a memorable one (that won't end up with me in jail)
Ryen Russillo
(4:28 PM)
I don't know what your money situation is, but do it right one night. Call ahead to a place, get a table reserved, tip the door guy and lock it into that place instead of trying to chase the party and getting separated. You may not like paying a few hundred dollars for a bottle, but waiting in line, waiting to get drinks, cabbing all over town will get old quick. If you need to call ahead and get a table and say you are Van Pelt, I give you permission.
jon rettig (chico ca)
I did listen to the svpshow everyday til our local affiliate dropped our fm espn the other day. Listenin to u guys made my day a little more tolerable so yeahi would of missed the two hours u spent on that today. Goin to stream though. Thanks fir the heads up on that
Ryen Russillo
(4:29 PM)
We had a lot of people from Chico mention that they are no longer running it on ESPN Radio. Guys could probably find us on satellite, online or if you buy the $3 app on your phone, you can plug it in through your stereo.
J.B. (PA)
Your boy got booed at the Trump roast, Ryen. I'm still wondering how he even got invited.
Ryen Russillo
(4:30 PM)
I heard it went bad. I wish I had been on the roast. I would have started with, "Why is Snoop Dogg here? When was his last CD, '96?"
BeBogus (NJ)
Why can't SVP give you some love with your name in the show's name?
Ryen Russillo
(4:31 PM)
This has nothing to do with SVP.
Nate (Tosa)
In your lifetime how many tournament brackets have you won? Any blowouts or close calls that came down to the score of the final game?
Ryen Russillo
(4:32 PM)
I've actually done well in these things over the years. I went on a ridiculous stretch of picking against Duke and being right all of the time. Indiana, VCU, West Virginia, LSU. But you can't get too creative if you want to try and win. But at the same time, if you go president bracket (all chalk), I am not interested in your bracket.
Jamie (NYC)
Forgot to ask awhile back. Did you see Jwoww in that leather outfit. Pretty strong, no?
Ryen Russillo
(4:32 PM)
Screen saver.
BeBogus (NJ)
Sorry, should have been more clear. Meant the radio show.
Ryen Russillo
(4:34 PM)
No, that's what I meant. I almost knew this was going to happen. People were going to read that and think people got mad that I was asked a question about Van Pelt in my chat. The question was why isn't my name on the show, and my answer is that don't think for a second Van Pelt is preventing it from happening. I get this all of the time.
Charlie Sheen (via mobile)
Russillo, are you about #winning?
Ryen Russillo
(4:34 PM)
Did you post this to last week's chat when I wasn't around?
Awax (Ann Arbor)
I just ordered p90x a few days ago, any tips before I start?
Ryen Russillo
(4:34 PM)
Stretch. If you want to lose weight, you are going to and it works. For me, it's tough to keep the weight on.
Matt (Chicago)
Wizards need Harrison Barnes. A wing who can score but ALSO gives a crap. He'd help John Wall a bunch leadership wise, and they need it. Agree?
Ryen Russillo
(4:35 PM)
Wizards definitely need to lower the knucklehead factor on that squad, but I would take Sullinger over Barnes if I was Washington. The top of this draft could definitely play out in a need-based way.
Johnny (Scranton)
What tournament games are you most looking forward to watching tomorrow?
Ryen Russillo
(4:35 PM)
I hope BYU-St. John's.
Ryen Russillo
(4:35 PM)
I hope BYU-St. John's.
Ryen Russillo
(4:35 PM)
I hope BYU-St. John's.
Nick (OB)
Isn't it JCoww?
Ryen Russillo
(4:36 PM)
How dare you.
Nick (OB)
I went with White Wedding on karaoke. I brought down the house. Thoughts?
Ryen Russillo
(4:36 PM)
We get it. You went with White Wedding. You've posted this 1,000 times.
Ivan (Chicago)
I want your opinion. Both Thorpe and Hollinger stated that Rose is not MVP, instead opting for Howard as a better option when his team is 7 games back and is also dumb enough to get enough T's to get suspended or hurt his team. Or Lebron and Wade, whom the Bulls have swept this year and have a better record than the Heat.
Ryen Russillo
(4:38 PM)
If Rose wins, he will be the youngest ever (I spent a few hours on this). There has not been a seed lower than #2 to win the MVP other than Jordan (whose Bulls were a
Sara T (Boston)
A. Do you ever come to Boston?B. My coworkers think you'll answer a girl before them and they want to know if the Cavaliers would be a "lock" to win the NCAA tournament.
Ryen Russillo
(4:39 PM)
We answer girls because we get like two a chat. Probably don't have a picture on your Facebook profile, either. Yes, your co-workers are right. The Cavs would kill everyone.
Nick (OB)
Are in a poor mood today my friend?
Ryen Russillo
(4:39 PM)
I'm in a good mood.
Raymond (Baltimore)
Ryen, I actually had this in an email, and it started getting long, and had other things to do.. I agreed w/ basically all of your list in your player rankings. Something that I did a week or so before you gave your list was I started to rank players based on whether you could build around them, ie Lebron/kobe/wade = best player on a championship team, Melo 2nd best player on a 'ship team.I thought that it was a good way to compare the value between two players.
Ryen Russillo
(4:40 PM)
Well hey, I'll post this for all of your work. I don't think you're crazy to think Melo needs a little more than Wade, Kobe, LeBron, but all of those guys needed somebody too. Everybody needs somebody else.
ESPNRadio.com
(4:40 PM)
That's all, folks. Be sure to check back next week for more chat goodness. Enjoy all of the tournament action.