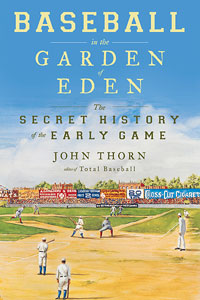 Welcome to SportsNation! On Wednesday, author, and official Major League Baseball historian, John Thorn stops by to chat about his newest book "Baseball in the Garden of Eden."
In addition to authoring several books, Thorn has also worked with Ken Burns on his "Baseball" documentary, while also discovering the documentation that traced the origins of baseball to Pittsfield, Mass.
Thorn was also recently named by Bud Selig as MLB's official historian. And, in his first act in his new role, Thorn will be the chairman of the Baseball Origins Committee. The committee is made up of 12 experts and historians that will seek to determine the facts of baseball's beginnings and its evolution. Following the study, they will seek to tell the full story of the game as well as its development in local communities.
Send your questions now and join Thorn Wednesday at 2 p.m. ET!
More Special Guests: Previous chats | SportsNation
Buzzmaster
(2:00 PM)
We've got John!
Dave (CT)
Hwo were you approached to be the new MLB historian>?
John Thorn
(2:02 PM)
Via conversation with the Commissioner.
Steve (CA)
What is your new book about?
John Thorn
(2:02 PM)
It's about how baseball really began. How people have claimed it began. And why people bothered to lie.
Karl (CO)
what's your favorite part of the game to research?
John Thorn
(2:03 PM)
Oh, it is the early game. It was the game before the Major Leagues. I will confess though that I may be all researched out in this period and I may go back into at least the 20th century a bit.
David (NY)
what will you do on your new committe?
John Thorn
(2:04 PM)
We will investigate all of the stories in how baseball may have begun in all of the other lands. But I will confess that to me the really fun part of this is how baseball began in New Mexico or Idaho or North Carolina. Baseball has a new beginning every new spring. Baseball has a new beginning for you and your family at some point.
Shane (Knoxville)
John, I've heard that the origins of baseball go back as far as 17th century England, is that true?
John Thorn
(2:05 PM)
We have a book called A Little Pretty Pocketbook that has a page devoted to a rhyme to baseball. We have a diary in 1755 with a message about playing it. But we do not have a 17th century message about baseball.
Steve (Middletown, CT)
Hey John, loved the book. Not too long ago Commissioner Selig said he believed Abner Doubleday was, in fact, The Father of Baseball. It is pretty much accepted at this point that he was not involved in the game's creation in any way. What did you think of his comments? Did the scrutiny he received in response to his comments play any role in the formation of this committee?
John Thorn
(2:06 PM)
I think the Commissioner either mispoke or hurriedly induced to extend from the notion that Doubleday was the father of baseball, to which I subscribe that he's the father of baseball like Santa Claus is the father of Christmas.
Steve (Middletown, CT)
Do you believe any one person or one group of people created the game of baseball or is it more likely that it slowly evolved from games like Cricket and Rounders?
John Thorn
(2:07 PM)
Evolution is the answer. But baseball did not evolve from those two. If you want to look for a father to those three games, look to Stool Ball. I encourage you to look it up on the net.
Matt (IN)
What should baseball history have to say about the "steroid era"?
John Thorn
(2:09 PM)
I think the steroid era has to be viewed as any other era has to be viewed, and that's in context. What do the stats mean? Should we adjust for Babe Ruth's 60 HRs, knowing that he never faced an African-American pitcher? One should be very wary of sprinkling the record book with asterisks, because there's no end to that.
Sydney (Houston)
Do you think the Astros look promising for the future and maybe a playof run in three or four years
John Thorn
(2:10 PM)
The Astros, to me, look tough. Every year they seem to break slow from the gate and close with a rush that's not good enough. I think they're still a few chips shy.
Kevin (DC)
What does history say about the "Cubs Curse"?
John Thorn
(2:11 PM)
Well, I think one ought to consult an astrologer rather than an historian. Cubs fans should hold it close to their breast. The Red Sox, once they won, became just another club. The Cubbies are lovable, because they seem allergic to winning.
dc (dc)
Hi John,In the history of MLB has there ever been a player as universally liked as Cal Ripken Jr. I've been watching sports for a long time, and I'm not sure I can think of another player that was so beloved by.. well... everyone.
John Thorn
(2:12 PM)
You have to work hard to be inoffensive. I'm sure that Cal Ripken has slammed his fist at the dinner table or spoken harshly to the dog. We choose to see him as an All-American hero. Though I have never met him, I have no reason to believe that he is anything but. Have there been other players so universally liked? It's hard to find anything bad said about Ruth. He was a likeable guy, no matter his transgressions.
Will (NYC)
We hear about CBA issues...what do you think of MLBs comeback from theirs?
John Thorn
(2:13 PM)
MLB went to the wall in 1994. Both sides proved to be terribly injured and the game was injured. I hope that football doesn't have a cataclysm that baseball had in 1994.
Chris Fiegler (Latham,NY)
Do you think that Major League Baseball will have a special patch on their Uniforms this season to commemorate the People who were killed in the Japan Earthquake?
John Thorn
(2:14 PM)
I can't speculate on such a matter. A) I know nothing about it. B) it's above my pay grade.
Pete (DE)
Most interesting part to you in your book?
John Thorn
(2:16 PM)
Gosh, there were so many revelations. I believe even the most advanced fans will find things in every chapter they didn't know. Albert Spalding and the birth of his illegitimate son to his girlfriend who became his wife, whom they had to adopt. He and the natural mother had to adopt their natural son. That's the Deadspin version of the hot item in the book. For the baseball historian crowd Louis Fenn Wadsworth and what he did and his incredibly said end.
John Thorn
(2:17 PM)
A third would be the bizarre influence of a religious sect Theosophical Society on creating the primal creation myth of baseball, which is the Abner Doubleday story.
Otto (CA)
Do you think MLB will exist 100 years from now?
John Thorn
(2:18 PM)
Yes, I do. I know that baseball will exist. If we exist as a people and don't blow ourselves up, then baseball will exist. I believe the MLB model of investments behind and skilled athletes in front has proved over the past over 100 years.
John Thorn
(2:19 PM)
Thanks for joining me. It's been fun joining you. Consider reading Eden if you want to learn something about how this whole thing started.