Chat with Jennifer Jo Cobb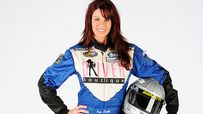 Cobb finished 17th in the 2010 Truck Series after running 25 races.
Welcome to SportsNation! On Thursday, we'll be chatting with NASCAR driver Jennifer Jo Cobb.
Cobb made NASCAR headlines last weekend at the Scotts EZ Seed 300 at Bristol Motor Speedway when she walked away from her ride five minutes before the race because she was protesting a start and park order issued by her team, 2nd Chance Motorsports.
Since last weekend's race, Cobb and 2nd Chance have parted ways and Cobb will race this weekend at California in the No. 41 for Rick Ware Racing. Cobb has been racing since 2004 and earlier this season finished sixth in the Camping World Truck Series race in Daytona - the highest finish by a woman in Truck Series history.
Send your questions now and join Cobb Thursday at 3 p.m. ET!
More Special Guests: Previous chats | SportsNation
Jennifer Jo Cobb
(3:01 PM)
Hello from Long Beach, California. How is everybody?
Mack (GA) [via mobile]
Who did you look up to most as a child?
Jennifer Jo Cobb
(3:02 PM)
My father. His work ethic and love really helped shape my values.
Matt, Arlington, VA [via mobile]
What has been the best moment of your career so far?
Jennifer Jo Cobb
(3:02 PM)
Winning my first ever race is tied with my sixth place finish at Daytona this year.
Nick, Akron, OH [via mobile]
Have you had any offers or conversations about driving in the Sprint Cup series? Is that your goal?
Jennifer Jo Cobb
(3:04 PM)
It is a goal of mine when the timing is appropriate and all the big wigs know that driving in the Sprint Cup series is a goal of mine.
Debra:Nashville tn [via mobile]
What do you say to those who believe your reaction has been engineered to garner publicity for yourself?
Jennifer Jo Cobb
(3:04 PM)
I wish I was that smart!
nicholas (reynolds, il)
where do you think the rest of 2011 will take you? Do you think the cup series is in your future?
Jennifer Jo Cobb
(3:05 PM)
Anything is better than the start of the 2011 season. I plan to continue to run fulltime in the Nationwide Series and a few more Truck Series races.
Matthew (Columbia, NJ)
Jennifer, i give you huge credit for standing up for what you believe. What has been the reaction among the people in the garage area?
Jennifer Jo Cobb
(3:06 PM)
The garage area seems to be 100% behind me, the fans seem to be 90% behind me and media seems to be 85% behind me.
Nathan (Missouri)
Hey Jennifer, is racing what you wanted to do when you were little?
Jennifer Jo Cobb
(3:07 PM)
My dad started racing when I was three and I've known that I wanted to be a race car driver since I was eight.
Sara (Nashville) [via mobile]
Has Danica Patrick made it harder or easier as a female driver? Do you feel a sense of comraderie with the other women drivers?
Jennifer Jo Cobb
(3:08 PM)
Most female drivers are really friendly and we understand each other. I don't think Danica has made it harder or easier. I think the battle is still on to find sponsorship in order to continue racing competitively.
Josh Kansas [via mobile]
How do you react to this whole fiasco of switching teams and do you think it will be better?
Jennifer Jo Cobb
(3:09 PM)
Anything will be better than the situation that I was in previously. I regret that its become such a fiasco but in my heart I know I did the right thing.
Jack (Brooklyn, NY)
I read that Brad Keselowski praised you on twitter for your actions Saturday. Have you heard from any other drivers offering you support?
Jennifer Jo Cobb
(3:11 PM)
Brad did praise me and that made me feel great. Every driver that I've run into has told me they support me. And it's not just the drivers, it's NASCAR officials too.
Rick (NC)
What series did you race in prior to the Truck Series?
Jennifer Jo Cobb
(3:12 PM)
I raced on the local level at Lakeside and I-70 Speedway from 1991-2001 and Various ARCA Nationwide and Truck starts from 2002-09.
Matthew (Brandon, MS)
Would you rather drive for yourself or another team owner?
Jennifer Jo Cobb
(3:13 PM)
There are pros and cons to both but I'm starting to see my success has come on my own team.
John (Montgomery, AL) [via mobile]
Hey Jen, do you think that Nascar should stop the start and parkers or is it that you just don't want to start and park. And do you like or dislike the other start and parkers because they're suppoedly "stealing" from the sport?
Jennifer Jo Cobb
(3:14 PM)
I did not take a stand against start-and-park. It's just my personal stand that start-and-park is not what I want to do.
scott (denton,tx)
which do you rather perfer to race with the cars or the truck and why.
Jennifer Jo Cobb
(3:15 PM)
That's a tough one. I probably need to race a really good car before I can make that determination.
nicholas (reynolds, il)
if you could pick a song for your introduction when you race what would it be?
Jennifer Jo Cobb
(3:16 PM)
"Hollaback Girl" by Gwen Stefani. A fan recommended that for me.
Joanne (Ft. Myers)
Will Eddie Gossage be on your Christmas Card list?
Jennifer Jo Cobb
(3:17 PM)
Absolutely! Never met him but I look forward to meeting him in Texas.
C.C. (Kingsport, TN)
What will it take for you to be known again for your strong talent and determination, and not for this Bristol incident?
Jennifer Jo Cobb
(3:18 PM)
A large sponsor, good performances and consistency on the track.
Jennifer Jo Cobb
(3:19 PM)
Please support my sponsor and my clothing line. All money goes to support our racing efforts. Thanks for the questions. See you on the track!