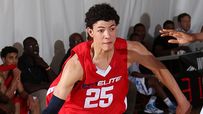 Rivers averaged 28.8 points and 6.1 rebounds per game as a senior.
Welcome to SportsNation! On Friday, ESPNU 100's top basketball recruit Austin Rivers stops by to chat about being named the high school player of the year as well as being a part of ESPN's Elite 24.
Rivers, a 6-foot-4 all-American and son of Boston Celtics coach Doc Rivers, committed to Duke last fall and recently led his Winter Park team to back-to-back Florida state championships, the first two in school history.
Elite 24, in its fifth year, showcases the best 24 high school basketball players from around the country. The annual event is played at famous outdoor locations such as New York's Rucker Park, and, in 2010, at the West Coast's street ball mecca, Venice Beach. A behind-the-scenes look at Rivers and his fellow stars from the 2010 event airs Monday at 11 p.m. ET on ESPN2.
Send your questions now and join Rivers Friday at 1 p.m. ET!
More Special Guests: Previous chats | SportsNation
Matthew (Los Angeles,CA)
Did you fill out a bracket? If so, how far did you have Duke going?
Austin Rivers
(1:06 PM)
I did fill out a bracket and I did awful. I had Duke going to the Final Four and winning the whole thing. Arizona came out in the second half yesterday and totally surprised me.
Darrell Redman (Philadelphia)
Austin, besides Coach K and the program, what was the deciding factor that made you choose Duke??... ( Lets Go Duke)
Austin Rivers
(1:08 PM)
I just felt comfortable being there. I already know Kyrie and a couple other guys. I fit into Coach K's system well and I think the Duke program will better me as player. I think I can do big things there.
Kevin Shaw (NY)
WHo do you think the college POY is this season?
Austin Rivers
(1:09 PM)
I think it's really close. It's a toss between Nolan Smith, Kemba Walker and Jimmer Fredette. Any of those three can take it.
Nick (MN)
As a player do you wish high school players could still be drafted into the NBA?
Austin Rivers
(1:10 PM)
I think it would be cool to have the choice of going to the NBA right out of high school. It would allow players to decide what they want to do but I also think going to college is very important. At the end of the day I think if you're ready to make that jump right out of high school then you should be able to do so. If you want to go to college then go to college. Either way is fine with me.
Nate Burggraf (Saint Louis, MO)
Hey Austin, long time duke fan and can't wait to see you next year. What part of your game have you been working on most for your freshman year at Duke?
Austin Rivers
(1:11 PM)
I would just say being more versatile, finishing with my left hand and getting stronger. I've even gained a couple of pounds. I'm excited to go to Duke next year and perform.
Robert (Columbus, OH)
On your espn.com scouting profile, it describes you as a cold-blooded assassin. Thoughts?
Austin Rivers
(1:13 PM)
That's how I like to play. I don't look at my opponent as who they play for or what they've done. I go out to play my game and have fun. My best friend is also my rival but when we get on the court all that buddy-buddy stuff goes out the window. I'm there to play.
Max (Chicago)
Was your father the one who placed the ball in your hands as a child or did you pick up the sport of basketball on your own?
Austin Rivers
(1:14 PM)
I think it was a little bit of both. When I was little I watched my brother play and so I feel in love with the game. My dad never forced me to play; I play because I love the game.
Duke Faithful (Louisiana)
is there any chance you talk Kyrie into staying one more year to play alongside you????
Austin Rivers
(1:15 PM)
(Laughing) I've tried. I've asked him what he was going to do but he doesn't know. I think we would play great together next year. But no matter what, if he stays or if he goes, I will support him.
David Cius (Medford, Ma)
Are you a Jimmer or a Kemba fan? Do you think you could beat either of them 1-on-1?
Austin Rivers
(1:17 PM)
(Laughing) Tell you the truth; I think I relate to Kemba's game a little more. Jimmer might be the most fun player to watch in the game but I like Kemba. As far as 1-on-1, I'm not sure but I know it would be a good game.
Ray A. (San Francisco, CA)
Austin, how do you feel about signing autographs and getting so much media attention? Has growing up with a famous father helped you deal with all that comes with being the No. 1 overall prospect?
Austin Rivers
(1:19 PM)
I think so. I've watched my dad in the limelight my whole life and my brother kind of went through it. It's a blessing to have kids look up to you. I just try to enjoy the whole thing and try to be mature about it.
Cheesehead Sports Nut (Chicago, IL)
What is it like having a father that coaches in the NBA? Does that put more or less pressure on you to succeed and ultimately play in the NBA?
Austin Rivers
(1:21 PM)
It's cool but I see him as a normal dude. I call him dad not Doc. We talk about homework and things like that. But it is cool to see him coach the best players in the world and against the best players in the world. I don't worry about the pressure. I put the most pressure on myself; it doesn't come from my father or anyone else.
Mike (Boston, MA)
Austin, I saw you in the Elite 24 last night. What was it like to be a part of that?
Austin Rivers
(1:22 PM)
It was cool especially for it being an All-Star game for RISE. It's like a new generation of All-Star games. I enjoyed playing with my friends and to be able to talk about it on TV was pretty cool.
Austin Rivers
(1:24 PM)
Thanks for the questions ...follow me on twitter @AustinRivers20.