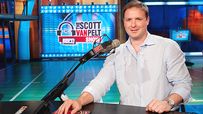 Welcome to SportsNation! On Wednesday, ESPN Radio's Ryen Russillo will be stopping by to chat.
Russillo is co-host of The Scott Van Pelt Show on ESPN Radio, which runs 1-4 p.m. ET. Listen live

He also hosts the NBA Today podcast on ESPN.com. He has covered the NBA draft since 2003 and prior to joining ESPN, he was a TV studio analyst for Boston Celtics games.
Send your questions now and join Russillo on Wednesday at 4:15 p.m. ET!
More Ryen Russillo: ESPNRadio.com | Chats | Search | SportsNation index
ESPNRadio.com
(4:29 PM)
ok... Ryen Russillo is ready. here we go!
Tough Guy (Logan UT)
Why hasn't the chat started yet? Is Russillo's ego too big to fit in the chatroom?
John (Detroit)
People question the Bulls and Thunder's playoff experience. Should we question Miami's too? They have not gone through a playoff together. Remember the '08 Celtics didn't win a road game until the ECF.
Ryen:
(4:32 PM)
what the Celtics did in 08' is rare. they were also veteran players. But that is fair about the Heat
J.D. (Redmond, WA)
Why does the media always assume a player would gain more skills by staying an extra year in college instead of developing his skills in the NBA? I would expect practicing in the NBA everyday to be more helpful for development (even if you never play) than playing against lesser competition in college.
Ryen:
(4:33 PM)
I don't know why. If you are on an NBA roster you are basically in basketball camp all year. The problem is when a player never gets any "real" minutes.
Black Jesus of Brooklyn (Kings County)
The Knicks are desperately seeking a Center. What Defense 1st Centers are available for below 10 million or for the MLE that are better than my long gone home Timofey Mozgov.
Ryen:
(4:33 PM)
S. Bradley
cisco(not rapper) (LA,CA)
Answer my question Russillo....I sent it about 15 mins. ago...when the chat was supposed to start...
Jake (Lubbock,TX)
What is the max amount a team will offer Yao Ming this offseason? How much is he worth? I think HOU should re-sign if they can get him for 10M.
Ryen:
(4:35 PM)
There are a lot of teams projected to have a decent amount of cap space, but that could change if the number drops from $58mil it could be less. Maybe $6-7mil 1st year
Brandon (DC)
Loved your take on rebuilding the Wizards. The one thing you did not address was the coaching position. I have my doubts about Flip, but of course the question is then who would be better. Thoughts? Thanks -- love the podcast.
Ryen:
(4:36 PM)
I like Flip as a coach, this is a tough bunch. Flip may be burnt out by then. For others you can check my podcast out, NBA Today
Pedro Salgado (Brazil)
What do you think is the ceiling for Derrick Rose?
Ryen:
(4:37 PM)
He is already the best PG in the NBA so...Side Note: The best part of D Will getting traded to NJ is that I don't have to hear from angry Jazz fans about where he ranks.
Chris (Chicago)
What's up my man- love the podcast- don't change a thing. Less jay "podvader" would be my only request though. Only question- what's the ideal offseason for my Chi Bulls look like? I'm thinking JRich or Jamal Crawford as MLE players, or are they priced out of that market??
Ryen:
(4:38 PM)
They will both be more than MLE players, if there is a MLE in the next CBA
J. Ricardo (St. Charles, MO)
Love the show, Ryen, but stop reading off dumb emails and tweets. I know you're too cool to spend much time on the internet, but you're being 'trolled.'
Ryen:
(4:38 PM)
I've never been trolled before
Rob (West Chester, PA)
Who do you think the Sixers have the best chance of upsetting in the 1st round? I think in order of most likely to upset ...Celtics, Bulls, Heat
Ryen:
(4:38 PM)
You think the Celts before the Heat?
Ryen:
(4:39 PM)
Thanks Sunil
Jeremy (Chicago, IL)
What's one thing that Scott Van Pelt can do that you wish you could do?
Ryen:
(4:40 PM)
Touch ceilings
matt (denver)
Do you think the blazers or grizz can upset the lakers? Both teams play them tough.
Ryen:
(4:40 PM)
No chance
Scott (Oslo, Norway)
Who do the Jazz get in the draft? Please don't say Jimmer
Ryen:
(4:41 PM)
Not in the conversation with NJ pick they got in a trade, don't worry.
Jazz Fans (Utah)
Devin HArris is a top 5 pg in the NBA!!!!!!!!!!!!!
Mike Hulse (Earf)
If you have two top ten picks and your the Cavs, who is the top NBA Pg prospect on your board. Are you a Kyrie Irving guy?
Ryen:
(4:41 PM)
Yes, he is the #1PG. But Williams/Barnes/Kanter are all in play. P Jones scares me
john (Orange, Ca)
ryen, do you think cousins will turn it around and not give his organization fits anymore?
Ryen:
(4:44 PM)
He has played well the last few, I notice late in games he doesn't seem to be on the floor though. Sac(Anaheim)will ride out his "youthfulness" until it turns around or it is too late.
Kevin (Chicago)
Hey Ryen,My question is if the Knicks get swept out of the frist round will D"Antoni be fired?
Ryen:
(4:44 PM)
Maybe, but Walsh may not be around anyway, and the new guy could want to make a change. D'Antoni would get another job
VW (NYC)
ANDRAY BLATCHE FOOO!!...my question is not regarding blatche but i just wanted to say it...ok on to my question. Tell me last night when you were watching GSW/OKC you didn't ask yourself why is Monta getting to jack up all these crazy shots at the end of the game when he was ICE COLD while Stephen Curry was on fire and essentially brought the GSW within reach.
Ryen:
(4:45 PM)
Shooters keep shooting. Curry took a bad 3 late w/ :53sec left too
Drew Bynum (LA)
Ryen, Whats my ceiling. I'm living in a perfect world where knee injuries don't exist also. Could I be the main guy once Kobe slows down?
Ryen:
(4:46 PM)
Yes, but you may be in Orlando
Josh (Las Vegas)
Just about to hit the gym.
Ryen:
(4:46 PM)
Should of already been there, if you really wanted it bad
Matt (Orlando)
Chris Paul is still the best PG in the league. Shoots better from the field, 3, FT, has more steals, and more assists. Give Paul the Bulls team and their record is even better than it is with Rose. Put Rose on the Hornets, and they are not as good.
Ryen:
(4:46 PM)
No one in the NBA would trade Rose for Paul.
Dwill (Russian Private Jet)
Why the H should I play these last few games?
Ryen:
(4:47 PM)
So Humphries can get overpaid
ricky (bay area)
hi ryen, love the podcast. thoughts on the golden st. warriors, can Steph and Monta co-exist and see the post-season at the same time?thanks. keep doing what your doing, its appreciated.
Ryen:
(4:48 PM)
I think they can. It's not like we haven't had two scorers on a team at the same time before. They need a defensive minded big, I like what I saw from Udoh last night
Laker Man (LA,CA)
I don't question Kobe's physical tolerance, but I've noticed his 4th quarter slumps in the past month and a half and he's been killing us... Is it possible that he is physically out of it in the sense that he doesn't have the legs for last quarter. Think this will continue onto the playoffs?Great job on the podcasts by the way.
Ryen:
(4:50 PM)
I just think he still takes bad shots. People maed it the only reason for a while when the Lakers have lost, and I've defended him a ton on shot selection, but I looked at it last night, he is at 38% on long 2's, 2nd worst % in the top 24 players that shoot from that range.
Karl Malone (Alaska (Bear Hunt))
Will I be coaching the Jazz in 2 years?
Ryen:
(4:50 PM)
No
Adam (Minneapolis)
Ryan if the Wolves wanted to give their 2011 first round pick to the Clippers to satisfy the Cassell trade, when do they have to decide? Before the lottery or before the draft? Is it a good idea to give it up this year in a weaker draft?
Ryen:
(4:51 PM)
I don't know the protection off the top of my head, but it is usually based on finish.
kevin (la)
why is everyone on espn a boston homer?? the bias gets old... mostly talking about simmons
Ryen:
(4:52 PM)
How many are actually Celts fans?Feel free to make a list, you are wrong about this.
Kevin in Baton Rouge [via mobile]
who's your pick for michael scotts replacement on the hit nbc sitcom, the office
Ryen:
(4:52 PM)
Gilbert Godfrey
Ryen:
(4:52 PM)
rapid fire
Michael (Montreal, Quebec)
who gets more SMOOOKIN HOTTIES: Matt Bonner or Tyler Hansborough???
Ryen:
(4:53 PM)
Not sure, ultimate matchup though
J. Ricardo (St. Charles, MO)
Howard to L.A. for Gordon, Bledsoe and Jordan? Who says no?
Ryen:
(4:54 PM)
LA
Tom (Toronto)
Best book out about the NBA, and it's history?
Ryen:
(4:55 PM)
Simmons book is great. I also like "The Dark Years"-Steve Kerr
Ryen:
(4:55 PM)
I'm getting kicked out, sorry. You can follow me @ryenarussillo
ESPNRadio.com
(4:56 PM)
thank you everyone!