Chat with Robert Guerrero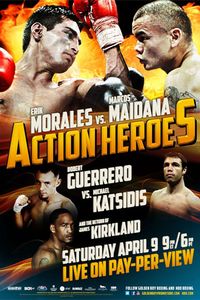 Welcome to SportsNation! On Wednesday, we're going inside the boxing ring when Robert Guerrero stops by to chat about this weekend's title fight.
Guerrero (28-1-1, 18 KO) takes on Michael Katsidis (27-3-0, 22 KO) for the vacant WBC/WBO lightweight belt. The fight will be live from the MGM Grand in Las Vegas Saturday at 9 p.m. ET/6 p.m. PT on HBO Pay-Per-View.
Guerrero was scheduled to fight Katsidis early last year, but canceled it and stepped away from boxing altogether in order to care for his ailing wife. Now that Casey is cancer-free, Robert is back in the ring and is "tremendously prepared for this fight."
Send your questions now and join Guerrero Wednesday at 1:30 p.m. ET!
More Special Guests: Previous chats | SportsNation
Robert Guerrero
(1:31 PM)
Thanks for joining me ...let's get started!
sal sunnyvale ca [via mobile]
who got u into boxing? why?
Robert Guerrero
(1:32 PM)
I got into boxing through my father who was a trainer. My older brothers, grandfather and uncles were all boxers. It's just something that runs in the family.
Alex, Irving, Tx [via mobile]
After winning the belt at lightweight, would you go up in weight or stay there? Good luck champ!
Robert Guerrero
(1:33 PM)
The plan is to win the world title at lightweight and then move up to 140.
AW (PHX)
Are you seeing advatages from training away from the family?and do you think you will continue the trend?
Robert Guerrero
(1:35 PM)
Yes, there is. I'm able to rest and focus on family. It takes a lot out of you when you have to cater to family and friends. In this training camp, I can just focus on boxing and that's it. Yes, I do think I will continue to train away from my family. Before I trained close to home because of my wife and her illness. But now that she is 100%, I'm able to take that time away and prepare in the right way.
adrien dominguez [via mobile]
Wzup Robert umm my question is Wats ur strategy going be against a heavy puncher like mike..
Robert Guerrero
(1:36 PM)
To keep my hands up. Work my jab and put together my game plan. I have to stay mentally focused because once you fall asleep against a guy like Mike, he will be able to land a heavy punch.
David (NJ)
Robert, have you trained any differently to prepare for Katsidis' non-stop-pressure style ? Best of luck Saturday.
Robert Guerrero
(1:38 PM)
Yes. I trained at a high, high intensity and got into tremendous shape. I did my cardio in 110,000 feet elevation out in Las Vegas. I feel great for this fight.
louis seattle [via mobile]
What weaknesses of katsidis will you exploit tomorrow
Robert Guerrero
(1:39 PM)
Not so much his weakness but his strength. I think he will keep coming forward and that will enable to pick my shots.
jermaine (prince frederick, md) [via mobile]
I think this makes for an entertaining fight, good luck! how do you envision the outcome of the fight!?
Robert Guerrero
(1:40 PM)
I think it's going to be a war. Our styles matchup perfectly and it will be a tremendous fight. I think I'll be victorious at the end of the fight, now if it's via knockout or decision I don't know.
erick (los angeles)
Good luck saturday....will this be the toughest fight to date for u?...will u be trying to outdo wat marquez did to michael? we all know your desire to fight him
Robert Guerrero
(1:42 PM)
Thank you. Yes. Michael is a tough fight for anybody. He throws a lot punches and those punches are powerful. He's defiantly the toughest fighter I've fought thus far.
pulido, la mirada, ca [via mobile]
What motivation has your wife Casey given you now that she's cancer free?
Robert Guerrero
(1:43 PM)
She's given me a lot of motivation. Seeing her fight through her cancer battle and to beat it. She's the true fighter and she has inspired me to go out there and fight hard. What I do is a privilege and seeing her win her battle, it inspires me to get up every day and work hard.
Steve V: Dallas, TX [via mobile]
What's up Robert. How do u feel about Marquez not wanting to fight you. And do you feel he will continue to duck you?
Robert Guerrero
(1:45 PM)
At first it was a little bit frustrating but I got past. But who knows, maybe we will fight one day. Right now it's something that I don't worry about.
Steve (Minneapolis)
Just wanted to say I am very happy to hear about your wife's improved condition. Best luck to you this weekend. I am sure training has been much more focused now that your life is less clouded.
Robert Guerrero
(1:46 PM)
Thank you. I really appreciate your concern. I can't wait to get into the ring and show the world a focused and prepared Robert Guerrero.
Jose (Dallas)
what do you say was the hardest milestone you had to pass?
Robert Guerrero
(1:47 PM)
I have to say the fight with my wife through her battle with cancer. It was the toughest thing I've ever endured. It was rough and stressful. I would say that was the toughest fight I've ever been in.
Robert Guerrero
(1:49 PM)
Thank you to all the fans for sending in your questions. Tune in April 9 because it's sure to be an exciting fight. I'm in the best shape of my life and I'm ready to fight.