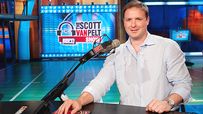 Welcome to SportsNation! On Wednesday, ESPN Radio's Ryen Russillo will be stopping by to chat.
Russillo is co-host of The Scott Van Pelt Show on ESPN Radio, which runs 1-4 p.m. ET. Listen live

He also hosts the NBA Today podcast on ESPN.com. He has covered the NBA draft since 2003 and prior to joining ESPN, he was a TV studio analyst for Boston Celtics games.
Send your questions now and join Russillo on Wednesday at 4:15 p.m. ET!
More Ryen Russillo: ESPNRadio.com | Chats | Search | SportsNation index
ESPNRadio.com
(4:14 PM)
Ryen is here. Fire away.
Zach (NY)
if mavs lose in the first round, can we finally start rebuilding?
Ryen Russillo
(4:15 PM)
What do you want to do? Rebuild not knowing what is available or keep winning 50+ games, be interesting, have a star and hope maybe something breaks your way. I understand what you're saying, but a lot of fanbases would trade places.
Chris M (NJ)
How was the Mike & Mike show with Buster?
Ryen Russillo
(4:16 PM)
It was great. Buster is one of my favorite people. Known him for about eight years. Don't like getting up at 3.30.
Nick (OB)
Who do you have winning the west?
Ryen Russillo
(4:17 PM)
Good to see Nick is here. Was a little worried. The Lakers will have 20 days of rest between today and the second round for Bynum, so still taking L.A. But if his injury is serious, it changes the dynamic of the West. I think people are sleeping on San Antonio, though.
Zohaib (Hermosa Beach, CA)
Hey Ryen, if the Lakers win tonight, they'll be 57-25 same record as last year, why so much panic?
Ryen Russillo
(4:17 PM)
Because last year, they rested Kobe and were unchallenged for the No. 1 seed in the West.
Ricky (Terry,Ms)
What do you think about kyle Irving? What impact do you believe he could make on a team like the Wolves?
Ryen Russillo
(4:18 PM)
I like him. He's great on his drives to the hoop. Very aggressive, relentless. Going to take a lot of FTs in the NBA. If Minnesota could take Derrick Williams or Irving, it'll be a tough decision. Maybe take Irving and trade Rubio.
Zach (Greenville, NC)
Can Denver play the Mavs as the 4/5 or is Dallas locked into the 3 seed? Denver can absolutely beat them in a series.
Ryen Russillo
(4:20 PM)
Seeding is still open in the West, but that isn't likely.
Ryan (Vegas)
Is there a bigger tragedy than OKC and DEN playing each other in first round? Both teams are dangerous...HATE IT!
Ryen Russillo
(4:20 PM)
Will Smith playing Muhammad Ali?
John (Boston)
Predict the tone of Boston's sports scene if the Bruins & Celtics disappoint in the first round, alongside the current pitfalls of the Red Sox? Not looking for sympathy, but interested in your take on the city's reaction since you've worked here.
Ryen Russillo
(4:21 PM)
Still have a hard time believing the Red Sox are just going to be awful this year. If the Celtics go out early, Ainge is going to get criticized pretty heavily. Bruins can't have a worse end than last year. But ultimately, as much as Boston fans complain, the last decade has been pretty good, so maybe relax and try not to punch as many people at last call.
Zohaib (Hermosa Beach, CA)
Do you have any insight how severe Bynum's injury is?
Ryen Russillo
(4:22 PM)
Yes, I'm actually the only one who knows the extent of the injury, but I'm keeping it a secret.
Tom (Chicago)
Who's your MVP Ryen? Why didn't they have you pick with the other 30 ESPN guys?
Ryen Russillo
(4:22 PM)
I picked Rose. I can understand a vote for Howard. I actually think I sent my picks in too late, so it was not a snub, it was my fault. The Mike & Mike schedule messed me up.
Kevin in baton rouge [via mobile]
Got new tires for the truck. White letters facing out or should I go classic black sidewalls?
Ryen Russillo
(4:23 PM)
I put tires in a truck that actually touched the wheel wells when I cut the wheel. That was dangerous. I always liked the white lettering.
Paul (Houston)
Are you in the minority (with me) that isn't drinking Chicago Kool-Aid and thinks Orlando can knock them off in round 2?
Ryen Russillo
(4:24 PM)
No, but for some reason, I keep thinking the Pacers series might be competitive because Indiana has been a very weird team this year and I could see them winning a couple of games. Orlando's role players have disappeared.
Paul (Columbus OH)
Do you think tonight is the last time we see Nash in a Suns jersey?
Ryen Russillo
(4:25 PM)
Good question. Probably not. I just don't think the owner wants to trade him even though it's probably best for the franchise to try and get something for him.
Rick (TX)
We know about Knicks and Celtic resting players tonight. Any word on Heat resting anyone? Magic? Hawks?
Ryen Russillo
(4:25 PM)
Little action on tonight's games? I imagine most of the teams in the East will take it easy tonight except for Chicago.
Joe (Laguna Beach)
Was Kobe's apology for his outburst enough? Do you see Stern imposing a fine or maybe an additional technical foul?
Ryen Russillo
(4:26 PM)
He'll probably get a fine because the public probably feels that he should have to be punished. People may not like it when people use this language, but on the court, people say stuff to each other and it isn't always nice.
BRIAN (UTAH)
do you like mma and would you like to see it get more coverage?
Ryen Russillo
(4:27 PM)
I do, but I find myself fitting it in when something else isn't going on. The coverage will keep growing. Jon Anik does great work.
Kartik (Philly)
Do you think not winning MVP will have any effect on Dwight/Kobe/Lebron/Dirk? Dwight will probably see Rose get the trophy in front of him. Or do players not care that much?
Ryen Russillo
(4:27 PM)
No, not at all.
JRich (MD)
Hey Ryan,do you think the nation at large is over the bad taste that The Decision left after last summer ?
Ryen Russillo
(4:28 PM)
It will become a story again if the Heat make it to the East finals, so I think you'll see most of the public rooting against them, but it has died down.
Nick (OB)
Sorry for sending in my questions too many times the other week.
Ryen Russillo
(4:28 PM)
No problem, Nick.
Karl (Vienna, Austria)
Ryen just wanted to thank you for all the good NBA coverage for those of us who are 6-9 hours ahead and cant watch many games. Keep up the great work
Ryen Russillo
(4:29 PM)
I just picture smokeshows everywhere in Vienna, and no one works and you all hike and it's the closest thing to heaven we have on earth. Am I close?
Randy (Portland)
Who do you think is most likely to be on a new team next year out of the following players: Chris Bosh, Steve Nash, Greg Oden?
Ryen Russillo
(4:29 PM)
Nash. Portland wants to keep Oden and I really don't know what would be on the market to make it worth trading Bosh, so Nash by default.
Kevin T (Los Angeles, CA)
Long time listener. Don't you think it makes complete sense for Miami to trade Lebron James to Orlando? Both teams would make the move, and it makes Miami a more complete team, considering Lebron and Wade do the same stuff.
Ryen Russillo
(4:31 PM)
It's not a terrible idea from a roster standpoint. Here's the problem: LeBron wouldn't want to do it and you kind of have to do what he wants considering you're Miami and Pat Riley pitched him on building this franchise.
Chris (Boston)
Shouldn't Kobe have received a 2nd tech in that game for his outburst. Any other player other than LeBron probably gets thrown out
Ryen Russillo
(4:31 PM)
Stars always get away with more stuff.
BRIAN (UTAH)
can you touch on the four things you want to outlaw in the nba that you alluded to on mike and mike?
Ryen Russillo
(4:35 PM)
Rules: 1) Re-define what a charge is. Position needs to be established more so than it is now, 2) No more rewarding offensive players for swinging arms to initiate contact (i.e. Kevin Durant), 3) Up-fake jumping into a body of a defender to get FTs or and-one (i.e. Paul Pierce) or on drives to the hoop where a ballhandler just wants to go straight into a defensive player's body with no intention of taking a shot (i.e. LeBron), 4) Stop rewarding PGs for dribbling into screens and falling down on purpose (i.e. Derek Fisher).
Ernest (Vegas)
Hey man, these answers are awful. Next time do your homework /loyal podcast listener
Ryen Russillo
(4:35 PM)
Nice.
Kurtis (Portland, OR)
Really, Ryen??? Answering 2 questions from one person but not answering mine!!! Really sportsmanship...
Ryen Russillo
(4:36 PM)
That's funny.
Paul (Houston)
LA-Miami NBA Finals: Can you think of a championship in any sport ever that would be so highly anticipated AND have most of the nation outside the two cities not really wanting either team to win?
Ryen Russillo
(4:36 PM)
That would be the headliner, more so than any other combination.
Doug (Utah)
Disagree with you a bit on Vesely's and Valanciunas' shooting. Vesely shot 45% from free throw line, Valanciunas 92%, that shows their true stroke I believe. Valanciunas' coach didn't want him to shoot jumpers.
Ryen Russillo
(4:37 PM)
I need to watch more tape on these guys, but I didn't even talk about the FT stuff because I was just looking at video and I realized that Valanciunas had better rebound rate numbers, but as far as what they do offensively, Vesely is far more diverse. There's no argument.
Tristan (New York)
Remember when when the question was always Rondo or Rose? How far has Rndo fallen in the pg totem poll?
Ryen Russillo
(4:38 PM)
I never had Rondo over Rose ever, ever, ever, ever, ever. That was dumb Celtic fan. I used to bring this up: would you trade Rondo for Rose? And Celtic fans would say no. However, a bad month for Rondo doesn't mean that now he's terrible. If he has a bad series, the Celts will be out. It's that simple.
Frankie G. (Boston)
Do you believe that Perkins is becoming a bit overrated by people now?
Ryen Russillo
(4:39 PM)
He's been a perfect fit for the Thunder, but I've always thought he was overrated and that has continued. Oklahoma City also had a very easy March schedule, but they could be dangerous in the second round.
Tom (Phoenix)
Ryan, big fan, first time in one of your chats though. I'm a lifelong Boston fan, grew up in Chicopee, and have been listening to your breakdowns of the Perkins deal on your podcasts.I know you insist, statistically, that Perkins is not that big of a loss (Somewhere in the vicinity of 8 points, 8 boards, 1.5 blocks). But I think it'd be hard to argue against his worth to THIS Celtics team, through team chemistry, his loyal friendships, not to mention his defensive presence (not just numbers, but altered shots, guys not driving the lane when he's there, knowing when to use fouls and not...etc)That being said, and Boston supposedly not having the money to pay him once he's a FA, don't they fall victim to the same scenario with Jeff Green? He seems like he would command a similar salary on the open market, ultimately losing him. The Celtics would have been better off to stand pat, see what they can squeeze out of the roster this season, and maybe convince Perk to sign for a bit less.(Ainge used a tactic when Rondo was up for re-negotiations when he was trashing him to the media about his maturity and leadership shortcomings, and the Celtics eventually were able to re-sign him for far less than his market value. They could have used a similar approach with Perkins. Maybe it wouldn't have worked, but they might at least be able to grab one more ring, which now, seems like a pipe-dream with the emergence of Chicago and Miami in the East.)P.S. Here's to hoping Bynum is out for awhile. I think asking the Lakers to make a 4th straight Finals is too much, and don't think they can 3-Peat
Ryen Russillo
(4:41 PM)
This is so long, I felt like I needed to post it. Ainge has set himself up for massive criticism, but the Celts were 40-12 in games Perk didn't play before he was traded.
Kurtis (Portland, OR)
I know. I thought it would be. Could you please answer a Blazer question now??
Ryen Russillo
(4:42 PM)
Yes, what do you want to know? Do you not get enough credit? Probably, but you're a six-seed. Could you beat anyone in the first round? Yes, I'm picking you against Dallas if it works out that way. Is Nate McMillan going to win the coach of the year award? No, but he deserves consideration. Will they keep Oden? See earlier (yes). How come the media doesn't want to give Portland any credit, why does ESPN hate us? We don't hate you. It's again that you're a six-seed and six-seeds usually don't get a ton of attention.
Craig (Oklahoma City)
Based off the last week of games do you really see Denver upsetting OKC in the 1st round?
Ryen Russillo
(4:43 PM)
I think I said this wrong on the podcast. I'm picking Oklahoma City against Denver. I don't see Denver as a top-three team in the NBA. Hollinger has them No. 2 in his power rankings this week.
Zach (Greenville)
What's more effective for getting bigger, straight bench, incline/decline or other?
Ryen Russillo
(4:43 PM)
I can't tell if these are jokes or not, but I love these questions. Just mix it up all of the time. Try alternating dumbell presses.
Michael (Cleveland)
Lovin' the pace of this chat - nice work. How much do the current Bulls remind you of the 2008-2009 Cavs? One dominant player, role players, great team D.
Ryen Russillo
(4:45 PM)
Surrounding players are a little better. Fourth-best player for Chicago is Deng. In Cleveland, it was big Z.
Max (Chicago)
Could you see Memphis winning their first round series? They are a scrappy team with talent
Ryen Russillo
(4:45 PM)
Against the Spurs? No.
Tim (CT)
Ryen, just gotta get on you again for putting U-God in your Wu-Tang top 5. He's not even top 8! And if you bang on RZA, you're not a hip hop fan, simple as that. Best. Producer. Ever.
Ryen Russillo
(4:46 PM)
Wow, people are upset about this. This is months later. In review, Gza, Raekwon, Method, ODB, U-God. Now, that was only in honor of Black Shampoo. Do I think he's actually better than Ghostface? No! But Rza is an awful rapper. Awful. This wasn't top five producers.
Moody (Chicago)
on a scale of 1-phife how excited are you for the new Del album?
Ryen Russillo
(4:48 PM)
Already have it. Review coming soon. Early copy sent to me. Now I can retire.
Zohaib (Hermosa Beach, CA)
Who's smarter, you or Bill Simmons?
Ryen Russillo
(4:49 PM)
He wrote a book. That's hard to do. The first one was just articles, which I can probably do, but the other was like 700 pages, so...
Joe (LA)
BYNUM INJURY UPDATE: MRI REVEALS BONE BRUISE
Ryen Russillo
(4:50 PM)
Well this makes it official. If this is real, then that's good news, but would L.A. tell us if it was serious?
Ryan (LA)
Noah and Boozer for Howard and Bass this summer. This is assuming Howard pulls a Melo and refuses to sign an extension. HOW is this not at least a 50/50 proposition?
Ryen Russillo
(4:50 PM)
If Chicago wins this year, they probably aren't going to want to mess with anything.
Adnan (Chicago)
Please tell me you didn't just rate Noah over Deng. I don't think you could rate Deng over Boozer. Deng outplayed Carmelo last night by the way.
Ryen Russillo
(4:51 PM)
Noah is more important to that team than Deng is. I like Deng, but don't talk to me about last night in games that don't matter.
Mike (Gainesville)
When are you getting your own show?
Ryen Russillo
(4:53 PM)
I'm working on a half-hour special with Showtime. So far, the pilot consists of "Punch a stranger and see what happens," "Amateur play-by-play by people from the south," "Rate the groupies" and an NCAA bracket-style tournament where I go out on the town with 64 different athletes and depending on how the night goes, the athlete either advances to the next round and we keep it going, or the player is eliminated due to bad times.
ESPNRadio.com
(4:53 PM)
That's all for this week, folks. Thanks for stopping by. Be sure to check back next Wednesday. Have a good one.