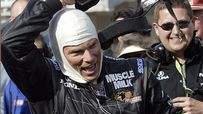 Sharp is a native of Norwalk, Conn.
Welcome to SportsNation! On Friday, American Le Mans Series driver Scott Sharp stops by to chat about the ALMS race this weekend in California.
Sharp will be in the out in Long Beach for the race that kicks off Saturday at 4:15 p.m. PT/7:15 p.m. ET on ESPN3.com, with a re-air on ESPN2 at 5 p.m. ET on Sunday.
Sharp won the LMP1 championship in 2009. He also captured the 1996 IndyCar championship, the first year of the series. As one of the inaugural drivers in the IndyCar Series, Sharp is the all-time leader with 146 career Indy starts.
Send your questions now and join Sharp Friday at 4 p.m. ET!
More Special Guests: Previous chats | SportsNation
Buzzmaster
(4:01 PM)
Scott Sharp should be here in a few minutes!
Buzzmaster
(4:08 PM)
They're tracking down Scott.
Alan (Michigan)
So exactly how do you go from Norwalk, Connecticut, to big-time racing?
Scott Sharp
(4:14 PM)
Well, there isn't much of a hotbed in Norwalk for fostering drivers. But really it's because my dad raced. I grew up around his team and his driving, as well as I started racing go-karts a mile from my house when I was 8. You add it all together and it was an amazing part of my life.
Buzz (Pompano Beach)
What is the most challenging circuit you guys will got to this season?
Scott Sharp
(4:15 PM)
Hmmm...For us, I think in our situation, it was Sebring. We had a brand new Ferrari. The 430s that we raced last year, it was the fifth year of them. They were fully developed. Now, we had new cars that were barely a month old with that track, that was the toughest.
John (Norfolk, VA)
When you are driving 200mph on the track, how SLOW does 65 on a highway feel? Thanks for taking the time to chat!
Scott Sharp
(4:16 PM)
(laughs) It definitely feels slower, especially when you come right off the track, on the road. But you quickly learn to take deep breaths and slow down.
Steve (Djibouti, East Africa)
How would you assess the team's progress with the new car and do you think you are moving in a direction to challenge the BMWs?
Scott Sharp
(4:17 PM)
That combination right now is working well, the BMWs. It's their third year. It seems they've hit their stride. The 458 is all new, literally all new. It will take a bit of time and testing, but I think the car has huge potential. I think when we get to the summer, we'll be going well.
KK (Sacramento)
Thinking about driving down to the race tomorrow. Convince me why I should come!
Scott Sharp
(4:18 PM)
Long Beach is a happening. I think it's the longest running street circuit race in the world. There is so much going on. Concerts, celebrity race. I think if you have the ability to come, you don't want to miss it.
Jeff (Clearwater)
Are you looking to go back into boring, old NASCAR or will you try to get into the exciting, new Indy Car Series?
Scott Sharp
(4:19 PM)
Pretty much now that I have my own ALMS team, that takes most of my energies. We're trying to build us to the most successful we can. If the right opportunity came along to run the Indy 500 again where I thought I could win, I would think about that in addition.
Chris Draper (Tepme, AZ)
After the big crash at Sebring, how long did it take to put the car back together? And in the process, what did you learn about the car?
Scott Sharp
(4:20 PM)
It took a while. The team did a fantastic job. The biggest problem was getting the pieces we needed. It was so new and there are only 4-5 made right now. It was hard getting the pieces out of Italy. The final pieces we needed we got out here in Long Beach. But the guys did a fantastic job.
Sean Lorentzen (Redondo Beach, CA)
Just wondering, we all know that Long Bach is a challenging and difficult track, but is there one particular corner or section that's tougher than the rest?
Scott Sharp
(4:21 PM)
I would say the last few corners that lead up to the final corner. It's always very slippery. Very one groove. Typically people try to dive bomb going into the hairpin. That's always a hairy place during the race.
Jon (Virginia Beach)
Scott, I had a lot of family in Norwalk growing up. How awesome was Stew Leonard's as a kid?! I haven't been back in years, but I remember that petting zoo/animals and thinking Stew's was the greatest grocery store ever. We need more stores like that!
Scott Sharp
(4:22 PM)
I couldn't agree more. I lived about two miles away and would try to go every day. Every time I'm back, I try to go back to get a soft serve ice cream.
Kevin (Fort Worth)
Scott, you drive the LMP1 cars in ALMS, but which cars do you think are the hardest to master in the series and why?
Scott Sharp
(4:24 PM)
Hmm. Wow. Every car is different. I continue to learn, even though I have as many years under my belt. It's about adapting your driving style to your nuances to any car you drive to get the fullest out of the car. Going back to other cars, it takes an adjustment in your style. You can't drive them all he same. It took me a good part of last year to fully make that transition, but it's a blast to drive.
Jon (Virginia Beach)
Ahhh! I forgot about the soft-serve ice cream...Thanks for the memories!
Justin (Indianapolis)
When was the first time you thought, "This is it. I'm gonna be a professional racecar driver for the rest of my life."
Scott Sharp
(4:25 PM)
My dad always brought me up to never set too high of a goal. My early days were a blast just trying to run races. But when I got into the Chevy and was winning races, I thought OK, I can make a living in this, I don't know what kind, but I can. I hoped to get the opportunity to have some longevity.
joseph wick (pembroke pines,fl)
Does the new 458 give a better balance setup than the older 430,also is the 4 liter motor the same as in the 430,or it new design providing better fuel consumption and better low end response.tks
Scott Sharp
(4:25 PM)
Yes, basically. Ferrari took a lot of comments from the teams and refined a lot of the characteristics to make them better in a lot of areas.
James (N Wilkesboro, NC)
How do your Ferrari stacks up against those from other team, especially perenially strong Risi?
Scott Sharp
(4:26 PM)
They've got a huge amount of experience with Ferraris. More than anything, the two drivers drive in Europe and here and all of the developmental driving. They really know the car. That's their strength. But we're rapidly making advances in getting ourselves as competitive to where we can beat them.
Brad (Gadsden,Alabama)
Scott, Who is your favorite sports team?
Scott Sharp
(4:27 PM)
I'm a big football fan, both college and pro. I love the Gators. That's probably my main other sport. Some times I'll watch some tennis. Living in Florida, I love the beach and water related activities. Boating.
Darren (Atlanta)
We've heard of the financial issues in NASCAr. Any in ALMS?
Scott Sharp
(4:29 PM)
It's tough for sure these days. Any series where the costs are high. ALMS pays attention to that. But this is a very big manufacture driven series. Many teams get support from the manufacturers for support. Gives those manufacturers to showcase those technologies.
Scott Sharp
(4:30 PM)
I appreciate everyone's support. It's really amazing to me and the whole team about the following that we have and are building. Stay with us and we'll hopefully get stronger stronger and stronger.