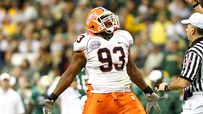 Mel Kiper has Liuget going 14 to St. Louis, while Todd McShay has him going 25 to Seattle.
Welcome to SportsNation! On Friday, NFL draft prospect, and former Illinois Fighting Illini defensive tackle, Corey Liuget stops by to chat some football.
Liuget, who entered the NFL draft following his junior season, led Illinois with 12.5 tackles for loss in 2010, including 4.5 sacks. He finished his career with 8.5 sacks.
Scouts Inc. ranks Liuget as the 13th best overall player and No. 3 defensive tackle in the draft. They like his motor and pass rush skills from the DT position, while his profile says that he is "quick off the ball. Consistently gets in good position. Is strong and powerful. Stays low, stacks and sheds as quickly as any DT in this class. Great awareness, keeps head on a swivel and is quick to locate the ball."
Send your questions now and join Liuget on Friday at 3 p.m. ET!
More Special Guests: Previous chats | SportsNation
Buzzmaster
(2:10 PM)
Hey guys, Corey is running late and will be here at 3 p.m. ET to chat.
Nathan (Missouri)
Corey, what was your favorite moment in college?
Corey Liuget
(3:17 PM)
I would say beating Baylor and having a heck of a game. Also when I close lined a guy from Fresno State.
Nathan (Kentucky)
Hey Corey, who was your favorite player growing up?
Corey Liuget
(3:17 PM)
My favorite player growing up was Warren Sapp.
Woody (C-Ville)
Do you plan on attending the draft?
Corey Liuget
(3:17 PM)
Yes, I'm going to New York City.
Craig G. (Fairfield, California)
Hey Cory, what school did you look forward to playing against the most in the Big Ten?
Corey Liuget
(3:18 PM)
Of course Ohio State and Penn State.
Aaron (South Dakota)
Corey, Who had the best offensive line you faced?
Corey Liuget
(3:18 PM)
That would be Penn State.
Brad (Gadsden,Alabama)
Corey, Do you have any pre-game rituals?
Corey Liuget
(3:19 PM)
I walk around the locker room and pray for everybody. I say it under my breath so nobody knows what I'm doing.
Scott (Ann Arbor)
What other sports did you play other than football?
Corey Liuget
(3:20 PM)
I wrestled and I also player basketball.
Woody (C-Ville)
Does the number 93 have significance to it?
Corey Liuget
(3:20 PM)
Yes it does. I was three years old when my father passed away and the year he passed was 1993.
Cheesehead Sports Nut (Chicago, IL)
Do you think you are a better fit to play in a 3-4 defense or a 4-3 defense?
Corey Liuget
(3:21 PM)
It doesn't matter, I'm just a football payer. If I'm coached the right technique, I can player either one.
Cheesehead Sports Nut (Chicago, IL)
What has been your most favorite and least favorite part of the draft prep process?
Corey Liuget
(3:22 PM)
My favorite part is traveling to see different cites and I don't really have a least part about the draft process. I get a meet a lot of great people and it's been just a great experience overall.
Tyler (Tallmadge, OH)
Are you worried that the lockout will effect your talent for next season?
Corey Liuget
(3:24 PM)
No, not a t all. I'm a hard worker and I get better everyday. So I really don't think the lockout will hurt my talent any.
Jeremy (Chicago, IL)
If you could choose, what team would you most want to play for?
Corey Liuget
(3:25 PM)
(Laughing) Whichever team drafts me.
Greg (St. Paul, MN)
Who would you most like to play with side-by-side in the trenches? I can't imagine a better combo than Jared Allen on the end with Kevin Williams next to you...that would be a force!!!
Corey Liuget
(3:26 PM)
I would love to have Jared Allen next to me. His m motor is out of this world, he goes hard every play.
Greg (St. Paul, MN)
Who would you most like to bull rush in the NFL?
Corey Liuget
(3:26 PM)
(Laughing) I don't want to put my foot in my mouth so I'll say no one.
Alex (AZ)
What up Corey. Do you and your fellow Illini Teamates (Leshore, Wilson) been talking any smack with eachother about who will be the best pro?
Corey Liuget
(3:28 PM)
No, we don't talk smack at all. We are all hard worker who want to see each other do well on the next level. So no, we don't talk trash to one another.
Corey Liuget
(3:29 PM)
Thanks to everyone for supporting me. Your support means a lot to me and I promise I won't let you down no matter if I go to your favorite team or not. See you at the draft!