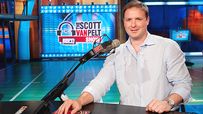 Welcome to SportsNation! On Wednesday, ESPN Radio's Ryen Russillo will be stopping by to chat.
Russillo is co-host of The Scott Van Pelt Show on ESPN Radio, which runs 1-4 p.m. ET. Listen live

He also hosts the NBA Today podcast on ESPN.com. He has covered the NBA draft since 2003 and prior to joining ESPN, he was a TV studio analyst for Boston Celtics games.
Send your questions now and join Russillo on Wednesday at 4:15 p.m. ET!
More Ryen Russillo: ESPNRadio.com | Chats | Search | SportsNation index
ESPNRadio.com
(4:13 PM)
Ryen is here. Fire away.
Dalton (NYC)
Ryen, big fan of the podcast. Can the Knicks still steal the series?
Ryen Russillo
(4:13 PM)
No, but their defense (or Boston's inability to score) has been surprising.
Josh (Las Vegas)
What do you expect to see from the Lakers-Hornets game tonight?
Ryen Russillo
(4:14 PM)
A much better effort on screen-and-rolls and less switching. Maybe Artest earlier on Paul to disrupt some things.
Runako Ellis (Los Angeles)
What do you feel are the chances of there being a lock out in the NBA?
Ryen Russillo
(4:14 PM)
75%.
Mike (South Florida)
Do you still hate Auburn?
Ryen Russillo
(4:14 PM)
Never did.
Runako Ellis (Los Angeles)
Say the Lakers do win a championsiup this year, do you think they have enough left to win one or two more? Or would this most likely be it?
Ryen Russillo
(4:15 PM)
They will still be in the picture after this year, win or lose. They have one of the best centers, a top-five player, sixth man, I can never say a healthy Bynum because we never know. You get the idea.
Jared Jeffries and Bill Walker (New York, NY)
Ryen, why were we on the court last night for our team's final possession?
Ryen Russillo
(4:16 PM)
Jeffries is actually one of the most versatile defenders in the league, but offensively, very limited, so probably shouldn't have been in after that timeout. Walker's job is to push people and act tough now, so I guess you needed that then. There weren't a lot of options. Seems like Fields is out of the picture right now.
Matt (PA)
Corey Brewer, come on I'm better than Bill Walker.. Right???
Ryen Russillo
(4:17 PM)
Apparently the Knicks didn't want Brewer. That's what I heard.
Zak (Champaign)
How cool is Van Pelt?
Ryen Russillo
(4:17 PM)
Bo or Brad?
Donnie (Cambrige, MA)
By the way, as a hip-hop fan, I've been bummed that you stopped signing off with a rap line. Here's a quote you may consider for a future podcast: "You scream I'm lazy/you must be crazy/you thought I was a donut, you tried to glaze me" (the immortal Rakim).
Ryen Russillo
(4:17 PM)
It was a phase. I'm sure I'll go through it again.
Runako Ellis (Los Angeles)
The way the Mavericks and Lakers are playing right now, do you see the Mavericks giving the Lakers a lot more problems than people were giving them credit for before the playoffs started?
Ryen Russillo
(4:18 PM)
No, I don't.
Kevin in Baton Rouge [via mobile]
Hornets: Do they have a shot at beating the Lakers and if they do, just how far can they go?
Ryen Russillo
(4:19 PM)
No, I really don't see it. They had unreal play from Gray and Jack off the bench. Tough to duplicate that effectiveness. And Paul basically played a perfect game.
Rick (Fairfax Virginia )
Which OKC superstar is more valuable to the team?
Ryen Russillo
(4:19 PM)
Durant. I do not see Westbrook as being in Paul or Rose's category.
Sid (NYC)
How do you feel about the Perkins trade? You still seem to be positive about it but how do you feel it has affected both teams?
Ryen Russillo
(4:21 PM)
Perkins has been a good fit for Oklahoma City. He still doesn't balance their offense. They have no post players offensively, but if he brings them a toughness they didn't have before, then that's a big deal. It hasn't impacted Boston as much as people make it out. Their defense is exactly the same, but they can't score. Offense has been terrible at the end of the regular season and these two games. As much as I like Jeff Green's skill, he's a very inconsistent player. Let's face it, he's kind of soft.
Jeff (Madison, WI)
When does the Russillo on the Road schedule come out? What are the chances you will be back at Wando's in Madison October 1st for the Nebraska-Wisconsin game?
Ryen Russillo
(4:21 PM)
A very good chance. Don't know if I'll write again. I think I say that every year, though. First week, I always really want to write it. Week 8 is when I start to think it isn't worth it.
John (Facebook)
"CP3 is the best PG playing in the game however, Derrick Rose is the best player playing the PG position in the NBA" I've heard this statement made a lot of times. Do you agree?
Ryen Russillo
(4:22 PM)
Pure play-maker, Paul's better, but they both are one-guards and Rose is better right now because he's a more dynamic scorer. It's not like he can't hand out assists, so I feel like it's a way to make something more complicated than it needs to be.
Dalton (NYC)
After seeing two games, are the Heat the favorites in the East?
Ryen Russillo
(4:23 PM)
They've been more dominant, but I like to make my assessments based on 80+ games and not two. But if things keep up, Boston is going to have a hard time scoring against them.
Humberto (San Antonio)
Not a Spurs question, I know big surprise! Do you feel that these playoffs are the start of a transition of power from the old guard ala Kobe, Duncan, Garnett, etc, to the new guys about to hit their prime as in LeBron, Paul, Wade, Durant, Howard, with Rose (catching up very fast)?
Ryen Russillo
(4:25 PM)
First one asked. Stop with the bias talk. So tired. No, I don't. It's a fun storyline, but how many of the top five or six teams in the West are going to be replaced next season? L.A., San Antonio, Dallas will still be in the mix, Oklahoma City will get stronger and Denver isn't going to be able to keep everybody. Is Memphis going to be a 55-win team next year? I doubt it.
Joey (B'ham)
What game is that on your twitter screenshot? NHL '93?
Ryen Russillo
(4:25 PM)
'94.
Slater (San Francisco)
Did you see the debate between Bucher and Broussard on who you'd rather build a franchise around, Rose or LeBron? Bucher seems a little over-the-top in saying Rose, but what do you think of his point that it's so crucial for your star to be completely devoted to improving, not making excuses?
Ryen Russillo
(4:27 PM)
The debate becomes do you want to deal with LeBron and all of his "stuff," or Rose, who appears to be a star without an ego? Now, if Rose still has this demeanor after an MVP and deep playoff run, then I can see Bucher's point, but LeBron's still a better player.
Ryan (SLC)
What are your thoughts on Gordon Hayward and his late season development and continuing development?
Ryen Russillo
(4:27 PM)
I really liked what I saw. My concern with him was his awful shooting his last year at Butler, but his form looks good. He's got a great handle and he's very competitive. If he keeps improving, he could be a starter.
Zach (Greenville)
Some radio show (M&M or The Herd) posed question of whether to be best 6th man or worst starter in the league. I found this question "interesting" (ie: dumb). What do you think?
Ryen Russillo
(4:28 PM)
I'd rather be best sixth man. Is there even a debate?
Zohaib (Hermosa Beach, CA)
Hey Ryen, do you agree with Barkley that only God is an expert?
Ryen Russillo
(4:28 PM)
God has a really hard time evaluating defensive ends, though.
JR (NYC)
What's your lineup of NBA sites? (your favorites, best)
Ryen Russillo
(4:29 PM)
NBAplaybook.com, hoopdata.com and BoysinYogaPants.
Adam (Denver)
The Denver Nuggets got the better trade. We are a far better team than we were with Melo. I also might add our numbers have improved on both sides of the court, and we haven't used our draft pick yet.
Ryen Russillo
(4:30 PM)
After you sign Nene, you're not going to keep a lot of those guys.
Kat (VA)
Favorite concert of all time?
Ryen Russillo
(4:32 PM)
This is tough. Haven't been to too many concerts lately. Right when Everclear got huge, they decided to come back to this small club in Burlington, VT and play. And there was a stretch when I really liked them, and they let about 500 people into a place that held about 200 and we were up front and those guys just went nuts for two hours, and then they beat each other up during the encore. And then they did a cover I think of 'Mr. Big Stuff,' and I was done with them. It was more the atmosphere than it being my favorite group. As much as I love rap, I hate rap concerts.
Jeff (Madison, WI)
Have you and Van Pelt boycotted Tiger Woods 12 since they went with Jim Nantz to do the voiceovers instead of SVP?
Ryen Russillo
(4:33 PM)
I actually just have Van Pelt come over to my house and do the play-by-play. Probably a little harder for you guys to do that. I called him at 3a last week and was like, "Dude, get over here. About to fire up 18 holes." He was bummed out, but he did come over.
Joey (B'ham)
So...Yannick Noah is one of the most handsome tennis players of all time and Joakim's mom's a former Miss Sweden. Explain to me why I get nauseous everytime I look directly at Joakim.
Ryen Russillo
(4:33 PM)
Interesting scouting report.
Adnan (Chicago)
Do people make a big deal out of how a team plays in the playoffs? It's all about winning right?
Ryen Russillo
(4:34 PM)
With Chicago, they're the #1 team in the NBA, they're playing a Pacers team that was eight games under .500 and this Bulls team has never done anything, so people start questioning how good the team really is because we have nothing else to base it on. If they keep winning, no one will care.
Anthony (NYC)
Bill Walker being a fake tough guy? The Knicks are playing an entire team of studio gangsters - I guess big baby's shoulder/elbow into JJ was ok.
Ryen Russillo
(4:36 PM)
I don't know if you're agreeing with me or being upset. Walker punched Pavlovic in the man onions last week and then got mad when Pavlovic pushed him away, so a little tired of Bill Walker's act. We also decided instead of three-point goggles after a Bill Walker miss, you should just put a zero in front of your eyeball and call it zero point monocle.
Josh (Las Vegas)
Are there any current rappers that you like?
Ryen Russillo
(4:37 PM)
Yes, Big Daddy Kane.
Ray (San Antonio)
Why is Rose never criticized for being a shoot first PG? Just to use an example, Tony Parker had a similar statistical season 2 years ago (similar PPG, AST, PER), Manu missed 44 games and Tony led the Spurs to 54 wins in the West. But all you ever heard was how he wasn't elite because he wasn't a 'pure' PG. I am not saying Parker is as good as Rose but one guy got criticism for his play and one guy is going to get the MVP. Seems a little bias.
Ryen Russillo
(4:38 PM)
Maybe it's unfair, but Parker is in Duncan's shadow and the improvement for Chicago has coincided with Rose's development. Rose also has a more complete offensive game. I don't remember a ton of criticism of Parker other than he's just not an outside shooter. Parker may be the best in the league at dribbling in the lane and being comfortable. What I mean is, all of those defensive players around him and he's just hanging out in the paint, making a play.
Josh (Carlsbad)
When it comes to hip hop, can you actually flow or do you just listen?
Ryen Russillo
(4:39 PM)
What is this? No, I can't rap. Am I missing something in this question?
orey (Vegas)
how much wood could a wood chuck chuck if a wood chuck could chuck wood??
Ryen Russillo
(4:39 PM)
Tool.
Zohaib (Hermosa Beach, CA)
Is Drake underrated, overrated or "appropriately" rated?
Ryen Russillo
(4:39 PM)
I don't like Drake.
Clarence (San Francisco)
Ryen, a buddy of mine is getting married this summer and it just so happens that he is the first of our crew to do so. Based on a podcast you did with SVP last year, what are your dos and dont's for this type of occasion? e.g. your advice on the right tempo for the open bar, hitting on bridesmaids, etc.
Ryen Russillo
(4:40 PM)
If he's the first guy, then this will be a debacle, so don't pretend you guys are going to act mature. If it goes really bad, just put your arm around him and say, "Hey, your next wedding will be a lot better."
Josh (Carlsbad)
Where would you rank Starbury on the list of point guards in the last decade?
Ryen Russillo
(4:41 PM)
Eating vaseline? Number one.
Luke (South Bend)
Who would win in a 1 on 1 bball matchup, you or Simmons?
Ryen Russillo
(4:41 PM)
I'd kill him. Now run and tell him.
Adnan (Chicago)
Why would Larry Drew bench Hortford for the entire first half just because he had two fouls?
Ryen Russillo
(4:41 PM)
I have no idea, Adnan. It is beyond dumb.
Jay (MD)
Were you watching 25 years ago when Jordan dropped 63 on the Celtics?
Ryen Russillo
(4:42 PM)
Yes. I actually went to one of the games in that series.
Kat (VA)
with you on the rap concerts. I've only been to one though - LL Cool J. I would think seeing Outkast live would be decent.
Ryen Russillo
(4:43 PM)
I saw Big Boi at the EA Party at the Super Bowl a few months ago. That was okay. But at those parties, it becomes a who can I talk to that's cooler than me contest, and at the same time, a don't talk to me, you're not cool enough contest. So it's not really a concert.
Big E (Houston, TX)
"Rose also has a more complete offensive game"More complete offensive game only means that Rose only dunks more than Parker.
Ryen Russillo
(4:43 PM)
We see the game differently.
Not Josh (Not in Vegas or Carlsbad)
What's your take on Brandon Roy's pity party? Justified?
Ryen Russillo
(4:44 PM)
I feel bad for him, so I don't fault him for being upset about what's going on, but in the playoffs, it's kind of tough to justify getting him out there if he can't be more effective. He'll probably get one more shot, but if you can't get him going, you might not see him a lot the rest of the series.
donnie (LA)
I bet your not as good a baller as you claim to be. Describe it
Ryen Russillo
(4:44 PM)
Someone asked me if I could beat Simmons, not if I could score 20 in an NBA game. Go bother someone else.
Jose (Califronia)
When do you blow up this Lakers team after Kobe retires or before when they see he cant compete as hard and Gasol doesnt play as well
Ryen Russillo
(4:45 PM)
Do you guys really worry about this stuff? Think about what you're asking. Just keep riding it out.
Adam G (East Lansing)
One rule change you would like to see in the NBA?
Ryen Russillo
(4:46 PM)
Get rid of charges.
Zohaib (Hermosa Beach, CA)
Who's the smartest player in the NBA?
Ryen Russillo
(4:47 PM)
Steph Curry.
DC (Chicago)
I think, when Paul is at his best (like game 1), that he is far and away the best PG in the league. I love Rose but I just don't think he runs an offense as well.
Ryen Russillo
(4:49 PM)
He played a perfect game, but he makes you worry about long-term how explosive he'll be because he hasn't been as explosive this season, but he's still very young.
Andy (Baldwin MO)
Who is the most random person you follow on Twitter?
Ryen Russillo
(4:49 PM)
I followed one of Sheen's goddesses. It was pretty boring. I followed a friend of a friend, but she talked all of the time, so I had to un-follow.
Daniel (Dallas)
Does Dirk get his due respect from the basketball community, IYO?
Ryen Russillo
(4:50 PM)
No, he doesn't. All he does is put up huge numbers, lead his team to 50+ wins and close out playoff games. Nine-straight points against three different defenders last night. He's terrific, but he hasn't won enough for the public, so we dismiss him. You can follow me at @ryenarussillo. See you later.
ESPNRadio.com
(4:51 PM)
That's all for this week. Thanks for joining the chat. Be sure to check back for more next Wednesday. Have a good one.