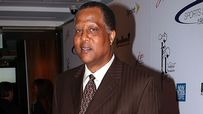 Wilkes averaged 17.7 points and 6.2 rebounds for his career.
Welcome to SportsNation! On Wednesday, four-time NBA champion Jamaal Wilkes joins the chat to talk about the NBA playoffs.
Wilkes played 12 seasons in the NBA, winning a title with the Golden State Warriors in 1975 and with the Los Angeles Lakers in 1980, 1982, 1985. He won a championship at the high school, collegiate and NBA levels. The California native played on the Bill Walton-led UCLA national championship teams in 1972 and 1973 and was a member of the Bruins squad that won 88 straight games.
Send your questions now and join Wilkes Wednesday at 2 p.m. ET!
More Special Guests: Previous chats | SportsNation
Jamaal Wilkes
(1:59 PM)
Welcome to the chat. Let's get to it!
Chris (Fresno)
What do you think the Spurs should do this offseason to get back into the champioship hunt? Who should they get?
Jamaal Wilkes
(2:00 PM)
I think even if they go ahead and win the series against Memphis, they would have to sure up their front line. I think that's where they should start.
Nathan (DC)
NBA commentators keep saying that the Bulls can't win the championship without better play from Carlos Boozer. Isn't that sort of ignoring just how good of a player Taj Gibson is?
Jamaal Wilkes
(2:01 PM)
You can look at it that way. We have to wait until they are in a tough situation and see who steps up. I think they are referring to Carlos being undersized for his position. Boozer is a good player though and Taj is coming along nicely.
Jeremy (Chicago, IL)
Any interest in coaching at any level sometime soon?
Jamaal Wilkes
(2:02 PM)
I haven't had a lot of interest until recently but I am open to it.
Chris Fiegler (Latham,NY)
Who do you think will be in the NBA Finals This Season?
Jamaal Wilkes
(2:03 PM)
I think the Lakers can emerge from the West and Chicago, simply because of their record, will come out the East. I think that would be a Bulls-Lakers Final would be a real interesting series.
Robert (Los Angeles)
Jamaal, you have such a low key demeanor. How were you able tor relate to the charisma that was Magic Johnson when he joined the team?
Jamaal Wilkes
(2:04 PM)
We were all about winning and that's all that mattered but related very well to one another.
Jeremy (Chicago, IL)
Who was a better center in college: Bill Walton or Leu Alcindor?
Jamaal Wilkes
(2:06 PM)
I played with Bill in college and I didn't play with Leu Alcindor or Kareem until the NBA. They both had a signature play, Bill with the outlet pass and Kareem with the sky hook. As far as comparing them in college, I can't really do that.
David (Santa Monica)
The most important thing you learned from John Wooden is . . .
Jamaal Wilkes
(2:06 PM)
Wow! I learned so much from him and it's so hard to pick just one thing. But if I must, I would say having consideration for others.
Kevin (CT)
Do you think it's better for a team to sweep the first round or be tested and play more playoff basketball?
Jamaal Wilkes
(2:07 PM)
Generally I would say it's better to be tested. Being tested makes a team tougher.
Nathan (Missouri)
Hey Jamaal, who was the toughest to play against?
Jamaal Wilkes
(2:09 PM)
Everybody in the NBA is good at something and everybody presents unique their challenges. For me from a defensive standpoint, among the toughest was George Gervin. Only because he was so creative with getting his shot off.
Nathan (Missouri)
Hey Jamaal, who is your favorite player to watch in the NBA today?
Jamaal Wilkes
(2:10 PM)
There are some very fine players. I enjoy watching several players like Kevin Durant, Kobe, and Rajon Rondo.
Nathan (Kentucky)
Jamaal, what was your favorite moment in the NBA?
Jamaal Wilkes
(2:12 PM)
I was fortunate to play on four championship teams and all those were special. But I will say my first championship with the Warriors was the most special. It was my rookie season and we weren't expected to win. It was showed me that I can play in this league and play at a high level in this league.
Matt (IN)
Silk, how much has the game changed since you played?
Jamaal Wilkes
(2:13 PM)
The three point shot is more of the offense compared to it being a desperation shot when I was playing. They also carry the ball a lot more these days and the refs allow them to get away with it. Other than that, the way they approach the game is pretty much the same.
Jon (NYC)
Mr. Wilkes, have you been following the Warriors this season? I see some promise. It's a shame they let go of Coach Smart.
Jamaal Wilkes
(2:14 PM)
Yes, I saw them off and on this season. I know they have a new ownership group and I did like coach Smart. I hope that the organization stays open-minded and continues to improve.
Randy (Portland)
How do you think your game wouls fare in today's NBA?
Jamaal Wilkes
(2:15 PM)
I think I would fare very well. Primarily because I didn't need the ball to be successful. I rebounded and defended.
Ian (Tucson)
Assuming Memphis finishes off San Antonio, Do you think they stand a chance in the Western Conference Semifinals?
Jamaal Wilkes
(2:17 PM)
Of course. A team always stands a chance. The confidence they would have by defeating the No. 1 seed will go a long way. Plus the fact they are a young athletic team doesn't hurt.
Jamaal Wilkes
(2:18 PM)
I would like to thank everyone for participating in the chat. Hope you continue to enjoy the NBA playoffs.
THIS WEEK'S CHATS (All Times PT)