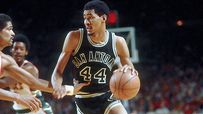 Other than the first and last seasons of his career, Gervin spent every other season with the Spurs.
Welcome to SportsNation! On Friday, Pro Basketball Hall of Fame player George Gervin stops by to chat about the NBA playoffs.
Gervin spent 14 seasons in pro basketball, the first four in the ABA and the last 10 in the NBA. His 26,595 total points ranks him 14th on the all-time scoring list. He led the league in scoring four times, including a career-high 33.2 ppg in 1979-80.
"The Iceman" was a nin-time NBA All-Star, three-time ABA All-Star, member of the NBA's 50th Anniversary Team. His number 44 was retired by the San Antonio Spurs and was inducted into the Pro Basketball Hall of Fame in 1996.
Send your questions now and join Gervin Friday at 2 p.m. ET!
More Special Guests: Previous chats | SportsNation
Matt (IN)
Ice, do you remember playing at Roberts Stadium in Evansville back in your college days? My dad still talks about how great you were.
George Gervin
(2:02 PM)
(Laughing) I remember those days. We played with Truck Robinson, former NBA rebound leader.
James Corrao (Fort Wayne IN)
He doesn't have your famous finger roll, but Derrick Rose has great body control in the lane and can make "runners" over taller defenders. He also can use the backboard. Do you think this type of creativity with shots is a lost art?
George Gervin
(2:03 PM)
Derrick Rose is a special player. Having that quickness and having that soft touch at the basket makes him a though player. It's not the like finger roll though! I've only seen him and Tony Parker finish around the rim with the finesse that they do.
Pop (Memphis)
Hey Iceman, what do I tell my guys about not turning the ball over late in the game?
George Gervin
(2:04 PM)
I guess what you tell them is you have to protect the basketball. Try not to dribble into areas where you can get trapped.
Steve Ruhlen (Alexandria, VA)
Iceman,I'm an SA Boy who watched you back in the day. From a scorer's perspective, what do you see as the main changes in the game since you played, and who playing today are your favorites to watch?
George Gervin
(2:05 PM)
Well when we played, the defense was allowed to put their hands on you a lot more. So we had to develop different was to get around that. We had to find creative ways to score. Now a days, defenders can't put there hands on you and that makes it easier for the offensive player to score.
George Gervin
(2:07 PM)
My favorite player to watch was Julius "Dr. J" Erving. When I started playing in the ABA he was my teammate and he became my favorite player of all-time. Kobe is my most favorite player to watch now but I also like Carmelo and LeBron. I like the way those guys can score.
Jeremy (Chicago, IL)
Which active player has a game similar to yours?
George Gervin
(2:08 PM)
I would have to say Kevin Durant because of his lean build, his ability to put the ball on the floor and his ability to shoot the ball with consistency.
Chris Fiegler (Latham,NY)
Who do you think will be in the NBA Finals this season?
George Gervin
(2:10 PM)
Wow, that's a tough one! You have some good teams. I like Chicago in the East but I also like Boston. People keep saying they are getting old but I say they are getting old like fine wine. In the West I like the Lakers. I'm kind of bias towards the Spurs even though they have themselves in this hole. If they can climb out and be victorious against Memphis then I like their chances. But the Lakers are still the team to beat.
Rodger (Eugene, OR)
Hey George! I cannot believe that they have you on here! This is an great gift for an old NBA fan. What happened to finger rolls in the NBA? You were smoove with the finger rolls and I think that it, like the sky hook, could be invaluable in todays NBA. What do you think? Thanks!
George Gervin
(2:12 PM)
It's like anything else; you have your own signature move. I would like to thank you for talking about the finger roll, it was my move. I took it to another level. Since you are old school, you know Julius Erving, Connie Hawkins, and Wilt Chamberlain had their own version of the finger roll. I was able to watch and learn from them and then take it to another level.
Joshua (AZ)
Do the Heat have any kind of answer for Rajon Rondo?
George Gervin
(2:14 PM)
Wow, that's tough! I think Boston-Miami is a great matchup. Rondo is playing great right now and I don't think Miami will have an answer for him. Boston plays so well as a team and the Heat are now just getting things together as a team and that will be a difference in this series. I don't think Miami can beat Boston yet but they might surprise me. This is going to be a great series.
Taylor (NYC)
If we created an all-time Spurs starting 5 of Robinson, Duncan, YOU, Manu and Parker, would any other all-time franchise be a favorite against you guys?
George Gervin
(2:16 PM)
Wow! I'd say the Lakers with Kareem, Magic, Cooper, Jamal Wilkes, Kobe and the list continues. Maybe even the Bulls with guys like Rodman, Jordan, Kerr, Pippin and Paxon. I don't think they would run over us but it would be a battle.
Joe Walters (Los Angeles, CA)
Who's winning tonight....SA or Memphis
George Gervin
(2:17 PM)
San Antonio (with a smile)!!!!
George Gervin
(2:18 PM)
That's what I want to happen. They have to carry the momentum from Wednesday's game back to Memphis. If they do that, then they will win.
Jim (Miami, FL)
Man...such an honor just to have you here, Ice. Everyone always talks about your finger roll but I'll always remember that running semi-hook shot you had as being one of the most unstoppable shots ever. Thanks for all the memories!
George Gervin
(2:19 PM)
Thanks man. Everybody always talks about my finger roll but when I go out I talk about my running-hook. I think I should be known for scoring in a variety of different ways.
George Gervin
(2:20 PM)
Thanks to everyone for taking me down memory lane. It's been a pleasure chatting with you. Continue to enjoy the playoffs. Go Spurs!