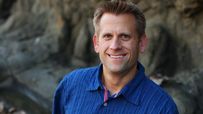 Sport Science host John Brenkus stops by for his monthly chat.
Welcome to SportsNation! On Monday, Sport Science host John Brenkus stops by to chat about his Emmy Award-winning TV show.
Sport Science uncovers sports' biggest myths and mysteries by utilizing cutting-edge technology to measure momentum, friction and the laws of gravity. In addition to his role as host of Sport Science, Brenkus is the director and creative director of all BASE Productions programs. He is a University of Virginia graduate.
Send your questions now and join Brenkus Monday at 3 p.m. ET!
More Sport Science: Index | Videos | Blog | Chats | @Sport_Science
Buzzmaster
(3:02 PM)
We've got John!
KEvin (CT)
Which athletes are you working with next?
John Brenkus
(3:02 PM)
Too many to list. Lots of good things coming your way.
Jeff (RI)
John, what was the most fun segment you did for the 2011 draft?
John Brenkus
(3:03 PM)
They all are a total blast. The Marcel Dareus feature, where he was destroying me off the line was the one that everyone was most excited about. The crew couldn't wait to see me fly through the air again.
Greg (Boston)
How many ideas are you constantly juggling?
John Brenkus
(3:04 PM)
There are literally hundreds of ideas currently in the hopper and hundreds of more. We've done over 270 experiments to date.
Nick (Richmond,VA)
Just to start things off, I want to say go Hokies to the UVA grad.
John Brenkus
(3:05 PM)
Your mascot is a turkey. Mine is a guy with a sword. Who do you think wins?
Mike (Ohio)
Have any pro teams contacted you about partnering with them?
John Brenkus
(3:06 PM)
Every pro team is interested in our results. We just can't play any favorites.
John Brenkus
(3:06 PM)
Otherwise, if I could, my favorite teams would have a Sport Science hotline.
Cheesehead Sports Nut (Chicago, IL)
Have you done any work on the potential brain trauma suffered by repeatedly heading a soccer ball?
John Brenkus
(3:07 PM)
We have already done a very similar experiment to that. We will be re-addressing that later this summer.
Clay Parker (Monroe, LA)
Is there a list of all the athletes tested and their results or would they be meaningless to us?
John Brenkus
(3:09 PM)
A big part of what we do is putting our data into a context that makes sense to an audience. A lot of our numbers wouldn't mean anything to a general audience by themselves.
Greg (Boston)
Any baseall players coming up on the show?
John Brenkus
(3:09 PM)
Yeah, we have a bunch. Even during the season!
John Brenkus
(3:10 PM)
We've had Jake Peavy, Matt Kemp and a bunch of others. Sport Science loves baseball.
Dave (Washington)
Are football players the easiest to test, beause of the power involved int he game?
John Brenkus
(3:11 PM)
Our job is to look at all sports through the lens of science, in a way that is super entertaining to an audience. Football is a blast, but honestly, we come up with experiments for every scenario in every sport.
John Brenkus
(3:12 PM)
And we love it.
Karl (Denver)
How cool was it to come up with the QB glasses to monitor traget tracking in your SS Combine?
John Brenkus
(3:13 PM)
Super cool. It was very applicable to many positions in many sports. It's fascinating to see how a QB leads his target. It gives us a true sense of our reaction time.
Lindy (CA)
Are you always trying to come up with new tools? Do you ahve a group creating things for you?
John Brenkus
(3:14 PM)
It's a very collaborative process between our experts, scientists and ESPN. There is no lack of ideas, that's for sure. We like to be on the cutting edge, all of the time. That's just how we roll.
Tim (MD)
So were you staff laughing watching you fly through the air? Did you have to scold them afterwards?
John Brenkus
(3:16 PM)
No, I had to laugh right along with them. It's ridiculous that a grown man like myself can be thrown around like a rag doll. What's amazing to me is I'm small, but not that small. 5-8, 160 is fairly average. Just imagine if I was on the "super small" side of things.
Mike (Ohio)
Do you have to get a teams approval in order to use a player? Seems like liability could be high.
John Brenkus
(3:17 PM)
No, just athlete consent.
Will (SF)
Did you ahve to tell Dareus that he wouldn't hurt you? I would think he would pull back some.
John Brenkus
(3:19 PM)
I told him to go all out, because I didn't want to do it more than once. If he went half speed, the results wouldn't be that amazing and we'd have to do it again and again and again. When we did the experiment with Brandon Jacobs, we had to do it 7 different times because he was going half speed. I kept telling him that doing this half speed stuff over and over hurts more than doing it once all out. I had no problems with Marcel. He really is amazing.
John Brenkus
(3:20 PM)
A whole lot more great Sport Science segments coming your way. Thank you so much for your support.