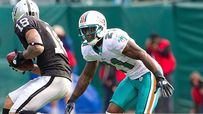 Davis left Illinois following his junior year to enter the NFL draft.
Welcome to SportsNation! On Thursday, Miami Dolphins cornerback Vontae Davis stops by to chat.
In two seasons in the NFL, Davis has made an impact on the Dolphins, playing in all 32 games of his career. He has five interceptions and 23 pass break ups in this two years.
Davis, whose brother Vernon was the sixth overall pick in the 2006 draft by the San Francisco 49ers, was the 25th overall pick by Miami in the 2009 NFL draft. The Davis brothers became the first brothers to be first round draft picks since the Mannings (Peyton, 1998 and Eli, 2004).
Send your questions now and join Davis Thursday at 1 p.m. ET!
More Special Guests: Previous chats | SportsNation
Buzzmaster
(12:59 PM)
Vontae Davis will be here in a few minutes to take your questions!
Buzzmaster
(1:01 PM)
Vontae is here!
Jeffry (KS)
What's the lockout been like for you? Have you been following it closely? How anxious are you and your teammates to get back to business as usual?
Vontae Davis
(1:03 PM)
Me, I've been training with my brother in DC. Staying in shape, because I don't wany my lockout to catch me off guard. I constantly stay in touch with my teammates. Most of them are in Florida, eventually I'll go back and work out with them too.
Peter (RI)
How competitive are you and your brother? Does he tease you because he was drafted higher than you?
Vontae Davis
(1:04 PM)
He doesn't tease me about that. You had guys that were drafted 6-7 round that were some of the best players in the NFL. You have to pay your dues in the league to even earn respect. We hate losing against each other.
Joe W. (Boston)
Who's the toughest receiver to cover in the AFC East?
Vontae Davis
(1:04 PM)
I would say no one's the toughest. There are a lot of good receivers.
Mike (Denver)
How great is it to play football in Miami?
Vontae Davis
(1:05 PM)
It's a blessing. I couldn't have asked for anything better. In every other city, most of their players want to play in Miami. I hope to be there for a very long time.
matt (pittsburgh pa)
Vontae big dolphins fan here in southwest pa..just wanted to know what your thoughts are as to what can we as dolphin fans expect this upcoming season?? We need a superbowl!!
Vontae Davis
(1:06 PM)
I feel that going into the offseason, we have younger guys that are a year older. We're strong in a lot of areas that we weren't in the past. We're headed in the right direction to be a perennial playoff team.
Danny (Lisle, IL)
What was your favorite moment from Illinois' Rose Bowl run when you were a sophomore? Stunning top-ranked Ohio State on the road? Or starting the conference play with back-to-back home upsets of Penn State and Wisconsin that showed everyone right away you guys were for real?
Vontae Davis
(1:07 PM)
I have to say, actually beating two ranked teams back to back. We beat Wisconsin, they were ranked, I think 12 and Penn State, ranked no. 8. That was when I felt we had a special team. Those two games, that's when we built a lot of faith. The OSU game, that's put us over the hump. That's when everyone went crazy.
Scott (South Dakota)
You and Vernon - playing hoops 1 on 1. Who wins?
Vontae Davis
(1:08 PM)
I win, because I'm more athletic. But I figure, if he wanted to, he would back me up and try to get easy buckets so I couldn't win.
Corey (Boca)
I think the secondary will be a strength of this team next year, with you and Sean taking the next step and getting back Will. How good can this defense be?
Vontae Davis
(1:08 PM)
I feel we could be one of the best in the NFL. The best in the NFL.
Vinny (NY)
Vontae, how did you feel the Dolphins did in the draft this year?
Vontae Davis
(1:09 PM)
I feel it was a position that was needed. It made our line better. You have to be able to run the ball in our division. We want that to be a strength of our line.
Marco (Tallahassee)
How was it going against Randy Moss?
Vontae Davis
(1:10 PM)
Most of the time, they're not very physical. I try to use my ability physically. Most of those recievers don't like the physical play and that's where I try to beat them.
Corey (Denver)
How much does it help you being able to go one on one with a talented guy like Marshall every day in practice?
Vontae Davis
(1:10 PM)
It's a blessing to have a receiver like that. Someone who's one of the best at his position, it makes me better.
Steve (Wisconsin)
If there was no NFL this season, what other professional sport would you want to play?
Vontae Davis
(1:12 PM)
That's an interesting question. I would have to say lacrosse. Major League Lacrosse. That fits my strengths.
Joe (NYC)
Vontae, what do you think Miami D needs to do to take the next step into the elite units in the NFL?
Vontae Davis
(1:12 PM)
Have a mental aspect. Approaching every game knowing we're the best and playing every Sunday like we are the best.
Mike (NY)
Vontae, who was your favorite player in the NFL growing up?
Vontae Davis
(1:13 PM)
I had a lot of different ones. I'm from D.C., so I like most of the players from the Redskins. Deion. Stephen Davis.
Vontae Davis
(1:13 PM)
Basically any player with the Redskins that was good.
Chris (New York, NY)
Whatup Vontae? As a player, do you set personal, statistical goals for yourself before the season like interceptions or deflected passes? If so, what are your goals for this season?
Vontae Davis
(1:13 PM)
My biggest goal is to win the Super Bowl, of course. I basically try to become better as a player and the goals will take care of themselves. But to try and help the team become better.
Chris (New York, NY)
How much do you hate the Patriots and Jets? Please provide us the satisfaction of shutting up Rex Ryan this year.
Vontae Davis
(1:15 PM)
I hate them like....man, I can't even explain how much I hate them. I hate them a lot. I hate them so much that if I were to go to another team and they were the only two I had a chance to go to, I would retire. I don't want to play for the Patriots, Jets, or Buffalo.
Vinny (NY)
Vontae, who do you like in the NBA playoffs right now?
Vontae Davis
(1:15 PM)
I like the Heat, being in Miami.
Vontae Davis
(1:15 PM)
I like the Caps in the NHL playoffs.
Mike (Boston)
Huge Phan of yours, Vontae. Is there a sense of relief the Big Tuna is not lurking around or was he good for the team?
Vontae Davis
(1:16 PM)
He's a good guy to have around. He has a lot of wisdom. The guys he recruited, he talked to and helped us become good players. It's always good to have someone that's seen a lot of football telling you how to become a better player.
Corey (Boca)
It seems like the last 2 years we had good teams who just couldn't get over the hump. How close are the Dolphins?
Vontae Davis
(1:17 PM)
For me being on the team two years, every year I see signs of the team getting better. That's a good thing. We're bringing in players that have different attitude and want to win.
Tony ((CA))
What's the toughest lesson you've learned since coming to the NFL, on or off the field?
Vontae Davis
(1:17 PM)
I have to say it's a business. You have to take it like a job, as far as taking care of your body. It can effect your play on the field.
Ahmed (Ohio)
Do you think this is year where the dolphins will make the playoffs?
Vontae Davis
(1:18 PM)
Yes! It's got to be! We have to. It's got to be.
Vontae Davis
(1:18 PM)
Shout out to Miami fans. We hope to change the atmosphere in Miami next year and head in a better direction.