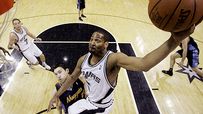 Horry won seven titles with three different teams.
Welcome to SportsNation! On Friday, "Big Shot Rob" -- and seven-time NBA champion -- Robert Horry stops by to chat about the NBA playoffs.
A veteran of 16 NBA seasons Horry played for four teams, winning titles with three of them: Houston Rockets, Los Angeles Lakers and San Antonio Spurs. He is one of only three players to have won consecutive titles with two different teams and one of only two players to win rings with three teams.
Horry earned his nickname of "Big Shot Rob" by making big shots in clutch, playoff situations. He holds the record for most career 3-pointers in the NBA Finals with 53.
Send your questions now and join Horry Friday at 2 p.m. ET!
More: Previous chats | SportsNation
Buzzmaster
(2:09 PM)
Hang on folks. We're tracking down Robert Horry.
Buzzmaster
(2:31 PM)
Hey everyone. Sorry, but it looks like Robert got tied up and won't be chatting today. Sorry for the inconvenience.
Buzzmaster
(2:32 PM)
Hang on a sec! We've got Robert!
Jeremy (Chicago, IL)
Which stadium was the toughest to win at?
Robert Horry
(2:34 PM)
The toughest stadium was in Sacramento. It was small, intimate and the acoustics were bad. And Phil Jackson made them mad by calling them a cow bell town.
jimmy (ohio)
Hey Rob.. you used to play with the spurs, what do you think the mood of that organization is after their first round exit and the age of the big three there?
Robert Horry
(2:34 PM)
I think what happens with that is panic sets in. But the team is still good. They still have a good core of guys. You don't get the second best record in the league without being good. Just add a piece here and there and they'll be fine.
Aaron (Los Angeles)
Final score prediction on Game 3 for Lakers vs. Mavs tonight?
Robert Horry
(2:35 PM)
I see the Lakers coming out and playing with a lot of emotion. A lot of times when you get home, you kind of relax. I think the Mavs will be too relaxed and the Lakers sneak in and steal one.
Big Shot (Staples Center)
Hey Rob, We miss you out there. Is there anyway you can show Gasol and Co. how to knock down 3s and play D? Is it possible that we'll you back in the game in some form?
Robert Horry
(2:36 PM)
Thanks for the love, but I don't think I'll be back on the court playing. But hopefully one day I'll be back to assist someone, coaching wise. But playing wise, those days are long gone.
Eric (CA)
What book did Phil give to you and why? Did you actually read it?
Robert Horry
(2:37 PM)
Yes, Phil actually gave us books. He turned me on to Walter Mosely, "Gone Fishing." I didn't realize he wrote "The Devil the Blue Dress." I started reading his books after that.
Scott (Dallas)
If the Mavs don't get a ring this year, all of us die-hard Mavs fans will be saying (once again), we need another piece. Who is that piece and how do we get him and get Dirk a ring?
Robert Horry
(2:38 PM)
I think that's a false statement in that you have one of the best players in the NBA on the bench injured in Caron Butler. I don't think they need anything. I think the piece they needed was Tyson Chandler.
Ziad (Miami)
Are the Miami Heat going to finish off the celtics in Boston?
Robert Horry
(2:38 PM)
I definitely think the Heat will finish off the Celtics. The Heat have a team made for the playoffs. They have guys that can play multiple positions, and one guy in LeBron that can play all five positions.
Nathan (Missouri)
Robert, who was your favorite player growing up?
Robert Horry
(2:39 PM)
I didn't have just one favorite. I had two. Of course, Magic Johnson was my favorite. When I was growing up, everyone was either Jordan or Dr. J fans. And when Scottie started, I liked watching him play. Those guys were tall, 6-9 and I tried to take things from there game to add to mine.
Mayo (DMV)
Is there a teammate that you enjoyed playing with the most?
Robert Horry
(2:40 PM)
I enjoyed all of my teams and teammates. Everything is always good on a team when you win. I was very fortunate to be on all winning teams in my career. I had great teammates and great coaches. I enjoyed everybody equally as much as the next.
Gabe (Jersey)
Rob, Now that your playing days are over... any chance of you being a Will Smith "stunt double"?
Robert Horry
(2:41 PM)
That would be a negative. Unless the pay is right! I always envisioned myself in a movie where he had to save me as a long lost brother. A "Bad Boys III."
Matthew (Los Angeles)
What was it like playing against Michael Jordan?
Robert Horry
(2:42 PM)
It was great, because Mike and Scottie always brought out the best in you. I was fortunate to play with guys in Hakeem and Vernon that wanted to play against those guys. For me to go up against Scottie, which was one of the guys that I thought was a great player. It was great fun and a great rivalry.
Bryan (Boston)
Don't you mean Lakers come in and steal two?
Robert Horry
(2:43 PM)
It's hard but not impossible. It happened to us one time when I was with the Rockets. We won two on their court and then lost two. They have to get their mind right and not think about being down 2-0.
Eddie (Nashville, TN)
Roll Tide! How do you like new Tide coach Anthony Grant?
Robert Horry
(2:44 PM)
I think Anthony will be great for the team. Any time a coach comes in and say my way or the highway and then sends off the best player, but then accepts him back after he's reformed, it's great for the school and the program.
Myron (Washington DC)
Yesterday a chatter asked Cedric Ceballos if he had a memorable "Welcome to the NBA, kid" moment. Did you?
Robert Horry
(2:45 PM)
Yeah, every guy has that. Mine was kind of funny. We were playing a preseason game. There are guys that you measure yourself up against and play against. We were playing against Dominique Wilkins. I was so amped to play against him that I dove on a ball that he was dribbling. He just looked at me and said boy, it's the preseason.
Steve (Missouri)
I think the OKC-MEM series is going to be a great one. Do you agree? How many games do you think it will go? Also, do you have another big game winner left in ya?
Robert Horry
(2:45 PM)
I think it will be a great series. I think it will take 7 games. People look at your record and don't really look at the matchups. Memphis is a great team. They have a good team. Now that they've beaten the Spurs people understand they have a good team.
Myron (Washington DC)
You had some big moments in the NBA beginning with your first season in Houston. Whats your favorite? Most memorable?
Robert Horry
(2:46 PM)
I have a lot of favorite moments in my career. Being drafted was a big moment. Playing for the Lakers, which was my favorite as a kid. Winning championships. There isn't just one that overrides all of them.
David (Boston)_
Dio you like your nickname? Big Shot Bob?
Robert Horry
(2:47 PM)
At first, I didn't, because I didn't like the word "Bob." That's when you know you've been a big guy in the NBA, because only guys who have done something get nicknames.
Robert Horry
(2:48 PM)
Thanks for the love and support. Keep watching the NBA. There are a lot more fun moments to come. Maybe you'll see me back in the league in some coaching capacity in the future.