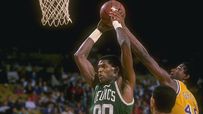 In 1996, "The Chief" was named one of the 50 greatest players in NBA history.
Welcome to SportsNation! On Wednesday, basketball hall of famer, and long time Boston Celtic, Robert Parish stops by to chat about the NBA playoffs.
Parish spent 14 of his 21-year career with the Celtics, winning three championships with Boston's great teams of the 80s. Also, as a 43-year-old, Parish won a fourth title as a member of the 1996-97 Chicago Bulls in his last season in the league. He was elected into the hall of fame in 2003.
For his career, Parish averaged 14.5 points and 9.1 rebounds, making nine all-star teams, including seven straight from 1981-87. With 14,715 rebounds, he stands in seventh place in NBA history and he's also first in games played with 1,611.
Send your questions now and join Parish Wednesday at 2 p.m. ET!
More Special Guests: NBA playoff index | Previous chats | SportsNation
Buzzmaster
(1:44 PM)
Hall of Famer Robert Parish will be here at the top of the hour to take your questions!
Buzzmaster
(2:01 PM)
Okay, Robert is here. Let's get started...
J (CT)
Who is your current favorite Celtic player?
Robert Parish
(2:03 PM)
I'm a big fan of Leon Powe, who's no longer with the team. I don't have a favorite currently.
Sean (Hudson)
Robert, growing up you and DJ were my 2 favorite players. What do you think about the lack of current big men who have developed low post moves?
Robert Parish
(2:03 PM)
I think it's a reflection on the coaching staff because not many teams have big name coaches. Back to the basket players are more rare because of the coaching.
Jeremy (Chicago, IL)
Which current player has a game similiar to yours?
Robert Parish
(2:05 PM)
Let's see... you're making me think! Not really many back to the basket players today. The one guy that kind of comes to mind is Kevin Love in Minnesota. Even though he has way more range than I do. He has that type of game and rebounds very well. He's a good medium range shooter like me. But I never had three point range like him.
Murphy (Utah)
Who was the player you most dreaded guarding and who was the player you most dreaded being guarded by?
Robert Parish
(2:06 PM)
The one I dreaded the most was Moses Malone because he was relentless on both ends of the court. But the player that aggravated me the most would have to be Mark Eaton, former Utah player. Not only was he 7 foot 6 but he weighed over 300 lbs. That's a lot of body to cover (laughs).
Chris Fiegler (Latham,NY)
Who do you think will be in the NBA Finals?
Robert Parish
(2:06 PM)
From the West, Dallas Mavericks. And from the way things look, and it pains me to say this, Miami Heat. But things could change. But my Celtics have dug a big hole for themselves.
Greg (Portland)
Robert, you had a pretty big gap between your championship with the C's and yours with the Bulls. How were those championship runs different?
Robert Parish
(2:08 PM)
The first thing that comes to mind is that you can never duplicate the feeling of the first championship. You really don't know what to expect. But the last one was a great way to go out. I retired after that season. The first one you never forget -- that's your prized possession. But I cherished them both.
Tom (NM)
What kind of suspension would McHale get NOW for taking down Rambis in a playoff game?
Robert Parish
(2:09 PM)
At least a game. A game or two. In the playoffs, he might get a fine and a suspension. Obviously the rules have changed. Kevin never had a history of doing anything like that so he would get some leniency. It helps that he didn't have a bad background.
Jay(oakland,ca) [via mobile]
Robert,your celtics team came back from 3-1 to beat the sixers.Do you think these celtics can comeback?
Robert Parish
(2:10 PM)
I think they can. It's very difficult and I've been through it. The Celtics have to look at the small picture and take it one game at a time. They need to take on this challenge and concentrate on Game 5.
Matt (IN)
Robert, do you like to grill? Charcoal or gas?
Robert Parish
(2:10 PM)
I'm a charcoal man. I'm always about flavor.
Scott (Indy)
How much attention did you pay to people calling you "Chief" when you made a great move?
Robert Parish
(2:11 PM)
Very little. I tried to stay in the moment and concentrate on what was going on in the game. I tried to not be too concerned with what was going on elsewhere.
J (CT)
Favorite movie of all time?
Robert Parish
(2:12 PM)
Another tough question! I like Lord of the Rings -- all of those. I'm also a Wesley Snipes fan so Blade stands out as well. The Matrix is another favorite of mine. I guess you can tell I'm a science fiction guy.
Hasheem Thabett (Houston, Tx)
As a fellow center in the league, what do I need to work on this summer?
Robert Parish
(2:13 PM)
Everything. Keep your whole game strong. Focus on your weaknesses, your offensive moves. It's important to have "your move" that you can work on and perfect. You want to feel comfortable taking that type of shot in any game situation.
Rich (Adrian)
What do you really think about Bill Laimbeer?
Robert Parish
(2:14 PM)
I have a lot of respect from him as a ball player. He's definitely someone you don't want to play against but you would love to have him on your team. He has a talent for irritating you but you want someone who does that on your team. Hustles, rebounds, jumps on loose balls.
Kalvis (Indy)
Are you a fan of the Grizzlies big men, Z-Bo and Marc Gasol?
Robert Parish
(2:15 PM)
Yes I am. I love them both. They are not one dimensional. They come to play every night. They don't take nights off. And I can't say that about all the current players today.
Julius (Atlanta)
Are you glad the Lakers lost? Also if it is Dallas and Miami, who do you have winning?
Robert Parish
(2:16 PM)
I am not disappointed that they lost. I would have loved to see them back in the finals against the Celtics. But if it's Miami and Dallas in the finals, I'm going with Miami. They have Dwyane Wade who has the mentality of an assassin. He has that killer instinct. And Dallas doesn't have that.
Scott (Chicago)
Chief!!! Who was the better defensive power forward, Rodman or McHale?
Robert Parish
(2:38 PM)
That's a good question. I have to go with Kevin McHale. Because Kevin created more defensive problems.
Robert Parish
(2:38 PM)
Okay, that's all for today. Thank you for remembering me. And thanks for the appreciation of what I brought to the table when I played!