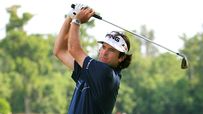 Watson helped Georgia to the 2000 SEC golf title.
Welcome to SportsNation! On Tuesday, PGA Tour's Bubba Watson stops by to chat about the PGA Tour season, including June's Travelers Championship in Connecticut, where he is the reigning champ.
Last year's win at the Travelers Championship was the first of Watson's career, after having turned pro in 2003. He has already won two more times in the 2011 season, the latest back at the end of April at the Zurich Classic of New Orleans. The Travelers and Zurich titles both came following a playoff.
So far in the 11 events in which Watson has played this year, he's first in greens in regulation (74%) and second in driving distance (313.6). His Twitter is @bubbawatson.
Send your questions now and join Watson Tuesday at 4:30 p.m. ET!
More Special Guests: Previous chats | SportsNation
Buzzmaster
(4:26 PM)
Bubba Watson will be here in minutes to take your questions!
Buzzmaster
(4:29 PM)
I hear Bubba coming!
Louis (Charlotte, NC)
Bubba,What is better, a repeat victory at the Travelers this year or a giant plate of BBQ from Lexington BBQ?
Bubba Watson
(4:30 PM)
A repeat victory for sure. Then I would be able to afford more BBQ.
Brian (Arizona)
What is the most challenging thing for you about being on tour? Travel, press, etc.
Bubba Watson
(4:30 PM)
I would have to say the press. It's tough. And your time. Your time with the press takes away time resting, with family, the game.
Kevin (Hartford)
Bubba, I can't wait to go see you play at the Travelers Championship here in CT next month....do you need someone to show you around? I'm free!
Bubba Watson
(4:31 PM)
I have plenty of people to show me around! It will be my first time as a defending champion. It will be nice to hear my name announced as the current champion.
Tim (Pittsburgh)
Bubba, because you choose to roll without any kind of swing coach, how do you turn it around after a few bad rounds or when your swing feels off?
Bubba Watson
(4:32 PM)
My swing never feels off. I just play the game. I play by feel. You never have a feeling that it's off. If my mind's not feeling the right way then the game is hard.
Andy (Los Angeles)
Hey Bubba. Did you get a chance to clear the air with Tiger last week at TPC?
Bubba Watson
(4:33 PM)
I haven't talked to Tiger yet. But I was just on SC telling my side of the story, so hopefully everyone knows I wasn't trying to criticize him. He's the best golfer in the world.
Chris King (Blacksburg, VA)
Honestly, can you beat your wife in basketball? and how do PGA golfers decide their stay each weekend? Getting a house with other golfers, alone, agents set it up? Expand and what do you prefer?
Bubba Watson
(4:34 PM)
My wife can beat me in basketball. My agent, my manager, they set it all up. Majors, big events, we rent houses. Some events, we stay at local hotels in the area.
Michael (Reston, VA)
Do you guys ever just take a minute while on the course and realize that you get to travel to the best places in the world, take in the most beautiful sites, and play golf for a living or is just work to you?
Bubba Watson
(4:34 PM)
No, it's fun for me. Yes, I do think about the amzement of playing these great golf courses. I have to pinch myself.
Carl (Denver)
Bubba, I love watching you play. You've quickly become my favorite golfer. I'm curious, do you get a lot of people telling you that when they think of "Bubba" they think of a big NFL lineman, not a PGA tour golfer?
Bubba Watson
(4:35 PM)
Yes, I get that a lot! I do get that a lot. They say I don't look like a Bubba.
Azzie (Akron, OH)
I know that you like to shape your shot as much as anybody. Do feel like it is better to hit a shot moving the ball a certain way into a pin rather than just hit a straight shot?
Bubba Watson
(4:36 PM)
It is just the way it works for me. If I could hit it dead straight, I'd hit it straight all of the time. THat's just what works in my mind.
Spenser Hassberger (Duluth, GA)
Bubba, you were my camp counselor at UGA golf camp 2 years in a row. I was wondering what changes you made in your game from Bulldog days to now.
Bubba Watson
(4:36 PM)
Just more and more practice. That's all it is. When we're younger, we're not as practiced. Over the years, we're more improved.
Jeff (Hendersonville, NC)
I coach juniors. Do we teach left handers improperly? Are there any horrors stories you have about being a lefty?
Bubba Watson
(4:37 PM)
First, I've never had a lesson, so I was never taught poorly. I think it's taught the same way left or right. I don't think there's any difference between left or right teaching.
Richard Shiller (Orlando, FL)
Which Major are you more looking forward to? British Open or the US Open?
Bubba Watson
(4:38 PM)
The U.S. Open, just because it's first. It's first on the calendar before the British.
Jake von Volkli (Port Townsend, WA)
Bubba,What is the most important thing to do in a golf swing to get more distance?
Bubba Watson
(4:39 PM)
The first thing to get more distance is to hit the ball on the center of the club face. That's the most important. Contact on the center of the ball.
Daniel (Birmingham, AL)
When is the most nervous you have ever felt on a golf course?
Bubba Watson
(4:39 PM)
The Ryder Cup last year, first tee shot for Team USA.
Nathan (Kentucky)
Bubba, how do you feel your season is going?
Bubba Watson
(4:40 PM)
Great. I'm No. 1 in the FedEx Cup and I've won twice this year.
JD (Orlando, FL )
Hey Bubba, what is your go to shot when under pressure?
Bubba Watson
(4:40 PM)
With a driver, it's a low cut, with my irons it's a cut as well.
rod (chicago)
Bubba,What situations constitute you taking extra club?Thanks
Bubba Watson
(4:40 PM)
Uphill, into the wind or cold weather.
Mark Senia (Cairns, Australia)
Once you address the ball, what do you think about?Cheers
Bubba Watson
(4:41 PM)
Don't swing and miss.
Bubba Watson
(4:41 PM)
I haven't done it in a long time, so I guess I'm doing all right.
drew (texas)
where did you get your white watch? brand? I want to rock one in my college tournaments.
Bubba Watson
(4:42 PM)
It's a sponsor deal by Richard Mille.
Mike (Clinton)
Whats the best way to make sure you hit the ball in the middle of the clubface every time, any specific drills?
Bubba Watson
(4:42 PM)
Practice.
Eric (Athens, GA)
What are your top 3 favorite courses to play and why? (And Go Dawgs!)
Bubba Watson
(4:42 PM)
St. Andrews, Pebble Beach and Augusta.
Phil Sowar (Centerville)
Why the visor over the hat?
Bubba Watson
(4:43 PM)
Because I look good in a visor.
Rich (Chicago)
Who was your favorite player to watch growing up?
Bubba Watson
(4:43 PM)
Payne Stewart.
Rich (Chicago)
What's the most disappointed you've been on a golf course?
Bubba Watson
(4:44 PM)
I'm never disappointed on a golf course. I'm playing golf for a living. That's not a disappointment.
Brad (Grand Rapids, MI)
Whats the best off the course perk of being a PGA pro?
Bubba Watson
(4:44 PM)
I get free clubs.
Shawn (Detroit)
With a swing as smooth effortless as yours...how do you get so much distance??
Bubba Watson
(4:45 PM)
Growing up, practicing. I use my arc. I create a big arc and it creates a big clubhead speed.
Bubba Watson
(4:45 PM)
Thanks for all of the questions. Hopefully we'll do it again sometime.