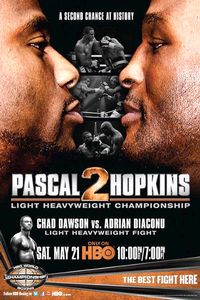 Welcome to SportsNation! On Tuesday, light heavyweight champion Jean Pascal stops by to chat about his upcoming rematch with Bernard Hopkins.
Pascal (26-1-1) and Hopkins (51-5-2) will meet in a rematch with the winner taking Pascal's Ring/WBC light heavyweight belt. The two first met back in December with the fight ending in a 12-round draw. The fight can be seen live on HBO at 10 p.m. ET/7 p.m. PT from the Bell Centre in Montreal, Quebec.
Pascal hasn't lost a fight since his split decision defeat to Carl Froch in December of 2008. Since that time, he's gone 5-0-1 while winning titles in both the light heavyweight and middleweight classes.
Send your questions now and join Pascal Tuesday at 2 p.m. ET!
More Special Guests: Previous chats | SportsNation
Buzzmaster
(2:02 PM)
Jean Pascal will be here shortly to take your questions!
Ryan (Youngstown)
Jean, what do you see as your biggest advantage in this 2nd fight with BHop?
Jean Pascal
(2:05 PM)
It's knowing about my mistakes from the first fight and I have more experience after that fight.
Carlos Valenzuela (Scottsdale AZ)
Were you hurt at all on the first fight with Hopkins? If you were not hurt at all can you just brawl with Hopkins instead of running around the ring like last time. Just Knock Him Out And Put Him Into Retirement.
Jean Pascal
(2:05 PM)
I wasn't hurt at all in the first fight. In this fight, if Bernard wants to brawl. If he is smart, he will see that two can play that game.
Jay(Oakland,Ca) [via mobile]
Hey Pascal,when you were younger did you look up to Hopkins?
Jean Pascal
(2:06 PM)
Not really, because I never liked him as a fighter. I respected what he did when I younger. I like guys more like Roy Jones and Shane Mosley. Those are more of my kind of boxers.
Kyle (Berkeley, CA)
Jean, knowing that your past two fights have resulted in somewhat controversial finishes, is there any pressure on you to knock Hopkins out?
Jean Pascal
(2:07 PM)
I don't know the word pressure. I know the word motivation. For others, it might be pressure, but for me it's motivation. I would love to make a statement that I'm the king in this class.
DangerousDave (Burnaby, BC)
Having already gone 12 rounds with Hopkins, what -- if anything -- have you done differently in preparing for the rematch?
Jean Pascal
(2:08 PM)
The last fight, I changed my recipe. For this fight, I come back with my own recipe. I'm coming back with my own recipe, what I'm used to doing to prepare for a fight.
Doug (NJ)
Jean ,\ honestly, did you underestimate Bernard last time , expecting age to be a factor or did you just undertrain and fight poorly ? Also does a longer fight benefit you this time or will it benefit Hopkins as it seemed to last time ?
Jean Pascal
(2:09 PM)
Not at all. I knew that he was 45 but he was still in the game. He is always well prepared for every fight. I didn't think his age would be an issue for me.
Daniel (New York , NY )
Can you see this fight going 12 again? if so does it help him or you more , since people say you tend to fade after 6 or 7 rounds?
Jean Pascal
(2:10 PM)
Honestly, the fight might go 12 rounds. If it does, I'm going to win. If the fight ends up shorter than that, I'll win then too. Either way, I don't care because I'm going to win this fight.
Larry (Burnaby, BC)
What do you feel were your mistakes in the first fight? (Good luck on Saturday).
Jean Pascal
(2:11 PM)
I gave Bernard too much respect. He doesn't deserve that much respect. He calls himself a legend and I think that legends should lead by example.
Mike (CA)
Jean , if you knock him down early will you try to close the show or be content to outbox him for 12 if you can ?
Jean Pascal
(2:11 PM)
If the ability is there to close it early, I'm going to close it early.
victor (north jersey)
any comment about being called a 4 rd fighter by bernard?
Jean Pascal
(2:12 PM)
Oh! Bernard is trying to get into my head and make me believe and people believe that I'm a four round fighter. That's not true. But it doesn't matter, because if he thinks I'm a four round fighter, I'll only need four rounds to knock him out.
Jonesy (Newark, DE)
Jean, if you do beat Hopkins, do you have any plans to move back down to 168 to fight the talented crop of super middles like Bute, Ward, Froch, or Johnson? A guy like Martinez could likely also fight you at a catchweight between 60 & 68. Any interest on your part?
Jean Pascal
(2:13 PM)
You make a mistake saying IF I win. WHEN I win, I will be on top of the world. When I beat him I will be king.
Dominique (Quebec)
What is Bernard's biggest weakness as a fighter? How will you expolit that?
Jean Pascal
(2:14 PM)
The biggest thing is Bernard is trying to fight slow. When he waits, he starts to get dirty. If he is trying to get dirty, I will get more dirty than him.
Alec (Nashville)
Jean, how would you rate Bernard's punching power compared to others you have fought?
Jean Pascal
(2:15 PM)
Bernard has a punch, but nothing to scare anyone, but he has a decent punch.
Jay(Oakland,Ca) [via mobile]
Do you think Mayweather is scared of Pacquiao?
Jean Pascal
(2:15 PM)
Honestly, I do not know. Before, I thought that fight would happen. But now, I have no idea.
Jean Pascal
(2:16 PM)
If you want to follow me on Twitter: @JeanPascalChamp.
Jean Pascal
(2:16 PM)
If you want to follow me on Twitter: @JeanPascalChamp.
Buzzmaster
(2:16 PM)
Thanks Jean!