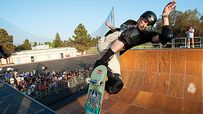 In 1995, Hawk won a gold (vert) and silver (park) in the first X Games in Rhode Island.
Welcome to SportsNation! On Tuesday, legendary skateboarder Tony Hawk will be by to chat about his career and the global expansion of the X Games.
Hawk is one of the most recognizable skateboarders ever to ride a board. He started competing professionally at the age of 12 and by 17 could afford to buy himself a house.
Hawk stopped competing professionally following the 1999 X Games where he landed a 900. It was the last trick he wanted to do on a list he wrote 10 years earlier. He earned 16 X Games medals, including 10 gold.
Send your questions now and join Hawk Tuesday at 12:45 p.m. ET!
More Special Guests: Previous chats | SportsNation
Buzzmaster
(12:34 PM)
Tony Hawk will be here at 12:45 p.m. ET to take your questions!
Buzzmaster
(12:45 PM)
Tony is here!
Mike (Iowa)
When you first picked up a board did you expect to make a living skating, and did you think it would be as big as it has become??
Tony Hawk
(12:46 PM)
No, not at all. When I first started skating, there really wasn't a career to be made of it. The thing that you aspired to was to get free gear or be in a magazine and when you got to an age of responsibility, you were supposed to find a job.
Kevin (CT)
How cool is it that the X Games is going international?
Tony Hawk
(12:47 PM)
I think it's amazing. I think it says a lot about how far our sports have come and how far they're going and how fast they're growing internationally. I am surprised that there will be six events internationally as big as the X Games. I think the crowds and interest will show it's justified.
Matthew (Los Angeles,CA)
Why did you guest voice in the Cleveland Show?
Tony Hawk
(12:48 PM)
They called. It was funny. It was probably the shortest amount of time I've ever done on a show. It took about 4 minutes, tops.
Wes (CA)
You any good at your video game?
Tony Hawk
(12:48 PM)
Yeah. I play them extensively. I'm always able to finish the game without cheating. By the time a game is released, I've usually done everything there is to do with the game. Once it's released, kids want to challenge me and I can hold my own.
jeff (Lincoln, NB)
Hi Tony! Thanks for chatting. What do you think about bringing back some of the original sports from the x-games, specifically rock climbing? Or should the x-games just be wheels and boards?
Tony Hawk
(12:50 PM)
That's not up to me, to be honest. My main focus is skateboarding. It might be interesting to bring sports that are more indigenous to where the events are taking place. If there is a place where rock climbing is more popular, that would be interesting. The sports they have, they've refined them so much to determine how popular they are and how much the crowds like them. I'd like to see surfing back in there.
Judas ((NY))
Is this a good destination for the Games? Also, if you were to pick, where would the next X Games be?
Tony Hawk
(12:51 PM)
Tokyo. Skateboarding and all of our sports, the lifestyle and culture are popular in Japan, but there aren't a lot of participants. To go there and help that would be good.
Jeremy (Chicago, IL)
What is the coolest thing that is in your house?
Tony Hawk
(12:51 PM)
My backyard skatepark. That's not officially in my house, but it's on my property.
Cheesehead Sports Nut (Chicago, IL)
I am not trying to get you fined here but if you could change one thing in your sport what would you change and why?
Tony Hawk
(12:53 PM)
That's a good question. I would like to see more respect for well rounded skaters, as opposed to people that focus on one skill set. That is changing a little more. The skate park style skater is getting a little more respect. That's what being a true professional is all about.
Greg (CA)
You ever gone skydiving?
Tony Hawk
(12:54 PM)
I have skydove, but that's not something I'd like to make a hobby of. I'm a fan of board sports. I've been surfing as long as skateboarding. And I've been snowboarding as long as they've been allowed on the mountains.
Dave (NYC)
Do you think guys focus toom uch on stuff like the vert?
Tony Hawk
(12:55 PM)
I think there is a perception that you only really need one specialty, so some do. I don't hold it against them, but I'd rather see someone do all around skating.
Mike (Iowa)
Is the skating community as tight as it appears to be from the outside ??
Tony Hawk
(12:56 PM)
I think there is a lot of comraderie. It's so diverse now and so many people involved. But it's also more welcoming of all types of people now.
Chris Fiegler (Latham,NY)
Who do you think is the Best Skateboarder that you have seen since you retired from Skateboarding?
Tony Hawk
(12:56 PM)
That's so tricky. I think that Bob Burnquist is one of the best in terms of how he can use all of his skill set. He's the first one to truly be ambidextrous and skate backwards.
Mark (Chicago)
What's your favorite non-extreme sport?
Tony Hawk
(12:57 PM)
Well, probably basketball. I grew up playing basketball and baseball.
Tony Hawk
(12:57 PM)
Thanks for supporting me and letting me follow my dreams for so long!