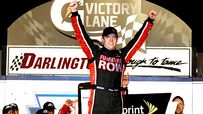 Smith ran in the Nationwide Series from 2002-07.
Welcome to SportsNation! On Tuesday, NASCAR driver of the No. 78 Chevy Impala Regan Smith stops by to chat about the 2011 season and his first career win two weeks ago.
On May 7, Smith earned the first win of his career, and the first for his team Furniture Row Racing, winning the Southern 500 at Darlington. His seventh-placed finish in the Daytona 500 to start the season was also the first top-10 of his career and for his team.
Smith signed on with Furniture Row Racing prior to the 2009 season and ran part time, before running full time the last two years.
Send your questions now and join Smith Tuesday at 3:30 p.m. ET!
More Special Guests: Previous chats | SportsNation
Buzzmaster
(3:29 PM)
Regan is here!
Michael (Mercer, PA) [via mobile]
Hey Regan, congrats on the win at Darlington man! Are you relieved that you finally got that first win off your back and do you think that more wins will follow sooner or later?
Regan Smith
(3:30 PM)
First off, thank you. Definitely a huge relief. You always wonder if you're going to get the first one. I've been around for a few races now. I think we'll get some more wins. I felt that we were going to win this year. I didn't know when, but I felt we could.
Adam (Vermont)
Regan, growing up as a kid, where did Darlington rank on your list of "Most want to win there?"
Regan Smith
(3:31 PM)
I would say probably in the top three for me. I think there's Daytona, that's the biggie. Darlington and Brickyard is probably neck and neck. That and the 600.
Zach (Fort Collins, CO)
Regan! I was incredibly excited to see our Colorado team finally score a win, especially at Darlington. Ultimately, what were your goals heading into this season, and are you achieving them?
Regan Smith
(3:32 PM)
Well, one of our goals was to win a race. We've accomplished that. That was a biggie. Certainly we'd like to contend for the Chase. From that standpoint, we haven't done that. But with the win we can compete for the wild card berth. With the time that's left, we can achieve that.
Scott M (Iowa)
How shocked were you when you and 2 others were the only 3 people to stay out and not take fresh tire and/or fuel?
Regan Smith
(3:33 PM)
I was really shocked. I thought for sure that a lot more guys would take the opportunity to stay out. We were in 6th at the time. To see them all peel off and go to pit road, I was licking my chops, thinking this might have played out really well for us.
Matthew (Columbia, NJ)
Regan, congrats on your win at Darlington! How much did it mean to you to see other drivers come over in Victory Lane?
Regan Smith
(3:34 PM)
That was one of the biggest parts of the win for me. The guys that took the time to come to victory lane or the guys that took the time to call. You don't know where you stand with some of the competitors.
Tyler (Atlanta)
Regan What goes through your mind when your are involved in an accident?
Regan Smith
(3:35 PM)
It depends on the circumstances. First you're trying to protect your car as much so you can finish the race. The second is, man I hope you don't hurt. If it's a really bad one, I have my eyes closed.
Cam, NYC [via mobile]
What other sports do you follow? Who are you favorite teams/athletes?
Regan Smith
(3:38 PM)
I watch football. My favorite sport other than racing is definitely hockey and my favorite team is the Hurricanes. I'll watch baseball occasionally, but I'm not that into it. And basketball, I'm not that into it.
Paul (Fort Worth) [via mobile]
Do you hang out with any of the drivers away from the track?
Regan Smith
(3:39 PM)
Certain ones. We've all got guys that we're closer to and friends with. It depends on circumstances. I have a couple of guys that I go on vacation with.
Jamie Leto (Great Lakes, IL)
How tough is it to win a Spring Cup Race?
Regan Smith
(3:41 PM)
It took me 105 races, so pretty darn tough. It's not as easy as some of them make it look.
Shortrib (Memphis, TN)
Congratulations on your 1st win. Two questions: 1. Who are your best friends as far as drivers in Nascar? 2. How do you feel about the cup guys racing in the Nationwide series?
Regan Smith
(3:44 PM)
I don't have a problem with the guys racing in the Nationwide Series. When I was in the Nationwide Series, I wanted to race against those guys, because I wanted to see where I was against the best guys. But it's also cool to see the Nationwide guys win races too.
Buzzmaster
(3:47 PM)
Hang on a second folks, Mark Schlereth and Mike Golic just came into the room and are chatting with Regan.
Buzzmaster
(3:47 PM)
Mark's talking to Regan about moving to Colorado.
Buzzmaster
(3:51 PM)
OK folks. Regan's got to run off to his next stop. Thanks for chatting!