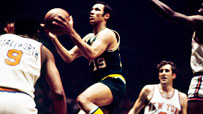 Wilkens, the sixth overall pick in the 1960 draft, averaged 16.5 points and 6.7 assists per game.
Welcome to SportsNation! On Wednesday, NBA Hall of Famer Lenny Wilkens stops by to chat about the NBA playoffs.
Having scored nearly 18,000 points as a player and won more than 1,300 games as a coach, Wilkens is in the Pro Basketball Hall of fame as both a player and coach. His 2,487 games coached during his 35-year career is first in NBA history and his 1,332 coaching wins ranks second all-time.
Wilkens twice led the NBA in assists during his 15-year playing career, finishing with 7,211 assists, 11th on the all-time list.
Send your questions now and join Wilkens Wednesday at 2 p.m. ET!
More Special Guests: Previous chats | SportsNation
Nathan (Missouri)
Hey Lenny, what player in the NBA today do you like to watch the most? Why?
Lenny Wilkens
(2:10 PM)
I like Derrick Rose because he's a point guard that can get to the basket and score from the perimeter. He also makes his teammates better but getting them open shots. He's a true point guard.
James B (Akron, OH)
Dallas played a near perfect game last night and only won by 9. Should they be concerned?
Lenny Wilkens
(2:11 PM)
Not at all. I thought that it was an outstanding game. Both teams shot the ball well for stretches of the game. I would be concerned if Dallas was up by 30 points and the Thunder came back. But right now I like they way that the Mavs are playing.
Shortrib (Memphis, TN)
What is the most memorable game that you coached or played?
Lenny Wilkens
(2:14 PM)
That's a hard question because I don't think there was any one game. When I was a rookie with the St. Louis Hawks, we playing the Lakers in the conference finals. In Game 6, we were down and I hit two free throws to win the game. We went on to win the series and play for the championship. Also coaching the Sonics to the 1979 championship. In 1996, I coached the Olympic team and we won gold in Atlanta. Those are just a couple but I have plenty more memorable moments.
Matthew (Columbia, NJ)
Lenny, who was your toughest player to defend either as a coach or a player?
Lenny Wilkens
(2:14 PM)
As a player, for me it was certainly Oscar Robertson and Jerry West. As a coach, Michael Jordan.
scott (chicago)
Hey Coach, they say that the late 80's-90's was the golden age of basketball. Would you say that it was a frustrating time as a coach being that Michael dominated and couldn't seem to be beaten when he was at his best?
Lenny Wilkens
(2:16 PM)
I don't think it was frustrating. It was a great era. Whenever you step on the court, you step on it thinking you could win. The era was just great for the sport of basketball.
Chris Fiegler (Latham,NY)
Who do you think will be in the NBA Finals? Who do you have winning it all?
Lenny Wilkens
(2:16 PM)
I have Dallas and Chicago in the Finals and I think Dallas will win.
Rich (traveling between Reno )
There are some very good players in the Bulls - Heat playoff series. How many do you think will make the Hall of Fame from these two squads?
Lenny Wilkens
(2:19 PM)
There is no question in my mind that Dwyane Wade and LeBron James will be Hall of Famers. From Chicago, I think Derrick Rose and Carlos Boozer will be Hall of Famers. Jokin Noah is an outstanding hustle player but I think he has to play that way for a number of years and he'll have the possibility of getting in.
Cheesehead Sports Nut (Chicago, IL)
The NFL seems to thrive on parity while the NBA seems to thrive on having a few great teams. Why do you think there is such a drastic difference between the NBA and NFL in terms what makes the league so appealing as a whole?
Lenny Wilkens
(2:21 PM)
In the NFL, you need four or five players on a team to be outstanding. The NFL is a team thing. In the NBA, the star system is what seems to attract people. One player cold carry a team. But I think things have changed. Now you need two or three great players and some role players for a team to be successful.
Chris Dempsey (Epworth, Iowa)
Do the Bulls have a legit chance on winning it all this year?
Lenny Wilkens
(2:22 PM)
Yes. I think the Bulls have a great chance to win it all but they have to get production from all their players. They play a team game and they are a very very good defensive team so I think they could do it.
Mike (Ohio)
Do you think the NBA could survive in St. Louis these days?
Lenny Wilkens
(2:23 PM)
I don't know. We always had a very good fan base and they have a great place to play. We have small markets that do well like Portland and Oklahoma City. So I do think that St. Louis could survive.
Lenny Wilkens
(2:26 PM)
I think it's been an exciting NBA thus far. We've seen a lot of young talent this year. I hope that we don't have a work stoppage next season because the NBA is full of great athletes that provide great entertainment. Hope everyone continues to enjoy the playoffs.