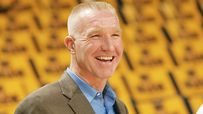 Mullin was the seventh overall pick in the 1985 draft.
Welcome to SportsNation! On Friday, we'll be chatting NBA playoffs with former NBA great, and ESPN analyst, Chris Mullin.
Mullin enjoyed a 16-year NBA career, spending 13 seasons with the Golden State Warriors and playing on five all-star teams. He averaged 18.2 points per game, shooting 38.4 percent on 3-pointers. While at St. John's, he won the 1985 John Wooden Award and a gold medal in the 1984 Olympics.
Send your questions now and join Mullins Friday at 2 p.m. ET!
More Special Guests: Previous chats | SportsNation
Buzzmaster
(2:01 PM)
Chris is here!
Paul (Bergen. Norway)
Hi Chris you're one of my favorite players of all time in my opinion, you had the softest jump shot I've ever seen in the NBA who are your favorite shooters ?
Chris Mullin
(2:02 PM)
Ray Allen, of course. He might be the best of all time. Kevin Durant. Nowitzki. Those are the guys that pop into my head.
Roman (Oakland)
Huge fan Chris. What was your favorite memory as a Warrior
Chris Mullin
(2:03 PM)
I love playing with Mitch and Tim. Those years, though too short, were some of my favorite times with the Warriors. The fans were always special to me.
Shawn (fenton mo) [via mobile]
Do the great have the upper hand nd do u think they will win the series
Chris Mullin
(2:04 PM)
I do think the Heat will win that series. Chicago has a very good team with good team defense, but I think even if their role players play well, I think it will come down to the star players. That's where the best players are. When it's all said and done, I think LeBron and Wade will dictate how it will turn out.
James (Boulder, CO)
How is Haslem going to hold up given the long layoff before Sunday? How about beyond that?
Chris Mullin
(2:06 PM)
Both teams have to deal with that. Ideally when you play a good game, you'd like to stay in rhythm. For Haslem, I think it will help, he's coming off of injury. He was a huge lift for them. There has been a void coming off the bench for the Heat. If you can get a guy like that to contribute, it's a huge plus. When you have veteran guys and a good coach, you use the layoff as an advantage. I think both teams will use it as a plus. It's an extra day of rest and of preparation.
jack (new jersey)
Is Dallas's defense really that good, or are they just reg season inflated stats, and an easy road so far... Lakers were in shambles, and portland is just portland
Chris Mullin
(2:08 PM)
They're improved defensively, no question. Tyson Chandler and Haywood have helped in that area. Rick Carlisle is very meticulous, offensively and defensively. Dallas is a team that knows their rotation and how they want to defend. I do think the addition of Tyson Chandler is a big difference in their team. I still think they're going to miss Butler, no disrepect to Peja and JJ. It's just different when you have a guy like Caron. JJ has been great, he has. They're going to need him to keep it up. He was a huge factor in the Lakers' series.
Kevin (CT)
Be honest, how many takes for that throw off the ESPN wall?
Chris Mullin
(2:09 PM)
That was one. One and done. The girl was filming it and a few people there. It's the only shot I've taken on that court. It just shows you there is a lot of luck in sports. That's all it was. It was Sunday afternoon luck. I try to tell people a lot. When you fill out the NCAA brackets or trying to predict who's going to win tonight, there is always a lot of luck involved.
Scott (SD)
Which was more fun: The 1992 Olympics or the 1984 Olympics?
Chris Mullin
(2:10 PM)
More fun? 92. Both were exhilarating. Both were different. But more fun? 92. The collection of talent on that team. We were all pretty much established in our careers. As opposed to 84 when we were still college kids. In 92 we were training in Monte Carlo and spending time with those guys.
Ramiro (Salinas ca)
What are your thoughts on the Jerry west hiring?
Chris Mullin
(2:11 PM)
I think it's a GREAT hire. It's a great day for Warrior fans. Jerry's accomplishments in anything he's done, player, management, will be a much needed lift to the organization. It's an exciting time. I wish him luck. I'm happy for the Warriors that they went in that direction.
Chris (Chicago)
Chris - if it took 5 games for the HEAT to beat the Bulls once, and that one win isn't all that convincing (it was tied at 73 with 3 min to go), why do so many people think the HEAT will take 3 out of the next 5?
Chris Mullin
(2:14 PM)
I wouldn't say everyone's jumping on the bandwagon. The Heat have taken their share of criticism. No question there. The one thing you have to look at is the regular season, they did not have a good regular season record against the Celtics. Those things have a tendancy to not always carry over. I wouldn't say the series is over by any stretch. From what I'm watching, the role players will have their impact, but I don't think they will determine the outcome of the game. Unless your stars play big, those role players' contributions don't show up. I do think the best plaeyrs in this series will determine the outcome of the series. It's the perimeter defense that will play a major role. Can the Heat shut down Rose so that he doeesn't dominate like he did against the Hawks.
Chris Mullin
(2:15 PM)
A lot of the things that have happened around the Heat this year have prepared them. THey're playing good basketball. So are the Bulls. If you're an NBA fan, enjoy it.
Mark (Boardman, Ohio)
Do you think there are too many fouls called in an NBA game. It slows down the action. Maybe they should not have foul shots until 7 or 10 fouls are committed a quarter. And perhaps revert to the old "one on one." No one wants to see the parade to the foul line; or guys scoring 20 points and only 6 of which are on made baskets.
Chris Mullin
(2:18 PM)
I'm all for aggressive play. Free throws are a huge part of the game. That's a part of the game that you try to dominate. The more aggressive team is usually going to shoot more free throws. The one thing I would like to see is the charge call either revised or taken out. That circle that everyone keeps an eye on, I never liked it. I never looked at someone falling down as a basketball skill. If you're there, why not contest the shot and move on? That part slows the game down. When they took out the handchecking rule to let the guards use their speed, but you have the guy taking charges. It works opposite of each other, in my mind. It interferes with the flow of the game. I never really related charges to the NBA, I usually thought about it as lower level basketball.
Chris Mullin
(2:19 PM)
I saw a few charges in the playoffs, where Dwight Howard doesn't have the ball and gets called for a foul because of the charge. I'm done with the charge.
Chris Mullin
(2:19 PM)
My pleasure. I look forward to doing it again some time.