Chat with Bernard Hopkins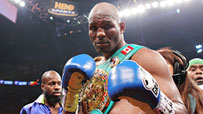 After 20 title defenses at middleweight, Hopkins moved up to light heavyweight in 2006.
Welcome to SportsNation! On Wednesday, we'll have the newly crowned WBC light heavyweight champ, and, at 46, the oldest belt holder in history, Bernard Hopkins stopping by to chat.
Hopkins (52-5-2) defeated Jean Pascal (26-2-1) last Saturday, giving Pascal just the second loss of his career and taking his title. Hopkins avenged the last battle between the two fighters, which ended in a 12-round draw back in December. HBO Sports, which broadcast the May 21 bout, has the fight available on HBO On Demand and HBO GO.
Since moving up to light heavyweight, Hopkins has gone 6-1-1, with all six of his wins via unanimous decisions. Fans can follow BHop on Twitter: @TheRealBHop.
Send your questions now and join Hopkins Wednesday at 1 p.m. ET!
More Special Guests: Previous chats | SportsNation
Buzzmaster
(1:00 PM)
We're getting Bernard!
Nathan (Kentucky)
Bernard, how does it feel to be the oldest heavyweight champion?
Bernard Hopkins
(1:08 PM)
It feels good, but it darn sure hurts this morning.
B-Hop fan in ATX (Austin, TX)
B-Hop, big congrats for making history! How's the neck? That was a heck of a shot that Pascal landed, and I was amazed to see you walk through it. Any plans on fighting in Philly?
Bernard Hopkins
(1:09 PM)
Yeah, it was a good shot. I was hurt, but I had to bounce out of it. I had to show the championship heart and smarts. Everything else is great. I survived.
Silva (San Diego)
B Hop congrats on history! That was an epic fight down to the final round. I'm curious to know how badly hurt were you in round 12?
Bernard Hopkins
(1:09 PM)
It was painful more the next morning. I was pretty hurt. But I got my legs real quick. I was pretty hurt. If he had stepped it up a little bit more and I had to use all of my energy, it might not have worked out for me.
Andy (Ventura, Ca)
Is Chad Dawson next?
Bernard Hopkins
(1:10 PM)
Hopefully, yes.
Daniel (Australia)
Bernard Hopkins is the last of a generation of boxers. Do you think the quality of fighters now are the same as before???
Bernard Hopkins
(1:10 PM)
No. I think it's a notch or two under. Every era has a different type of fighters. It's declined a little.
Matt (Chicago)
What did you think of the two knockdowns that the ref missed?
Bernard Hopkins
(1:11 PM)
I said, well, here we go again.
Jeff (Melbourne)
How important is a fighter's corner? Can they impact the fight or is everything pretty much said and done come fight night?
Bernard Hopkins
(1:11 PM)
They are an instant reminder of what to do. The corner is just as important as the guy in the ring fighting.
Favian (Tyler,Tx)
What motivates you to train so hard and for so long?
Bernard Hopkins
(1:12 PM)
To be the best at what I do. To last longer in my career than most people would have. To not embarrass my legacy if I'm going to stay in it. I have to be prepared mentally and physically.
Andy (Ventura, Ca)
Was that crowd the loudest you have ever heard?
Bernard Hopkins
(1:12 PM)
Yup...well, no. It was probably the top two. The Felix Trinidad fight was pretty big.
Jose Tamayo (New York)
Dude you rock, so what's left for you to do? You've done it all. Like Pac-man, there's no real competition. Maybe start a singing career?
Bernard Hopkins
(1:13 PM)
No. I'm a bad singer. I'd get KO'd if I sing. But there are two possible fish to fry out there.
David (Ventura, CA)
How do your family and friends feel about you prolonging your career?
Bernard Hopkins
(1:13 PM)
They say I'm crazy.
Justin (Kentucky)
What are the chances of you moving up to heavyweight like you had stated a desire to in the past?
Bernard Hopkins
(1:14 PM)
No chance, because I wanted to do that two years ago. I didn't have the opportunity to do it because of politics. I can't do it now. And I don't want to, because I don't think it'd be a good choice now.
Courtney J (lindenwold, NJ)
hi bernard, would you give pascal a rematch for the third and final time?
Bernard Hopkins
(1:14 PM)
Uh, nope.
Ryan (St Louis, MO)
What do you think of Roy Jones getting KO'd?
Bernard Hopkins
(1:15 PM)
Saddened.
Josh (Iowa)
Congrats on the great victory. Any plans on writing an autobiography? I think you have one of the most fascinating stories in all of sports to tell.
Bernard Hopkins
(1:15 PM)
Yes. There is talk and there is movement and interest in Hollywood and in New York. Things have been talked about in the last two months.
Pamela (Deleware)
Hey champ, my husband has followed you for years, you are his favorite fighter. He says because of your conditioning, style and experience, you could fight til 50, and be champ? I don't follow boxing like him, but do you feel you can fight that long?
Bernard Hopkins
(1:16 PM)
I won't do that. Even though I've played around and mentioned it. But the way I live my life, if I wanted to and it was something to chase, I could fight until I'm 50. Absolutely.
Victor (north jersey)
what chances do you think you have against lucian bute?
Bernard Hopkins
(1:17 PM)
I would have a great chance. That's the fight I like. That's the fight I want. I believe I will win that fight.
Stephen (London)
After such a momentous and historic moment in the sport, is there a specific goal or fighter you would like to surmount?
Bernard Hopkins
(1:18 PM)
I can reflect on the moment. One is to clean up the division, there are one or two guys there. And to get a big match in Canada. I'd like to fight my next two fights in Canada and leave in a good note, not a negative note.
Bernard Hopkins
(1:18 PM)
Who knows, if Pacquiao wants to move up and meet me at 170, I will fight hiim.
Justin (Kentucky)
Which accomplishment of yours means the most to you? 20 consecutive title defenses or oldest LHW champion of all time?
Bernard Hopkins
(1:18 PM)
The 20 defenses.
Ahmy (Tampa, FL )
What's been the most difficult obstacle moving up in divisions?
Bernard Hopkins
(1:19 PM)
It was difficult because I had to fight with the weight and get used to it. It was difficult.
Bernard Hopkins
(1:19 PM)
I hope my fans enjoyed the fight last week. I look forward to doing some more exciting fights. Have a great summer. Thank you.