Chat with Taj McWilliams-Franklin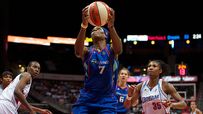 McWilliams-Franklin is averaging 11.9 points and 7.1 rebounds per game in her career.
Welcome to SportsNation! On Thursday, we'll be joined by all-time WNBA great Taj McWilliams-Franklin as she prepares for her first season with the Minnesota Lynx.
Entering her 13th season in the WNBA, McWilliams-Franklin is among the all-time league leaders in rebounds (second with 2,631), made field goals (7th, 1,747), blocks (7th, 373) and steals (7th, 511). Last season, she averaged 10.6 points and 5.4 rebounds per game for the New York Liberty.
Send your questions now and join McWilliams-Franklin Thursday at 1 p.m. ET!
More Special Guests: Previous chats | SportsNation
Taj McWilliams-Franklin
(12:56 PM)
I'm happy to be here and ready to answer your questions!
M.E. (Minneapolis)
Can you explain what you and Rebekkah and Seimone were laughing at in the Media Day photo you all appeared in with Lindsay? It looked awfully funny.
Taj McWilliams-Franklin
(12:57 PM)
(Laughing) We were laughing because I almost fell off the bench that we were sitting on.
Matt (Sandusky, OH)
As the most versatile post player in league history, if you know that your team is going to play you more minutes at the 4 position instead of the 5, do you prepare your body any differently before that upcoming WNBA season?
Taj McWilliams-Franklin
(12:58 PM)
No, not really. During any game you can switch from the four to the five position. It's the same preparation for both. I just watch film on whoever I will be guarding and take it from there.
Matt (Sandusky, OH)
How big of a factor has vegetarianism been in helping you have such a long and successful career in the WNBA? What is your favorite dish to order when dining out at a vegetarian restaurant?
Taj McWilliams-Franklin
(1:00 PM)
I'm not an expert on that so I'm not quite sure. As far as my body, I'm able to keep my weight down, I recover faster from injuries and I feel better. I have lots more energy now compared to when I was eating meat. My favorite dish might be fried tofu. Tofu is my favorite thing.
Nathan (Missouri)
Hey Taj, what has your offseason consisted of?
Taj McWilliams-Franklin
(1:02 PM)
I don't really have an offseason. During the WNBA offseason, I play overseas. But I do get a week or two off right after the WNBA season and then a week during Christmas.
Nathan (Kentucky)
Taj, what has been your favorite moment in your career?
Taj McWilliams-Franklin
(1:02 PM)
I like to think I'm still making moments but up to now I would say winning the title in 2008 with the Detroit Shock.
Nathan (Missouri)
Hey Taj, are you happy to be playing with the Lynx this year or would you like to still be in New York?
Taj McWilliams-Franklin
(1:04 PM)
I'm really excited to be with the Minnesota Lynx. I was a free agent after last season so I was able to decide on where I wanted to go. I've always wanted to work with our Coach Reeve before I retired (whenever that happens) and I'm happy to be a vet working with these young players.
Rich (London)
Is it a strange feeling to be helping and teaching players like Amber Harris who, if she improves, would be taking minutes and opportunities away from you?
Taj McWilliams-Franklin
(1:06 PM)
No, not at all. I love helping players in all capacities. As a veteran player, we owe it to the younger players and the league to help them. I think helping them only improves the game of women's basketball. It's about women helping women and I truly believe that.
Cheesehead Sports Nut (Chicago, IL)
Would it be smarter if the WNBA put teams in smaller cities that might be more invested in their franchises instead of putting teams in cities with NBA teams?
Taj McWilliams-Franklin
(1:07 PM)
I think that's a question for our president, Laurel J. Richie. But in my personal opinion, I think the WNBA has done a great job of maintaining WNBA franchises wherever they are located. We have fans from all over. For example, when I was playing for the Sun, fans came from as far as a hour and a half away to see us play.
Mary (MN)
Are there areas of the Twin Cities you are looking forward to exploring?
Taj McWilliams-Franklin
(1:08 PM)
I'm looking forward to exploring all of the Twin Cities. I've only been here for the two or three days that were playing against the Lynx. Once my family gets here, we'll get out and explore the area.
Taj McWilliams-Franklin
(1:10 PM)
Thanks for all the questions. I can't wait for the season to start. If you don't support the Minnesota Lynx, be sure to support your local WNBA team!