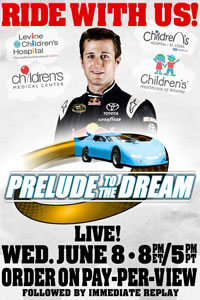 Welcome to SportsNation! On Wednesday, we'll have NASCAR driver Kasey Kahne stopping by to chat about the upcoming seventh annual Prelude to the Dream children's charity race.
On June 8, HBO PPV will host coverage of the event starting at 8 p.m. ET/5 p.m. PT on the dirt track at Eldora Speedway in Rossburg, Ohio.
Kahne joins other drivers like Carl Edwards, Ryan Newman, Tony Stewart, Jimmie Johnson, Kyle Busch and others. The drivers will be split into four teams, representing four different children's hospitals, with each driver helping earn money for his team.
Send your questions now and join Kahne Wednesday at noon ET!
More Special Guests: Previous chats | SportsNation
Buzzmaster
(12:01 PM)
Keep sending those questions in! Kasey should be with us shortly...
Buzzmaster
(12:17 PM)
Thanks for your patience. Kasey Kahne will be here in a few minutes.
Buzzmaster
(12:19 PM)
We have Kasey! And this chat has a green light...
Kyle (Burlington, VT)
Hey Kasey, Do you enjoy getting back on the dirt in Tony's charity race. Was your dirt background helpful when you worked your way up to the Sprint Cup Series?
Kasey Kahne
(12:20 PM)
I always enjoy getting on dirt. Whether Sprint car or Late model. Tony's race is a lot of fun for all the Cup guys and raises a lot of money for a great cause. I think my dirt background helped. Taught me how to be a better competitor.
zak (parma ohio)
growing up who was your favorite driver
Kasey Kahne
(12:21 PM)
My favorite driver was probably Brad Sweet.
Sarah H (Munice, Indiana)
Do you plan on doing any skydiving or stuff like Brian Vickers does??
Kasey Kahne
(12:21 PM)
I'd like to do it but I haven't been able to because of my knees. But hopefully this year I'll be able to. It looks interesting!
Chris (Crestview, FL)
What is it like having Brian Vickers as a teammate? Have you guys become friends?
Kasey Kahne
(12:22 PM)
Actually we get along pretty good and work well together so it's been nice. It's been a good racing relationship.
Sarah (Akron, Ohio)
What is your favorite win that you've had on dirt? *see you at Eldora next week!*
Kasey Kahne
(12:22 PM)
My favorite win would be winning Dirt Cup at home. It's a big race in Washington and I won that in 2002 or 2003.
Kyle (Burlington, VT)
Hey Kasey, Can you tell us a little about transitioning to a new team for just one season before assuming your ride at Hendrick? Is there any reluctance or difficulty on the part of Red Bull or Toyota sharing information with you and Kenny when you will be leaving for the #5 Chevrolet?
Kasey Kahne
(12:23 PM)
I'd say all that has been really good. The thing that we have is that Kenny Francis brings so much to the table. There would be no reason to hold anything away from him.
Nathan (Missouri)
Kasey, what is you favorite track to race at?
Kasey Kahne
(12:24 PM)
My favorite track is Atlanta. Just a lot of racing room and tires get slippery and fall off. Just a tough track.
Blake (Athens, GA)
Kasey,What are you and the Red Bull Racing team doing to rebound from two very disappointing finishes? Three weeks ago the engine died during a caution and Sunday we ran out of gas? Was it your call to stay out or did Kenny say to?
Kasey Kahne
(12:25 PM)
We're going to Kansas the same way we went to those tracks. Staying out was our strategy and it would have worked without the last caution.
Sarah H (Muncie, Indiana)
What do you think your chances are at Kansas this weekend?
Kasey Kahne
(12:25 PM)
We qualified good there last year. It's a cool track and it's going to be slippery. I look forward to it. Should be a good place for us I think.
Adam (Vermont)
Kasey, we saw Dale Jr have troubles transitioning to HMS when he made the switch. Do you expect to have the same troubles, or are you expecting to be competitive right out of the gate?
Kasey Kahne
(12:26 PM)
I expect to be competitive right out of the gate. I'll work with the guys throughout the offseason and when the season starts to know exactly what's going on over there and try to be as competitive as possible from the very beginning.
James (Indy)
Hi Kasey, have you ever tested an Indy car and do you see yourself running the Indy 500 anytime soon?
Kasey Kahne
(12:27 PM)
I tested one two different times and really liked it. I don't know if I'll ever run the 500 but it's a great race and I'd love to be part of it at some point.
Dan (Norton, Ohio)
Any clue on when the sponsors for the 5 car will be announced?
Kasey Kahne
(12:28 PM)
Hopefully in the next month or so. We're still not positive but hopefully soon. Maybe next couple of months.
Larry (MI)
Kasey, Is the plan for Kenny to come with you to HMS?
Kasey Kahne
(12:28 PM)
Still not sure how all of that will work out. But he's a great crew chief and a great guy to work with.
David Johnson (Lynchburg va)
Is Kenny Francis ever going to join us on Twitter ???
Kasey Kahne
(12:29 PM)
I doubt it. He has a lot going on. I bet he follows people maybe under a code name or something. Who knows.
Matt (Chicago)
Too bad we won't see you in the NNS race here Saturday night. What do you feel like you need to do over the next 13 races to be in the Chase when you get here in September for the Cup race?
Kasey Kahne
(12:30 PM)
We just need to be consistent. We've been fast but we haven't finished some of these races off. We just need to find that stride and we'll be okay.
john (pennsylvania)
Kasey Do you feel the Dirt racing be it Late models or sprint cars are duing enough to get national exposure and do you see it getting bigger ?
Kasey Kahne
(12:31 PM)
I think dirt racing is very exciting and there are certain races that get a lot of exposure and hopefully that keeps going. To me, it's exciting racing.
Blake (Athens, GA)
How are your knees? You mentioned earlier that they kept you from doing some things during the off-season? Are you back to 100% now? What do healthy knees do for you when you're racing?
Kasey Kahne
(12:31 PM)
Yes I feel great. The biggest thing is that I can walk when the race is over. For a while there I couldn't.
Greg (North Carolina)
How much of racing professionally is a head game? Drivers with a lot on their minds tend to have poor days at the track (ie - Kyle Busch this past weekend).
Kasey Kahne
(12:32 PM)
There are times when it's a head game and times when it isn't. But being mentally strong is a big part of any competition.
Sarah (Akron, Ohio)
How are those adorable nieces of yours doing?
Kasey Kahne
(12:33 PM)
They're doing great.
Brittany Ann (Maine)
When do you think you will make a trip up to Maine? You have been to Old Orchard Beach right?
Kasey Kahne
(12:33 PM)
I don't have any plans to. Maybe some day. I went a long time ago.
Sarah (Akron, Ohio)
What kind of events is the Kasey Kahne Foundation doing this year to help raise money?
Kasey Kahne
(12:34 PM)
We always try to throw some things together throughout the year. We're going to do a 5K again in Charlotte and do some things throughout the season as always. It's always nice to raise money for the kids and hang out with them.
Mike (Maine)
Hey Kasey, big fan. I know the Prelude to the Dream is for charity, but what do you think your chances are of winning it? Who do you think is your biggest competition?
Kasey Kahne
(12:35 PM)
I wouldn't do it if I didn't think I could win it. I think Clint Bowyer is my biggest competition because he's done a lot of that racing in the past and he's good at it.
Jeff Smith (Meridian ID)
Hello Kasey! My son races Karts and shows a lot of potential. Is there still sponsor money out there in this economy? He named his little brother after you.Cheers Jeff Smith
Kasey Kahne
(12:36 PM)
(laughs) I think it's tough to find but there's definitely some out there still. You have to be in the right place at the right time and meet the right people.
Phil (Philadelphia)
You've had a good year so far, but had some tough luck at times. Is there a certain track on the schedule that you are targeting as somewhere you can pick up a win and break the bad luck?
Kasey Kahne
(12:37 PM)
Actually I feel like we are competitive at the majority of the tracks remaining. We've won at Pocono, Michigan and both of those are coming up. So we'll see!
Kasey Kahne
(12:39 PM)
Thanks for the questions everyone! I'm in between appearances and have to run. But we're trying hard to win races here at Red Bull and we're getting close. Make sure you tune in on June 8th to the Prelude to the Dream charity event. I'm racing for the St. Louis children's hospital so cheer our team on!