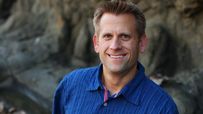 Welcome to SportsNation! On Monday, Sport Science host John Brenkus stops by to chat about his Emmy Award-winning TV show.
Sport Science uncovers sports' biggest myths and mysteries by utilizing cutting-edge technology to measure momentum, friction and the laws of gravity. In addition to his role as host of Sport Science, Brenkus, a Univeristy of Virginia graduate, is also the director and creative director of all BASE Productions programs.
Send your questions now and join Brenkus Monday at 3 p.m. ET!
More Sport Science: Index | Videos | Blog | @Sport_Science
Buzzmaster
(2:59 PM)
We've got John!
Josh S. (Philly)
What was your favorite theory to test out?
John Brenkus
(3:00 PM)
In all of our segments, we're constantly putting theories to the test. I love them all, honestly.
Clay Parker (Monroe, LA)
Is there a database of all the performances and athletes that you have tested?
John Brenkus
(3:01 PM)
Yes. We keep it, use it and expand on it. We probably have the best data set of A-list athletes in the world.
jesse (iowa)
which type of sports athlete is the most fun to work with? (baseball player,football player,baskeball,soccer,racing,etc)
John Brenkus
(3:02 PM)
Honestly, they are all amazing and interesting. The best part of my job is getting to work with people that are the best at what they do. It doesn't matter if it's ping pong or football, elite athletes amaze me.
Sam111 (NY)
Hey John can we got an SS on leo messi?
John Brenkus
(3:02 PM)
In the works.
Jordan Kartchner (Arizona)
what is it like working with the high tech equipment and great athletes every day? by the way i love the show
John Brenkus
(3:03 PM)
Thanks for the kind words. It is quite exhilarating to combine the best technology and the world's best athletes. A lot of great minds go into the Sport Science segment and it's a blast working with them all.
Paul (Houston)
what a cool job you have! How did the show come about? Also, what's the most scientifically amazing sports discovery you've made on the show so far?
John Brenkus
(3:04 PM)
We did a show called "Fight Science" first that rated really well on National Geographic and Fox Sports. We applied the techniques and approach from that show to every other sport.
Ben (SC)
Where do you do all the testing at? Are people allowed in to watch?
John Brenkus
(3:04 PM)
We do all the testing in Burbank, at our facility. It's a hot ticket to try and get on the set while we're filming.
Matt (Skokie, IL)
Mr. Brenkus what is the most interesting fact you've learned as a result of Sport Science
John Brenkus
(3:06 PM)
After doing 275+ experiments, it's hard to pick just one, but I will say that with every passing experiment I learn how far away I really actually am. It seems that I'm getting further away from being elite. We are all very impressed with all of the athletes on Sport Science. Can you imagine actually being one of them?
Dave (Boston)
Do you think there's any science behind Nadal's clay dominance?
John Brenkus
(3:07 PM)
There is science behind everything. He certainly is a freak, but when you look at his game, he's so proficient in every aspect of it, it's hard to pin his success on any one thing. He's incredibly well rounded and good at everything.
John Brenkus
(3:07 PM)
We're working on a Sport Science segment is in the works, so stay tuned.
Jeff (RI)
You usually have a new segment around the major sporting events...anything for the U.S. Open?
John Brenkus
(3:08 PM)
Indeed. Stay tuned.
Gil (LV)
Of your 275 experiments, what is the % breakdown between physical tests and Mental tests?
John Brenkus
(3:10 PM)
The mental component is the differentiating factors between elite athletes. We can only look at the things that can be quantified. The margin between the athletes is so razor thin that the mental edge is what ultimately differentiates champions. That mental edge is something that can't be quantified. But even if you're mentally tough, if you don't have the physical skills, it won't be possible to be an elite athlete. That's what makes our job fun, is figuring out what does being elite truly mean?
Kyle (VA)
How much new ground does the QB vision test open fo you guys?
John Brenkus
(3:11 PM)
We've been using eye tracking technology for a while now. We're always looking for new ways to use it.
John Brenkus
(3:11 PM)
The QB test is just one way that we've been able to employ it. It's a super cool technology.
Daniel (Orlando, FL)
I love Sports Science. I've watched alot of the clips both online and on ESPN. But it seems like alot of the shows are mainly about football. Maybe because there is alot more going on with the human body. But as a fan of NASCAR, how about something in that feild? Alot of g's get pulled you know.
John Brenkus
(3:12 PM)
We just had Carl Edwards on and had a total blast with him. In terms of actually testing the car itself, we're working with NASCAR to make that happen some day.
Gil (LV)
The Soviets did a lot of experiments on finding a proper body type for particular sports, have you tested any of their theories?
John Brenkus
(3:14 PM)
Yes. In my book "The Perfection Point" I lay out the perfect prototype for various sports. The reality is that there may be a perfect body type on paper, but there isn't one in practice. Being elite is a combination of mental and physical abilities. It's hard to separate the two completely. You can stand around all day and ponder what's the perfect body type, but it doesn't do much good to have the perfect type if you don't have the mental component. Check out "The Perfection Point." I think you'll dig it.
Cosmo (Anytown, USA)
What experiment do you most want to do, but are not getting enough agreement from the rest of the staff to actually test it?
John Brenkus
(3:15 PM)
Nope.
Cosmo (Anytown, USA)
Have you done or are you preparing to do any pain-tolerance experiments?
John Brenkus
(3:16 PM)
Pain is all relative and it's impossible to quantify how much pain someone is in or should be in. There is a way to how much force involved, but there isn't a way to tell how that force feels, in terms of pain.
Aaron Begleiter (NY)
Are you going to do one on Dirk Nowitzki?
John Brenkus
(3:17 PM)
We just did a Dirk Nowitzki analysis. Check it out on our website.
John Brenkus
(3:17 PM)
Thanks for all of your support. More great segments coming your way!