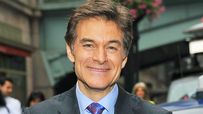 Dr. Oz did his undergrad work at Harvard and went to med school at the University of Pennsylvania.
Welcome to SportsNation! On Thursday, we've got the host of "The Dr. Oz Show" Dr. Mehmet Oz stopping by to chat.
Dr. Oz has hosted his show since 2009, produced by Oprah Winfrey's Harpo Productions. He first appeared on The Oprah Winfrey Show starting in 2004, before the launch of his own show. Dr. Oz is a big sports fan, having played football at Harvard and has a basketball court at his home in New Jersey.
Dr. Oz just published his ninth book, entitled "YOU: The Owner's Manual for Teens," the eighth book in his "YOU" series. The book hit stores on Tuesday.
Send your questions now and join Dr. Oz Thursday at 11:45 a.m. ET!
More Special Guests: Previous chats | SportsNation
Buzzmaster
(11:25 AM)
Dr. Oz's schedule got backed up, so our chat has been pushed back to 11:45. Keep sending in those questions!
Buzzmaster
(11:49 AM)
Dr. Oz is here!
Dr. Oz
(11:50 AM)
If there are any young adults who have health questions, DrOz.com, go there and ask them. We have professionals that will answer them as part of the new book launch, "YOU: The Owner's Manual for Teens."
Kyle (VA)
Dr. Oz, what made you decide to start writing books? Where do the ideas come from?
Dr. Oz
(11:51 AM)
So many of my patients wanted guide books to their own body. We decided to write down everything medicine knows about general health. So folks can act on the new knowledge.
Jaden (SLC,UT)
Dr. OZ, if you could own any sports team in the NFL or NBA, who would it be and why? Thanks
Dr. Oz
(11:51 AM)
As a business man, I'd like to own the Yankees. As a fan, I'd like to own the Philadelphia Eagles. I'm a Philly boy.
Nathan (Missouri)
Dr. Oz, tell us about your football days at Harvard.
Dr. Oz
(11:52 AM)
I did. I played safety at Harvard. I also played water polo. My fondest memories were getting ready for the Yale game. After the vomiting was done, it was all fun.
KEvin (NJ)
Dr. Oz, I understand the importance of exercise and I try to workout 3-5 times per week. However, there are weeks when I just feel too tired to work out or slip up and get lazy and only work out 1 or 2 times or not at all. I usually feel horrible about skipping my workouts and get upset with myself for being lazy. I was hoping you could reassure me that, while not ideal, skipping workouts every once in a while isn't too, too bad.
Dr. Oz
(11:53 AM)
If workouts are exhausting to you, then you need to pull back. Your body will usually tell you when you can go full speed again. In general, the key is at least one hour of sweating a week. Although the ideal is 30 minutes of some activity every day.
Cheesehead Sports Nut (Chicago, IL)
When Harvard and Penn face off in sports, which team do you root for?
Dr. Oz
(11:53 AM)
Harvard. Because I played there.
Dr. Oz
(11:53 AM)
I went to med school at Penn.
Evan (SLC)
How did Oprah first hear about you?
Dr. Oz
(11:54 AM)
Oprah came on my documentary series entitled "Second Opinion" on Discovery Channel. She had confidence that America wanted to know more about our bodies, if we had the right messenger, so she helped me evolve into a better teacher.
Olivia (Chicago)
How important is it to be healthy at a young age and growing up if you want to live longer or make your career in athletics?
Dr. Oz
(11:55 AM)
The traditions that you develop as a young adult will be the ones that drive your habits as you get into older age. IT's imperative to develop the right eating and sports habits, because lack of these will drive health issues as you age.
Chris (Broadview Heights, OH)
My wife is a big fan of your show and thanks to you we have no snacks in our house so I don't know whether to thank you for potentially better health or be mad at you for not having any snacks in the house. Anyways, I know you're from the Cleveland area....are you a Browns fan?
Dr. Oz
(11:57 AM)
I love the Browns and Indians. You should thank me for making it easier for you to do the easier thing at home. Have a piece of 70% cocoa chocolate on me. Sorry for making your life healthier.
Brad (Gadsden,Alabama)
Dr. Oz, Who do you think is going to win the NBA Finals?
Dr. Oz
(11:57 AM)
I think the Heat will win in 7. I think the Mavs will win tonight and the Heat back in Miami.
Drew (NY)
my friend at work just drank his purple and reds in like 10 seconds and now he is complaining about a brain freeze, what should i tell him
Dr. Oz
(11:58 AM)
Blood vessel spasm in the brain when exposed to cold, which cuts down the blood supply to some of the tissue in the skull, leading to pain.
FANbooth (Dallas)
Hey Dr. Oz where did you get those cool cut-outs of Dirk and LeBron? By the way, NICE bank shot!
Dr. Oz
(11:58 AM)
I made them in my garage last night.
Dr. Oz
(11:58 AM)
I've been working on that bank shot since I was 7.
Cheesehead Sports Nut (Chicago, IL)
What do you think of Dr. Drew and all of the medical professionals we see popping up on TV?
Dr. Oz
(11:59 AM)
I think it's a voracious appetitte for healthy information. Thankfully, the medical profession is responding to it. Ultimately, we will win the battle for health in our homes more than in any Congressional hall.
Dr. Oz
(12:00 PM)
The No. 1 reason that we die is fraility. The people that live the longest around the world are those that do daily vigorous activity. Make sure you're doing some sports while watching hte Mavs-Heat.
Buzzmaster
(12:00 PM)
Thanks for chatting Dr. Oz!