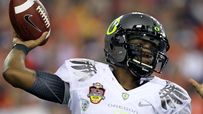 Thomas is a pre-business administration major.
Welcome to SportsNation! On Tuesday, we'll be chatting Pac-10 (soon to be Pac-12 on July 1) football when Oregon's Darron Thomas stops by to take your questions.
Thomas, in his first year as a starter, led Oregon to the BCS title game in 2010. He threw for more than 2,800 yards to go with 30 TDs, while also rushing for nearly 500 yards. He had 363 passing yards in January's national championship game.
Send your questions now and join Thomas Tuesday at 1:30 p.m. ET!
More Special Guests: Previous chats | SportsNation
Darron Thomas
(1:33 PM)
Hello, how are you doing?
Kevin (CT)
Is there anything about the BCS game last year that you're using as motivation this year?
Darron Thomas
(1:34 PM)
Losing! The loss gave me the biggest motivation. Just learning from that experience and re-watching that game.
Chris (WA)
What have u worked on the most this off season?
Darron Thomas
(1:35 PM)
Footwork. Getting stronger, bigger and stronger.
Joseph Hayes (Portland, OR)
On a personal level (aside from football), what if any, were the key reason you came to U of O?
Darron Thomas
(1:36 PM)
My key reason was to come play in that offense. I don't think I would get the love from the fans the way I've gotten it from Oregon. All over Oregon, they love the Ducks. They don't care where you're from -- you say you're affiliated with the Ducks and it's mi casa, su casa.
Pam (NH)
How fun of a character is Chip Kelly? He seems like he might be a funny guy, ifyou can get him in the right mood.
Darron Thomas
(1:37 PM)
He's a serious guy, but once he starts joking, he can be really funny. When he throws in a joke, he's so serious that everyone laughs. Maybe I'll catch him when he's getting off work being funny.
Cheesehead Sports Nut (Chicago, IL)
I am not trying to get you fined here but if you could change one thing in your sport what would you change and why?
Darron Thomas
(1:39 PM)
People faking injuries! They should take that rule out now. It's legal, so you can do it and can't be mad at it, but you see teams using it as a stalling tactic. Right when you see a team hurrying up, someone will fall to the ground with their "calf tightening up". In basketball too, with all that flopping and stuff! That takes away from the game.
Joey (SC)
This is for Darron, is Oregon's jerseys the reason you went there? Also, how pumped are you when you see a new jersey combo?
Darron Thomas
(1:40 PM)
Not at the time, no. I like the new jerseys more than the old jerseys. Coach Kelly says it's not about the jerseys, it's about who's in them.
Chris Fiegler (Latham,NY)
Do you think that you will play in the NFL in 2012?
Darron Thomas
(1:41 PM)
Hoping for 2013. That's my goal, I hope. I'll work real hard to get there. I've got two years to accomplish that.
Rick (Eugene)
Which decisions you made in the Auburn game would you make differently with the wisdom gained from experience?
Darron Thomas
(1:42 PM)
We'd probably do the same thing but execute it better. You make bad decisions in every game.
greg (iowa)
What do you think of all of these scandals rocking college football right now? Do you pay much attention to it?
Darron Thomas
(1:42 PM)
Yes, because we have to learn from those mistakes. We don't want to repeat those mistakes, for sure.
Pete (Portland)
What do you think of Colt Lyerla so far
Darron Thomas
(1:44 PM)
He's a big-time player. He's from the Portland area and came to spring ball. He's a big physical dude, and it looks like he could play either side of the ball. He works hard. He's bigger than guys who are seniors on our team. Defensive mentality playing offense.
Pedro (Alexandria (VA))
What are your thoughts on starting off the season against LSU? Worried with all the hype their defense brings?? You know you'll have to beat them in order to have a national title run...
Darron Thomas
(1:45 PM)
It's a make-or-break game. The first game is where we see where our team is at, and where we see how we play against top notch competition.
Pete (Portland)
How come you switched numbers
Darron Thomas
(1:45 PM)
I was waiting on the 5 for the longest time, but I didn't want to take it while it was in use! I took it before they gave it to a freshman. It was my high school number.
Brianna (Denver)
If you weren't playing football, what sport or other activity would you be doing?
Darron Thomas
(1:47 PM)
I'd try to play baseball. You get big money there, but you can't make those little mistakes in baseball. It's like no other sport -- you go up to bat by yourself. There's no other team sport that's like that. It's all on you when you're up there.
Matthew (Los Angeles, CA)
What's it like playing with Lamichael James?
Darron Thomas
(1:49 PM)
Easy! You love that back, because he can always hit it. Some teams have big backs that can run for 20, 30 yards, but LaMichael can go for 90 or so. He's all about his game -- not too much talking.
Darron Thomas
(1:50 PM)
Thanks everyone! Bye! Watch the Pac-12!