Chat with Adrian Peterson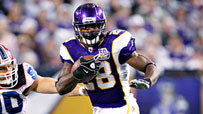 Peterson was the seventh overall pick in the 2007 draft.
Welcome to SportsNation! On Tuesday, Minnesota Vikings running back Adrian Peterson stops by to chat some NFL and the EA Sports NCAA Football Traditions vote.
The Traditions vote includes our bracket of 16 of the best college football traditions, where SportsNation's vote determines which one advances. Each Tuesday, we'll open a new round of voting. The winning school will receive hundreds of copies of EA's "NCAA Football '12" on the day of the game's release (July 12), courtesy of SportsNation and EA Sports!
Peterson entered the NFL in 2007 after playing at Oklahoma, where they run out the "Sooner Schooner" prior to every home game. The Schooner is up against Texas and Bevo in the first round.
Send your questions now and join Peterson Tuesday at 2:15 p.m. ET!
More Special Guests: Previous chats | SportsNation
Buzzmaster
(2:14 PM)
Helloooooooo! Be sure to go to SportsNation.com and vote for your favorite college football traditions! Then watch SportsNation TV at 4 p.m. ET on ESPN2. Adrian Peterson will be on the show!
Buzzmaster
(2:22 PM)
Adrian is almost here!
Adrian Peterson
(2:30 PM)
Hello! I'm ready for your questions.
Joe MacGregor (Boulder, CO)
Schooner vs. Bevo? That sounds like a cakewalk for you guys in the first round, no?
Adrian Peterson
(2:31 PM)
I definitely agree. Not biased at all of course. But it's just a great tradition unlike any other. You see Bevo and he's just sitting there taking craps. Then you see the Schooner coming across the field. It's just way more excitement.
Scott Terry (Lincoln, NE)
You tied with Chris Johnson in a recent poll of ESPN NFL writers for best offensive player (non-QB) ... that sound about right?
Adrian Peterson
(2:33 PM)
No, that doesn't sound right. I'm not cocky at all. But I feel like the work I put in, there are not many guys like me. Johnson is a great player and I have much respect for him but I have been in the league longer and he needs to put in more work to be in the same category. But he is a great player that I love to watch.
Timo (San Diego)
Any bitterness about losing the Madden cover vote? You put up a good fight.
Adrian Peterson
(2:33 PM)
A little bit but not really. Who doesn't want to be on the cover of Madden? I didn't think my chances were that good really. Some fans didn't vote for me because they believed in the curse. Too many supersticious fans.
Shawn (Barre,Vermont)
As a RB you take a lot of hard hits.Any hits that you remember specifically or do they just all lump into one bad day?
Adrian Peterson
(2:35 PM)
Majority of them, 99 percent, lump all together. But there are a couple I remember. Rogers in Detroit gave me a huge hit on an outside zone play. I tried to reverse field and the DL was pursuing in that direction and as I cut back, 350 lbs of man just knocked my head off. And then he fell on top of me. Double blow. I didn't show anything but getting up was slow.
Crabman (MD)
Do you think the outcome of the 2005 Orange Bowl would have been different if Reggie Bush had not played? GO SOONERS!!
Adrian Peterson
(2:36 PM)
What would have happened? It would have been a totally different game. You have to be accountable for a guy like Bush and our def. coordinator grew some grey hairs trying to account for Bush. It would have been very different. He was their best player for sure.
Drew MN [via mobile]
Would you rather have a roof in the new stadium or battle the elements during the winter months?
Adrian Peterson
(2:36 PM)
Yes, I want a roof. A retractable roof would be great. Yes.
Adrian Peterson
(2:37 PM)
The weather isn't always bad. We have lot of nice days too so a retractable roof would be nice.
Paul (Oregon)
Got any tips on how I could motivate myself when I'm close to ditching a trip to the gym? Do you ever have to do that?
Adrian Peterson
(2:37 PM)
Just ask yourself if you are going to be the best? You have to know in the back of your head that somebody else is in the gym working out and you're not.
Chad (Guam)
Do you think the Vikings are being overlooked this year because the Packers won the Super Bowl, the Bears made the NFC Championship, and the Lions had a very high profile draft?
Adrian Peterson
(2:38 PM)
I doubt that. I don't think we will be overlooked. We will always be on the radar with so many high profile players. We have so much talent on this team and defensively we are going to be great. And then me in the backfield. Who could overlook us?
Matthew (Los Angeles, CA)
What are your thoughts on Bob Stoops saying Oklahoma is not interested in claiming the 2004 BCS National Championship?
Adrian Peterson
(2:39 PM)
When you look at the score, it's hard to want to accept that. Reggie had a great game and they had a great game plan. Not taking anything from Leinart. But I'm sure when Coach Stoops saw the news and reflecting back on the loss, it's not something he wanted to be a part of. Leave it open.
the freak-fannn (USA)
Would you pose for the BODY addition of ESPN the mag?
Adrian Peterson
(2:40 PM)
I was in it! It was pretty cool
David Reynolds (TN)
On a scale of 1-100 how good of a Madden player are you? What would your "rating" be?
Adrian Peterson
(2:40 PM)
100.
Adrian Peterson
(2:40 PM)
Actually, 75.
Shawn (Barre,Vermont)
How is your preperation(physically and mentally) for a upcoming season different now than it was when you first came into the league?
Adrian Peterson
(2:43 PM)
I always approach each season differently. I'm looking at what I need to improve on and each offseason I'm trying to do new and different workouts that will improve my body motion and strength. There are so many new things out there to try. I wasn't really thinking that way when I first came into the league. I had my routine and that was it. I'm older and wiser now. Thanks for the questions! Continue to watch me and support me. I really enjoyed talking to you. Hope we can do it again some time. God bless!
Buzzmaster
(2:43 PM)
Thanks, Adrian! Adrian had to run to do SportsNation TV! Be sure to tune in at 4 p.m. ET on ESPN2!