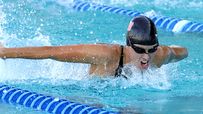 The 2012 Games will run from July 27-August 12.
Welcome to SportsNation! On Thursday, we'll be joined by seven-time Olympic medalist Amanda Beard, as she begins her training for the 2012 Summer Olympics in London.
Beard will be training to make her fifth U.S. Olympics team, where she has won two gold, four silver and one bronze medals. Her signature event is the 200m breaststroke, in which she once held the world and Olympic record.
Aside from preparting for the 2012 Games, Beard also works with other world class athletes like Serena Williams, David Wright, Mia Hamm and Steve Nash to form the company Mission Athletecare. Mission works to develop skincare products that solve problems unique to athletes.
Send your questions now and join Beard Thursday at 2:30 p.m. ET!
More Special Guests: Previous chats | SportsNation
Buzzmaster
(2:20 PM)
Olympian Amanda Beard will be here at 2:30 p.m. ET to take your questions!
Buzzmaster
(2:41 PM)
Hang on folks, we're waiting for Amanda.
Buzzmaster
(2:49 PM)
Amanda is here!
David (Boston)
How much time did you take off before re-starting your training for 2012?
Amanda Beard
(2:50 PM)
I took almost a full year off. I was pregnant with my son. I got back in the water in the fall of 2009.
Cody (NE)
Was it easier to prepare on your first go at it or now becuase you have experience?
Amanda Beard
(2:50 PM)
It's probably easier when I was younger because I was naive and young. It was just one of those things where I swim, do well and now I'm at the Olympics. 1, 2, 3.
Willie (LA)
Do you feel that by being an Olympic athlete puts you in a time warp of sorts? By that I mean that you haven't even turned 30, you're super young, yet by athletic standards, especially Olympic standards, that's considered to be old. Doesn't that seem strange?
Amanda Beard
(2:51 PM)
It's really weird, because it's almost like you lead a double life. In swimming, everyone calls me grandma, because I'm the oldest there. Then with my friends, I'm the youngest and I'm the baby. It's definitely bizarre.
Nathan (Missouri)
Hey Amanda, what kinds of things does Mission Athletecare do and what is your part with them?
Amanda Beard
(2:53 PM)
Well, there is a lot that Mission is great for. But for me, I love all of the sunscreens. I'm out in the sun and in the swimsuit so it's important that I take care of my skin. And there are lotions for skin chafing from the suits. It's for what athletes need to perform and not worry about the outside stuff.
Uncle Joe (Gig Harbor, Washington)
How are Blaise and Sacha doing?
Amanda Beard
(2:53 PM)
Mind your own business! Hey crazy Uncle Joe! We are all doing good, now get your buns to Tucson!
Steve (cambridge, UK)
Are you coming to the UK prior to the Olympics, or going to travel around here after the games? You have many UK fans. We'd love to see you outside of competition!
Amanda Beard
(2:54 PM)
Well, I love going to the UK. Of course I'd love to go prior to the Olympics, but I don't know if the training will allow it. But I will definitely hang around after. I've never had a proper vacation over there.
Carl (Houston)
How much time did you take off after the Beijing Games?
Amanda Beard
(2:54 PM)
I took a year off after the Games.
Peter (RI)
You have accomplished so much in your career already...what keeps you motivated for 2012?
Amanda Beard
(2:55 PM)
I think it's just very simple for me. I love to swim. It's a fun thing to do. The fact that I have qualified for other Olympics and have done a lot takes the pressure off and allows me to enjoy it.
Don (NYC)
True or False ... Amanda Beard will go 2:23 at OT and be on that plane to London next Summer?
Amanda Beard
(2:55 PM)
I'd say true, but I want to be a little faster than that.
Birdfan (Louisiana)
Do you have any injuries that you have to allow to heal before the Olympics?
Amanda Beard
(2:56 PM)
I'm actually lucky that I don't have any serious injuries. I have some aches and pains that most athletes have. Nothing serious and hopefully nothing in the next year either.
Nathan (Kentucky)
Amanda, what kinds of things do you do in your training?
Amanda Beard
(2:57 PM)
Obviously, swim, but I also do some dry land stuff. I do some stuff in the weight room. Olympic lifting. I'm not a very big or good runner, so I tend to stay away from that.
Birdfan (Louisiana)
What are some of the unique problems that athletes have with their skin? How does your products help?
Amanda Beard
(2:58 PM)
I got involved with Mission a couple of years ago. The products are fantastic for me. I use them on a daily basis. The athletes have a lot of involvement in it.
Birdfan (Louisiana)
How much harder is training this time around and what are you having to do differently?
Amanda Beard
(2:59 PM)
I could say yes or no. It never really gets that easy. It's always pretty difficult. I think the longer I've been in swimming, I've been able to figure out what's effective for me. Now I only train 3-4 hours per day. I've figured out what works for me.
Dave (CT)
What swimming events will you try to qualify for in this Oylmpics?
Amanda Beard
(3:00 PM)
I'll be swimming just the 100 and 200 breaststroke at the trials.
Greg (RI)
Would you like your son to one day swim in the Olympics?
Amanda Beard
(3:01 PM)
My No. 1 priority for my son is that he knows how to swim. Whether he wants to be serious about it and persue it, I don't care. It's a sport where if you don't to do it, you shouldn't do it.
Amanda Beard
(3:02 PM)
I appreciate the support. You can follow me on Twitter: @AmandaRayBeard.