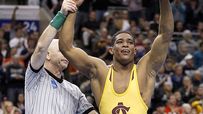 He finished his wrestling career 122-23 and a three-time all-American.
Welcome to SportsNation! On Monday, three-time Pac-10 wrestling champion in the 125-pound division Anthony Robles stops by to chat about his ESPY nomination. Robles is up for Best Male Athlete with a Disability. Voting is underway.
Robles finished the 2010-11 wrestling season, his last at Arizona State, undefeated at 36-0, winning both the 125-pound Pac-10 and the national championships. Fans can follow Robles on Twitter: @arobles125.
Despite being born with only one leg, Robles developed himself into one of the top wrestlers in the country. Prior to arriving at Arizona State, he won two Arizona high school state championships, going 48-0 over his final two seasons.
Send your questions now and join Robles Monday at 2 p.m. ET!
More Special Guests: Previous chats | SportsNation
Anthony Robles
(1:58 PM)
How's it going guys, it's me Anthony the wrestler from Arizona State and I appreciate your support of me in my wrestling and the ESPYs!
Laura (Dallas, TX)
What is the biggest assumption people make about you?
Anthony Robles
(1:59 PM)
they think I need special treatment in some way ... so they don't know how to act. Once you get to know me, you'll know i'm just like anyone else. I believe I can do anything I set my mind to.
Tommy (Seattle)
AFTER you win the Espy, where will you keep it
Anthony Robles
(2:01 PM)
Hopefully I win. But I have a place picked out in my living room where I want to put it. I actually picked the place for my National wrestling Championship too. It's funny because ASU wanted to borrow the trophy for a little bit to put in the display case at school, but I didn't give it up.
Cheesehaed Sports Nut (Chicago, IL)
Did you play any other sports as a kid?
Anthony Robles
(2:03 PM)
I played basketball, baseball and football. I was a big Oakland Raiders fan growing up. I played tackle football when I was in high school as a freshman. I started as a defensive lineman. I learned quickly that I was way too small for football and that's when I picked up wrestling when I was 14.
James (New Jersey)
How does it feel to not only win a championship and become All-American but to inspire thousands if not millions of kids who are disabled to compete in sports?
Anthony Robles
(2:04 PM)
It's a huge honor. I didn't get into wrestling for the attention. I just love to wrestle! As I started getting better and better, I started hearing that I was an inspiration to a lot of people. I'm just trying to do the best I can with what I have. We all have our own obstacles to an extent, but I hope my story shows that anything is possible. Don't let obstacles in your life hold you back.
Matthew (Los Angeles, CA)
Were you aware that you were Sportsnation's Best of the Best for longest amount of time in 2011?
Anthony Robles
(2:06 PM)
yeah... i was excited. I was living the dream after the championship. One time I was in the airport and someone I didn't know said you just beat LeBron on "Best of the Best." It was a huge honor. I really feel like I'm living a dream and I feel so blessed because of that.
Chris Fiegler (Latham,NY)
Do you think that you will be in the WWE?
Anthony Robles
(2:07 PM)
As of right now, no. I'm focused on my motivational speaking career but you never know I might jump into the MMA. I'm a big Anderson Silva fan.
Cheesehaed Sports Nut (Chicago, IL)
What do you say to people think that it is unfair that you get to wrestle at a weight that is much lower than you normally would since you are missing a leg?
Anthony Robles
(2:11 PM)
It doesn't make sense because I do weigh 125 lbs. The doctors tell me my upper body is bigger because I'm walking around on crutches and I'm basically working my upper body. Technically I would be in the same weight class regardless. I just see it as some people trying to be negative about me. I don't pay much attention to it.
Ella (Vista,Ca)
How has your close relationship with your mom helped you become who you are today?
Anthony Robles
(2:13 PM)
It's been a huge part of who I am. My mom had me when she was 16 years old. She raised me with my head in the clouds. I believed I could do anything. She never said, "You have one leg, you can't do this." She's always been my biggest fan.She was there from my very first match when I got pinned to my very last match when I won the championship.
Stacee (Joplin)
Which conference gave you the most trouble?
Anthony Robles
(2:16 PM)
The Big Ten conference for sure. They are more in your face, bang you around and get you tired. That was a difficult style to wrestle. But I always stuck to my gameplan in all my matches. Matt McDonough from Iowa was pretty touch to face.
Mike H (Greenwich, CT)
Are there any particular athletes that you are looking forward to meeting at the ESPY's?
Anthony Robles
(2:17 PM)
I'd be excited to meet any of the Oakland Raiders. I would love to meet LeBron James if I could. Really, I'm just excited to be apart of the ESPYS and I'd love to bump elbows with everyone there.
Katy (LA)
Anthony, first of all you're such an inspiration. What drives you?
Anthony Robles
(2:19 PM)
Thanks Katy! For the longest time, people had low expectations of me but the way my mom raised me I believed I could do anything I wanted. So I've always been really competitive. Now I want to be a great public speaker. I want to get better at that. If I can make one person's life better, that's my way of giving back.
Bob (NYC)
You're up against Chris Devlin, Aaron Schneidies, Jerome Singleton, and Steve Wampler for Best Male Athlete with a Disability in the ESPYS. Why do you think you should win over the others?
Anthony Robles
(2:20 PM)
Honestly, I'm just honored to be in this category. I don't think I'm any more deserving than any of them. If you vote for me that's awesome, if you vote for them that's great too. I just want to use this platform to show everybody that ANTHING is possible.
Anthony Robles
(2:23 PM)
I just want to thank everyone out there for supporting me. Make sure you vote for me! I've had a fun journey in my wrestling career but I'm not done yet! Anything's possible! You can do anything you set your mind to!The week of the ESPYs my motivational speaking website www.anthonyrobles.com will launch so definitely check that out!Take care and thanks for chatting with me today!