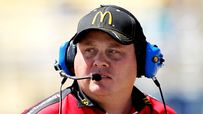 Manion won the 2005 Nationwide Series Crew Chief of the Year.
Welcome to SportsNation! On Friday, Kevin Manion will stop by to chat some NASCAR as well as his personal experiences living with gout.
Manion is the crew chief for Jamie McMurray and the Earnhardt Ganassi Racing No. 1 Chevrolet Impala. Manion and McMurray teamed up to win the 2010 Daytona 500 and 2010 Brickyard 400.
Manion is teaming up with Men's Health Network and Takeda to launch the "Gout Pit Stop," an educational campaign to raise awareness about gout, a type of arthritis that affects approximately 8.3 million people in the U.S. Racing fans can experience "Gout Pit Stop" at select tracks where you can enter a sweepstakes for a chance to win a Richard Petty Driving Experience.
Send your questions now and join Manion Friday at 12:30 p.m. ET!
More NASCAR: Index
Buzzmaster
(12:29 PM)
Kevin is here!
Matthew (Columbia, NJ)
Kevin, do you like the 2 car draft at Daytona or do you prefer the old way of 3 wide 10 rows deep?
Kevin Manion
(12:30 PM)
I probably prefer the old way, 3-wide, 10 deep. I think the new way is something we could have done a long time ago and been faster, but it just never really materialized. Love it or hate it, I think everyone has an opinion. I still think you'll see a great race.
Ricky (North Carolina)
If your car is just out to lunch during practice, do you lean on old notes to set up this car or try Juan's setup to see if it fits Jamie?
Kevin Manion
(12:31 PM)
A little bit of both. It depends on where you're at. What track. Here at Daytona, the old notes are really not as important any more. You can't use them. Track by track is different. If you're struggling, you can always go see your teammates.
Dave (CT)
How much are you talking on the radio? Is it always race business?
Kevin Manion
(12:32 PM)
It's mostly race business. It's good every once in a while to throw a joke in there or bust on someone. That's part of a good relationship and getting along. But it's mostly business.
Kevin (Texas)
Kind of an off question: What do the Bricks at the Indianapolis Motor Speedway taste like? Also, which win was more special, the Brickyard win of the Daytona 500?
Kevin Manion
(12:33 PM)
Well...I think for me, Daytona was more special. I like all forms of motorsports, but there is so much history there. The way I kissed the bricks, there was a lot of tongue, because if I kissed them I was going to make sure I knew what it tasted like. It was very dirty.
Kris (NYC)
How did you get involved in this project?
Kevin Manion
(12:34 PM)
For a long time, not knowing what it is or who to talk to about it, it took an educational campaign to raise awareness. It's not a bad disease it's a type of arthritis. It was a win-win for me to tell my story and for people to learn about it and find out it's manageable. You don't have to suffer. I suffered for too long.
Sam (UT)
Hey Bono! How do you get the balance right for daytona??
Kevin Manion
(12:36 PM)
Daytona and Talladega right now is preparation for the shop. The handling is basically out of our hands now with the NASCAR rules. Your car rides on bump stops in the front and wind tunnel time and horsepower are the two keys.
Erik (Fort Dix)
With the two car draft in Daytona how does that change the way the car gets setup, or does NASCAR limit you as a crew chief and team due to restictor plate racing
Kevin Manion
(12:37 PM)
The set up is basically the same. We're limited on NASCAR mandates and restrictor plates. The one thing we controlled before that they've changed is the grill opening size. They changed that up. That's the single biggest change. If we could open that up, we would change it, but it's mandated as well.
PJ (Cary, NC)
Hey Bono, good luck this weekend. I've got a fantasy racing question. What do you consider the best racetracks for your team and Jamie, as a driver?
Kevin Manion
(12:38 PM)
I would have to say short tracks have been our strong suit. Loudon, looking forward to Loudon. It seemed like the mile and a half tracks were ours last year, and this year the short tracks.
Dave (Denver)
how much do you rely on your engineers?
Kevin Manion
(12:39 PM)
Nowadays, it's a combination of your crew chief and engineer. We have more than a dozen engineers at the shop. It's a combination of your engineers and crew chief coming up with a plan.
Fred (ATL)
With everything so technical, do you have to keep up with the science?
Kevin Manion
(12:40 PM)
Absolutely. Great question. You're constantly reading up. The sport is going toward an engineering based car. How to make it lighter? You have to talk to the engineers. The evolution of the race car is changing. Keeping up with new technology is something we all do.
Peter (RI)
Do you think the sport is too expensive to run?
Kevin Manion
(12:42 PM)
Well, I would think that NASCAR does a great job of trying to keep cost down. We look for new ways of how we can save money. There are somethings that we're limited to, cutting out testing has been a huge savings. The amount of employees have been reduced. The COT, it's expensive, but there are things that can be done to limit costs. Yes, it is difficult to run. Speed costs money, but you try to work as efficiently as you can.
Kevin Manion
(12:43 PM)
You can watch a great race in Daytona tomorrow night. Go to www.GoutPitStop.com and have an opportunity to educate yourself on gout as well as win a Petty Racing experience. It's educating and fun too.