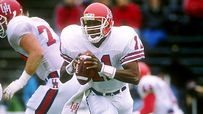 Ware was the first black quarterback to win the Heisman.
Welcome to SportsNation! On Thursday, ESPN college football analyst, and winner of the 1989 Heisman Trophy, Andre Ware stops by to chat about his great college career as a part of ESPN.com's Simply Saturday feature.
Ware won the Heisman following his junior year at Houston in which he threw for 4,699 yards and 46 touchdown and setting 26 NCAA records. After leading Houston to a 9-2 record and a No. 14 national ranking, Ware decided to forego his senior season and enter the 1990 NFL draft. The Detroit Lions selected him seventh overall.
At Houston, Ware threw for over 8,000 yards and 75 touchdowns. He was elected into the College Football Hall of Fame in 2004.
Send your questions now and join Ware Thursday at 1 p.m. ET!
More Special Guests: Previous chats | SportsNation
Buzzmaster
(1:00 PM)
The 1989 Heisman Trophy winner Andre Ware will be here in minutes to take your questions!
Buzzmaster
(1:01 PM)
We've got Andre!
Derek (Maine)
You set a lot of records during your day. Any of them any more special than the others?
Andre Ware
(1:02 PM)
No, not really. At the time, I hadn't thrown for 150 yards in a high school game. It was kind of a surprise and a high every time you went over 300 or 400 yards. Your confidence started building. But there isn't any record that's any more special than the others. Maybe the passing yards if I had to choose one. That was back when we played 11 games.
Aaron (Chicago)
Who do you have as your "way too early" BCS championship game picks?
Andre Ware
(1:04 PM)
Oh boy. Way too early, it could be Oklahoma. It could be Alabama. Oklahoma has a tough schedule right out of the gate. Tulsa is going to be tougher than most people think. Alabama, if they can figure out the quarterback position, they'll be tough. Trent Richardson is talented. I think they return 3 or 4 OL. The defense will carry them until they get settled under center.
Peter (RI)
Andre, it seems like with now how non-BCS teams rise in the rankings these days, that your Houston teams were one of the first BCS busters, so to speak. Do you take extra pride knowing that you were at the forefront of smaller teams getting national recognition?
Andre Ware
(1:05 PM)
It wasn't that way back in my day. When I played, we were in a power conference, so to speak. We played Texas in conference. We played Texas A-M. We played Arizona State out of conference. Everybody had a legit shot in my day to win a national championship.
Ryan (DC)
Andre, looking at the respect that non-BCS teams are starting to get now, do you think it's the same or different than when you were at Houston?
Andre Ware
(1:06 PM)
I think it's much different. If you're a non-AQ, you have to go just about undefeated to have a chance. Once you lose, that's it. Back then, there were a tremendous amount of one-loss teams that won national championships. It'a a totally different climb than it was then. It's almost next to impossible for it to happen.
Henry (Buffalo)
Where do you keep your Heisman?
Andre Ware
(1:07 PM)
It's at home in the living room. Anybody that visits gets a chance to see it. I make sure that's possible. It's an award that you want to share with everybody, with family and friends.
Curt (Atlanta)
Andre, I think we should be able to celebrate great college players without the "yeah, but..." clarifier if they didn't have a great NFL career. Right now, Tim Tebow seems to be going through this. If he doesn't develop into a great NFL player, I feel like some people will try to use that to take away from his college greatness. He was a great, great college player. Can't we just celebrate taht? What do you think?
Andre Ware
(1:09 PM)
Absolutely. I think the two are separate. It takes a lot to be a great player, especially at QB. That's the common bond that Tim and I have, other than being a Heisman winner. You're only as good as the players around you at the next level and the situation you're in. Let's celebrate Tim for being a great college football player and leave the "buts" out of it.
Dave (CT)
Andre, is there a game that sticks out the most in your mind from your days at Houston?
Andre Ware
(1:10 PM)
Yeah, in 1989 against Texas. It wasn't a pass I threw or a TD or anything, it was a reception for 40+ yards. We snuck David Klinger into the game and I made like I was audibling. He hit me with the pass. All week in practice, I dropped the pass.
Dan (Texas)
It seems like we had a lot of college scandals this offseason. And it feels like each one boils over more and more than the last. Do you think that we're kind of headed toward some sort of tipping point with these scandals and we'll see severe rule changes of some sort?
Andre Ware
(1:12 PM)
It's frustrating. You hate to see it, but I think it's the NCAA's job to really start to hand down stiffer penalties to get everything buttoned down. I don't think rule changes are needed. They've been in place for a long time. I think stiffer penalties are needed. Perhaps some financial fines from the NCAA. In today's world, you can't afford to pay. They need to be made to feel it more than they have to make sure this stops.
Kyle (VA)
Andre, I am a big fan of yours and I loved watching you play. I, to this day, still believe that you weren't given your fair shake in the NFL. What do you think?
Andre Ware
(1:13 PM)
It was a situation, drafted by a guy who left before I got to Detroit. The head coach there wanted to draft a defensive player, so you're fighting up the hill from the start. Not enough opportunities, I'll agree with that. I would have liked to have had more. But I grew and learned from the opportunities. I became a better person.
Geoffrey (Houston)
What are your predictions for the final standings of this year's C-USA West Division?
Andre Ware
(1:14 PM)
Houston should be favored in just about every game, outside of maybe UCLA to open the season. That's a game at home and I would even favor them there. They don't have Central Florida this year. They could possibly run the table. Are they a BCS buster? When you look at the schedule, it will be hard for them to climb with the quality of opponents they have.
Andre Ware
(1:14 PM)
They could run the table, but I'm not impressed with the scheduling.
Tom (Denver)
Why do you think that some supremely talented players in college don't pan out in the pros?
Andre Ware
(1:16 PM)
It's timing, it's the coaching staff, it's how they're used, the system. It all takes a perfect storm, especially a skill player, to prosper at the next level. You'll see some of these really talented college players go to bad teams. You're only as good as the guys you put around you and the organization you play for.
Greg (Texas)
Do you still have time to follow Houston?
Andre Ware
(1:17 PM)
Oh yeah. I get by the school periodically throughout the year, a couple of times during the season. I've visited with Case a few times during the season. Absolutely.
Andre Ware
(1:17 PM)
Thanks for the support. College football is a great entity that we love and cherish. Continue to be supportive.