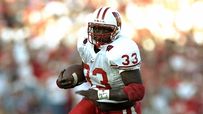 Dayne was the 11th overall pick in the 2000 draft.
Welcome to SportsNation! On Friday, 1999 Heisman Trophy winner, and Wisconson running back, Ron Dayne stops by to chat some football.
Dayne holds the record for most rushing yards in Division I history, with over 7,000. He is also the career rush yards and touchdowns record holder in the Big Ten Conference and he's one of five players in NCAA history to rush for over a thousand yards in each of his four seasons.
Among Dayne's trophies are the 1999 and 2000 Rose Bowl MVP awards, one of four players to be back-to-back Rose Bowl MVPs.
Send your questions now and join Dayne Friday at 3 p.m. ET!
More Special Guests: Previous chats | SportsNation
Buzzmaster
(3:00 PM)
Ron will be here soon!
Ryan ( San Diego)
I'm guessing defenses knew what your teams were going to do: run the ball right at them. How was it playing against teams that tried to stop your run game, but you were still able to run over them?
Ron Dayne
(3:09 PM)
We really didn't throw the ball. Yeah everyone knew what we were going to do, so we just had to execute our game plan and believe in each other.
Karl (Miami)
What other schools recruited you besides Wisconsin?
Ron Dayne
(3:10 PM)
I got recruited from many schools, and they recruited me for various positions, FB, LB, RB, DL.
Dan (LA)
Best stadium to play in on the road in the Big 10?
Ron Dayne
(3:10 PM)
Ohio State ... cause I never lost there.
Jim ( )
Were you surprised over what happened at Ohio State (Tressel resignation, Pryor bolting etc.)?
Ron Dayne
(3:11 PM)
I dont like to get into other people's business. But I think you will find violations at every school in the country, from big things to small things like letting players cut in line at a club.
Mike (CT)
How do you think Nebraska will do in its first season in the Big Ten?
Ron Dayne
(3:12 PM)
They looked pretty strong last year, so I hope they get in there and play well.
Evan (SLC)
Why has Wisconsin always attracted strong O-Linemen, but less than stellar QB's?
Ron Dayne
(3:13 PM)
Well we are a running team. We've always been know for our ability to run. So I think it's because that's what we are productive at doing. That's our system.
Mark (Ohio)
So Ron, as a former Heisman winner, who is your pre-season favorite to win it this year?
Ron Dayne
(3:14 PM)
Probably Montee Ball. Or James White.
Ed (Iowa)
How do you think Tiki Barber will fare in his attempt to come back to the NFL?
Ron Dayne
(3:14 PM)
No comment.
Brady (Ohio)
How bad do u hate Ohio State
Ron Dayne
(3:14 PM)
Not that bad ... the team I hated the most was Iowa.
Nathan (Missouri)
What was your reaction when you found out Nebraska was leaving the Big 12 for the Big 10?
Ron Dayne
(3:16 PM)
It wasn't a big reaction. I just thought it was good for the conference. I was excited because I liked the idea of having a Big Ten championship game.
Nathan (Missouri)
Ron, what was your favorite moment in college?
Ron Dayne
(3:16 PM)
Probably when I broke the rushing record.
Matt (Wisconsin)
What are your thoughts about how the Badgers football program has progressed in the last decade? Expectations for this upcoming season?
Ron Dayne
(3:18 PM)
I think we will have a good team. We lost some key elements, but it will be good for the young guys coming up. Hopefully a senior QB will help us due to his experience.
Pete (ATL)
Do you travel back for the Heisman presentations? What's it like being among all of those great college football players?
Ron Dayne
(3:19 PM)
It's cool. It's like being around your brothers. We did something that few people have done. It's great to see guys and know that they have experienced what you've been through and what you're going through. It's great especially when you meet the older guys and can ask them questions.
Nathan (Kentucky)
What do you think about the BCS? Do you like it or should there by a playoff?
Ron Dayne
(3:21 PM)
Well it could work either way. I do not think it would make a difference if you made a playoff, because there are so may different teams, and factors. No one is ever going to be fully happy with a system.
Chris (Denver)
Do you have time to get to Wisconsin games?
Ron Dayne
(3:21 PM)
Yes I do.
Peter (RI)
WHats one piece of advice you would give a young Heisman winner?
Ron Dayne
(3:22 PM)
Try to surround yourself with people that care about, and who don't care about your money.
Chuck ( )
Why did you hate Iowa so much?
Ron Dayne
(3:23 PM)
I didn't really hate them. It was just a big rivalry. I actually had some buddies who played for Iowa.
Ben
Who wins the Big Ten this season?
Ron Dayne
(3:24 PM)
That's a no brainer ... Wisconsin. That's the goal. Win the the Big Ten and get to the Rose Bowl.
Ron Dayne
(3:25 PM)
Thanks for coming out and for all the questions. Would love to chat again soon.