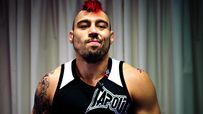 Hardy, an England native, fights in the United States for the fifth time on Aug. 14.
Welcome to SportsNation! On Thursday, we'll be visited by UFC welterweight Dan Hardy, as he prepares for his next fight as the main card of UFC Live on Aug. 14 on Versus starting at 8 p.m. ET/5 p.m. PT.
Hardy, who has been fighting MMA since 2004, squares off against Chris Lytle on August 14 in Milwaukee, the first ever UFC fight in the city. Hardy has run up a career 23-9 MMA record, going 4-3 since joining the UFC in 2008.
Send your questions now and join Hardy Thursday at 1 p.m. ET!
More Special Guests: Previous chats | SportsNation
Buzzmaster
(1:00 PM)
Dan will be here in minutes to take your questions!
Buzzmaster
(1:09 PM)
We've got Dan!
Jr (Arizona)
Is there a lot of pressure to win this fight against Lytle?
Dan Hardy
(1:10 PM)
Yeah, I've had pressure the last couple of fights. My plan was to get back on track after the last few fights and it hasn't happened. It's kind of a career definer in a way. I'm excited to find out which way it's going to go.
Zach (C-PA)
How is the wrestling training coming along?
Dan Hardy
(1:11 PM)
It's going really well. I'm seeing a lot of improvements. I spent a lot of time in Vegas training before coming back over here. He's a great coach. I'm planning on showing people some improvements in this fight.
Richie (Belfast)
Andy Murray crashes out of Wimbledon. David Haye never bothered to show up against Klitschko. It's all on you Hardy -- put the UK back on the map!!!
Dan Hardy
(1:12 PM)
Without a doubt. I was disappointed with both of those as well. I was expecting more from David Haye, but I'm definitely going to represent the UK.
robert ruiz (ontario, california)
ever consider a different color for the mohawk?
Dan Hardy
(1:12 PM)
Funny you should mention that because I'm thinking about changing it for this fight. I've kept red for so long because it's been so good for me. But after the last three fights, maybe it's time for a change.
andre houseknecht (pennsylvania)
how important has it been for you to train more in wrestling and take down defense after your last three fights?
Dan Hardy
(1:13 PM)
I've always trained wrestling since I started MMA. It's hard to get good coaching in the UK. I've travled to a lot of gyms. My opinion on wrestling is what makes me resistant. You can't beat someone up with wrestling. The wrestling is just a bridge between the striking and grappling. My goal is to win the fight, knockout my opponent.
Johnny Blaze (Chi-Town)
Dan good luck in your next fight, has Dana said anything like win-or-go-home ahead of the Lytle bout?
Dan Hardy
(1:14 PM)
No one has said anything like that to be honest. I'm out of touch a little bit in the UK. They're leaving me to get on with it. Anyone in my position is aware of what's at stake. I get 300 people everyday on Twitter saying the same thing. I dno't need Dana telling me as well.
Michael (Michigan)
Hey Dan, after you beat Lytle, who would you like to fight next? What's your dream fight?
Dan Hardy
(1:16 PM)
To be honest, I just need to get some wins together over whoever's put in front of my. I really didn't pick the Lytle fight, I just used him as an example of someone that I would like to fight. I don't care. My job is to get in there and fight whoever is in front of me. Obviously, Condit, my aim is to get back to him. Anybody I've lost to, I always welcome a rematch.
J.R. (Tampa, FL)
Hey Outlaw, has your training changed in any significant way since your last fight and who have you been working with to improve your wrestling defense?
Dan Hardy
(1:17 PM)
It's changed quite a lot, yeah. There were some thing I wanted to move around a little bit. The move to Vegas has helped with that. I have some training partners that are better in some areas than me. And in my mentality and my approach to training. I joined the UFC when I was on a role and beating some good guys. I've immersed myself in the martial arts. I had started focusing more on my athletic ability instead of the martial arts.
Paul (Milwaukee)
Dan, you ever been to Milwaukee? Gonna take any time to hit the pubs while in town?
Dan Hardy
(1:18 PM)
I don't drink, so staying away from the pubs is probably a good thing. I'll have a week in Milwaukee. I'll have a look around. Everywhere I go, I want to go and explore the place instead of staring at the hotel wall thinking about hitting people.
Frank (Boston)
Hey Dan, big fan.. who do you consider the pound-for-pound best fighter in MMA? Also, who is your favorite fighter to watch?
Dan Hardy
(1:19 PM)
That's tough. Oh, that's tough. It's a difficult pick with GSP, Silva and others. There are guys that move smoothly between each art. Others that have a game plan and stick to it.
Ian (Michigan)
Best of luck in the Lytle fight. If it doesn't turn out the way you'd like would you consider changing weight classes?
Dan Hardy
(1:21 PM)
I get asked this question occasionally. It's a real tough one to be honest. I don't think I'd fit in another one very well. The idea of cutting down to lightweight would be scary. As far as middleweight goes, I don't think I have the frame to carry the extra weight. Silva is a big guy. I think I'd be massively undersized.
Thomas (Louisville)
alot of take is about your wrestling, how do you feel your guard game and striking match up with Lytle's?
Dan Hardy
(1:22 PM)
I think I beat him in every range, to be honest. My intention is not to go in there and submit him. As far as striking goes, I'm too quick, technical and my reach is longer. He might change his mind and become a grappler like a lot of people do.
shahvaiz (long island, new york)
Would u prefer to do body weight exercises to actually lifting weights? Which workout would be more effective?
Dan Hardy
(1:23 PM)
I mix back and forth. During training camp, I do one strength training exercises a week. Just really work on strength. When I'm out of training camp, I find myself going body weight exercises. I can't do the weight lifting, I just get so bored. I can do the body weight lifting and I can do that until I can't do them any more. I've got some Marine training exercises that I'm going to try. See if I can fashion myself into a Marine somehow.
Joe (Raleigh,Nc)
Dan, since Lytle is coming off losses, do you expect him to fight a little smarter than usual. Maybe try to take you down some?
Dan Hardy
(1:24 PM)
I don't know. To be honest, he's adopted this more aggressive style and it suits him. He has had some success and he makes more money because of it. I don't think he's a cautious guy any more. I'm in the same situation. I just want a fight that's fun, bleed a bit and have some bruises. I haven't had that in the last few fights.
hernandez (pa)
what was done to get ready for your next fight
Dan Hardy
(1:26 PM)
Just being focused on learning. Being a martial artist again. I kind of got away from being a martial artist and being an athlete. The way forward is by being a martial artist. Normally I started camp at 200 pounds. This time I started at 190. Just focusing on the technical side of it. That's the most important thing.
Dan Hardy
(1:27 PM)
Thanks for the support. I really appreciate you all on Twitter and Facebook. It's nice to know that all of this work I'm putting in for August 14 isn't wasted, that people are paying attention to what I'm doing.