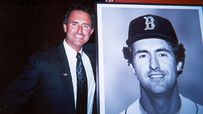 Lynn is the first player to win the MVP and ROY in the same season.
Welcome to SportsNation! On Monday, former Major League player, and 1975 MVP, Fred Lynn stops by to chat as baseball prepares for the all-star break.
Lynn played 17 seasons in MLB, making nine all-star teams and becoming the only player to win both the MVP and rookie of the year in the same season. A .283 career hitter, Lynn hit 306 home runs, putting him ninth on the all-time HR list among center fielders.
The former Major Leaguer is helping the "SUBWAY Baseball DeSIGNS" tour which collects baseballs designed by Little Leaguers and autographed by celebrities to be auctioned off to benefit the Little League Urban Initiative. Celebrities that have autographed baseballs this year include the cast of "Glee," Katy Perry, Zac Efron, Ashley Greene, Blake Griffin, Michael Phelps, Ryan Howard, and Drew Brees, among others.
Send your questions now and join Lynn Monday at 3:30 p.m. ET!
More Special Guests: Previous chats | SportsNation
Buzzmaster
(3:32 PM)
Fred is here!
victor (monroe,la)
Fred i saw the75 worldseries what was it like tobe mvp?
Fred Lynn
(3:35 PM)
To be honest, Victor, that was my rookie season. A lot of good things happened to me in my rookie year. Beating the world champion Oakland A's, that was great, I thought. From my past experience, we won three NCAA championships and we won one in the minor leagues, so I was kinda thinking, yeah, that's what I do. Not to be arrogant, but that's where I was at that time. I had not lost a championship game at that point. The shocker was us not winning. I always expect myself to do well. I was disappointed greatly that we didn't win.
Nathan (Missouri)
Who is your pick to win the home run derby tonight?
Fred Lynn
(3:36 PM)
Oooh, boy. Traditionally, I know that players feed off the crowd, so you would bet on a National Leaguer. They know the stadium. They know what the box is like. To a hitter, familiarity with the batter's box is key, I know that sounds inconsequential. David Ortiz is pretty good at this. There's an advantage to having been in that stage before. It's uncomfortable to be up at the plate with no cage in a batting practice environment. It's a lot of pressure and the guys feel it, believe me. I'm leaning towards Ortiz, but Fielder is going to be his main competition.
Greg (FL)
Do you have your eye on any of the baseballs already signed by a celebrity?
Fred Lynn
(3:37 PM)
Obviously, I think Katy Perry is going to have a big crowd. We're all hoping that they'll all fetch top dollar with the auctions. Zac Efron will probably do well. The younger generation of people should do well.
Tom (Cleveland)
What did Atlee throw you in the '83 all-star game?
Fred Lynn
(3:38 PM)
Yeah, it was a breaking ball. He calls it a slider. But looking back at the tape, a true slider stays on the same plane and doesn't drop. On a 2-2 count. Gary Carter was the catcher and he was upset that they didn't get the call on the fastball at 1-2. I'd faced Atlee in spring training and he had a nasty curveball. I had missed two earlier in the at bat, but I didn't miss this one.
Jeff (RI)
Fred, what got you involved with this Subway program?
Fred Lynn
(3:39 PM)
I was asked to do this a few years ago. Subway's been involved with Little League since 2005. Any time I'm approached by a company, I check them out. I already knew about Subway. A healthy lifestyle, healthy eating. It's for Little League. I said, yeah, I'm in.
Vince (Philly)
Do you ahve a chance to go to the LLWS too?
Fred Lynn
(3:41 PM)
I don't get to go back to Williamsport. I have been there before. It's so exciting to see these kids and see the competition at that level. It's all about fun and games and having a good time. I'm in favor in any activity that gets kids outside and doing something on a regular basis and they're exercising. Getting them healthy and make sure they eat the right foods. When I was a kid, I played four sports and I couldn't gain weight if you force fed me. I was nicknamed Skinny Lynny. But I ate healthy.
Matt (IN)
Has Atlee Hammaker ever forgiven you for wrecking his career? (Ha!) He was never the same after you went deep in the ASG.
Fred Lynn
(3:42 PM)
I wasn't the only one. Jim Rice started it off with a bullet for a homer. The back story to this is that in 1990, I became a Padre. When I got to the clubhouse for the first time, all of my teammates said, hey Atlee, guess who's here? He was my teammate now. He was pretty gracious about it. They were burying him pretty good when I walked in. He had no problems with it, but I don't think his wife liked me very much.
Renee (Boston)
Mr. Lynn, as a lifelong fan of the Red Sox, thank you for the years you spent in Boston. I was wondering if you ever felt truly comfortable playing in The Triangle of Fenway, where bad caroms never die?
Fred Lynn
(3:44 PM)
I had the advantage of playing at USC and our field was built in the middle of the campus, kind of like Fenway, where it was built to the confines of the streets. I got used to playing the carom. I ran into that wall we had at USC too. At Fenway, playing the ball off the wall is playing the ball off the wall. I had a strong enough arm that if I positioned myself properly, I could still throw guys out at second, if they weren't moving.
Rives Moore (Memphis)
When playing the Yankees in your career, did you go through a different routine or anything?
Fred Lynn
(3:46 PM)
It was more intense then than it was now. It was more intense. I'd like to prepare by putting armor on. The fans would throw stuff at you. The fans in Fenway would throw things at Rivers, that's why he used to wear a helmet out there. At Yankee Stadium it was darts, whiskey bottles. The players didn't like each other. We fought all of the time. You don't have to prepare for it, you just go in there, knowing it's a battle. It was screaming lunatics in both stadiums with just as many fights in the stands as on the field.
Rich (New Jersey)
Of the 9 all - star games you've been selected for, what is the one moment or memory that stands out in your mind?
Fred Lynn
(3:47 PM)
Obviously, the grand slam is there, but my first one, because I was a rookie. No one gets respect as a rookie, but I was voted in via the write-in. I was on the same field as Henry Aaron. That was pretty heavy stuff for me. I was just walking around taking it all in. It was quite an experience.
Fred Lynn
(3:48 PM)
Thanks for having me on and thanks for your support.