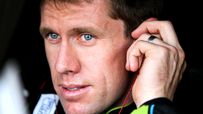 Edwards owns 19 career Sprint Cup wins.
Welcome to SportsNation! On Monday, NASCAR driver of the No. 99 Ford for Roush Fenway Racing Carl Edwards stops by to chat about his thoughts on the 2011 season.
Edwards currently sits atop the points standings and he has one win at Las Vegas this season, in addition to his win at the All-Star race. He has 13 top-10 finishes in the 18 races this year. He is looking to finish the season in the top 10 in points for the fifth time in his eight-year career.
Edwards and the other NASCAR drivers will be competing this summer in the $3 million giveaway in "The Sprint Summer Showdown." Starting July 31, the winners of the five races at Indianapolis, Pocono, Watkins Glen, Michigan and Bristol will square off during the Sept. 4 race at Atlanta. If one of those drivers wins at Atlanta, Sprint will pay the driver $1 million, the driver's charity $1 million and a fan $1 million.
Send your questions now and join Edwards Monday at 1 p.m. ET!
More Special Guests: Previous chats | SportsNation
Buzzmaster
(12:53 PM)
Carl is here early!
Buzzmaster
(12:55 PM)
Let's get started!
Darren Porter [via mobile]
Are you planning any new post race celebrations? Love the backflip(an original). Will be at Atlanta, waiting by the flagstand to Hi Five you after you win! That is a million for you, your charity and hopefully me! GO 99!
Carl Edwards
(1:00 PM)
No, I've been going up into the grandstands lately and that's been a lot of fun. That's all I've got right now. I would like to be counting my money in Atlanta, $3 million on the line.
Brad (Charlotte, NC)
By all accounts, both you and Jimmie Johnson will make the Chase. What do you have to do to beat the five-time reigning Champ this time?
Carl Edwards
(1:00 PM)
You have to be very very consistent. He's amazingly good when the pressure is on.
Gene (Ohio)
How did you come up with the idea to go into the grandstands? I love it. Gives the fans an up close experience with the fans.
Carl Edwards
(1:01 PM)
I got the idea from John Cena. He's pretty good with the fans.
Eric Chmiel (Doylestown, PA)
Does the "Sprint Summer Showdown" come into mind while your racing?
Carl Edwards
(1:01 PM)
It could be huge. With $3 million on the line, the last lap in Atlanta could be very exciting.
Chris (Hudson, NC)
Who was your favorite driver when you were a kid and even now for that matter?
Carl Edwards
(1:02 PM)
My dad was my racing idol. I'm kind of a Ricky Bobby fan, to be honest.
Matthew (Columbia, NJ)
Carl, do you feel exctied about the Sprint Summer Showdown? I know you're very good at a few of those tracks and you have a legit shot at winning the big money.
Carl Edwards
(1:03 PM)
In 2008, we would have won the money. It's huge. To think of standing in Victory Lane with a fan would be huge. Go to Sprint.com/speed to vote.
Brad (Crossville, TN)
How do you feel about the Brickyard coming up in a couple of weeks? Do you guys feel like we have a chance for a Ford to come out on top there?
Carl Edwards
(1:03 PM)
With a new engine, I feel like we have as good a chance as ever. That race track requires very good bottom end torque and we have that now.
William (Lexington ky)
Carl,Huge fan, do you plan on riding in the Nationwide series full time next year again.
Carl Edwards
(1:04 PM)
No, I do not plan on running Nationwide full time. I will focus on the Sprint Cup and my family. But I truly love the Nationwide Series. It will be a big change for me.
Emily (NJ)
Proud Edhead here!! Carl, did you guys learn a lot from yesterday's Loudon race set-up wise that you can use for the Chase?
Carl Edwards
(1:05 PM)
Yes, we learned a ton. Not just set up stuff, though. We learned about difficulty of passing and working some fuel mileage and track position. I don't think Golden Tate could have passed anyone out there.
Eric Chmiel (Doylestown, PA)
Looking over to Golden Tate's comment, being the athlete you are, what was your take on his thought when you heard about it?
Carl Edwards
(1:06 PM)
I was just glad that he backed off of it once he realized that they were pretty ignorant comments. I hope to see him at the race track. I would love to give him a ride.
Kyle (MO)
Is being the most consistant driver in every race more important to you than winning the most races?
Carl Edwards
(1:07 PM)
Yes. To win the championship it's who is the most consistent. That's what I'm here to do is win the championship.
Nick (Sacramento, CA)
No race next weekend. What will you do on Sunday?
Carl Edwards
(1:07 PM)
I have no clue.
Carl Edwards
(1:07 PM)
That's the nice thing about having a Sunday off, I don't have a plan.
Lance (Iowa)
With 7 races to go, who do you see being more aggressive going for wins...drivers in 1st through 6th or drivers in 11th through 20th?
Carl Edwards
(1:08 PM)
11-25. Guys are just going to be all out going for it until the last lap at Richmond.
jesse (iowa)
How much do think the incedents with brad keselowski hurt or helped your fan base last season?
Carl Edwards
(1:08 PM)
I don't know. And it doesn't really matter. Those things happen in competition.
Aldo (California)
Carl! Can i be the guy that jumps in the back of your car like in the commercial at the Brickyard? Please!!! I have Aflac insurance so if anything goes wrong im covered. They have me under their wing! haha
Carl Edwards
(1:09 PM)
That was a NASCAR Sprint Cup Mobile commericial with our partner Aflac. I have Aflac insurance and they paid me for every broken bone in my foot. Thank you.
AJV (Scranton, PA)
Which are your favorite and least favorite tracks? Pocono must be a bore. It's even difficult to watch somethimes!
Carl Edwards
(1:10 PM)
Pocono is definitely not boring. It's one of the toughest race tracks we go to and the speeds are high. It's just hard to make 43 cars over 2.5 miles look like a close group.
Carl Edwards
(1:10 PM)
I like Atlanta a lot too.
Dustin (Jacksonville, FL)
Jayski is reporting that you will make an announcement in Indy about going to JGR. Is this true?
Carl Edwards
(1:11 PM)
That's crazy.
Brad (Crossville, TN)
Has David's confidence picked up since he won at Daytona? Is sure looks like it on the track.
Carl Edwards
(1:12 PM)
He's doing great. I think he's going to make the Chase.
Lance (Iowa)
Say I was injured and was going to use my Aflac payout to build a handicap ramp at my house. Which home improvement store should I buy my materials at??? :D
Carl Edwards
(1:13 PM)
Menards looks like a great place to shop.
Emily (NJ)
Carl, how will the reconfiguration of Phoenix affect your initial setup plans? You guys seemed like you finally had that place as your personal playground and they just blow it up lol
Carl Edwards
(1:14 PM)
I fought hard to keep them from paving that place, but it will be a fresh start for everyone. The crazy part is that it's in the Chase and no one knows what to expect.
jesse (iowa)
I just have to say that you used to be one of myu favorite drivers, but not any more, you have lost all of my respect and you and kyle busch are my least favorite drivers. go wreck each other
Carl Edwards
(1:15 PM)
Sorry you feel that way Jesse. Just glad you're watching NASCAR.
Ronnie Hall (Kentucky)
You are probably the nicest driver that I have had the pleasure to meet. I've seen some of the other drivers be really rude. How do you keep your emotions at an even keel to be so polite when you are having a bad day.
Carl Edwards
(1:16 PM)
I try to remember where I came from and what I'm trying to accomplish and that our fans are what make this possible. Even Jesse.
Lance (Iowa)
LMAO...how did I know you were going to say Menards? Well played.
Carl Edwards
(1:16 PM)
You guys have been great. I've really had fun with this. Don't forget to go to Sprint.com/speed for your chance to win $1 million with me in Victory Lane.