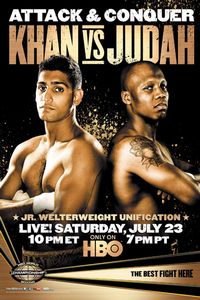 Welcome to SportsNation! On Wednesday, we're going inside the boxing ring when Amir Khan stops by to chat about his light welterweight title fight this weekend.
Khan (25-1, 17 KO) takes on Zab Judah (41-6, 28 KO) for the WBA Super World and IBF light welterweight belt. The fight will be live from the Mandalay Bay Resort & Casino in Las Vegas Saturday at 10 p.m. ET/7 p.m. PT on HBO.
Khan last fought in April, defeating Paul McCloskey after the bout was stopped during the sixth round due to a cut to McCloskey's eye caused by a clash f heads. Khan, British native, has rebounded since taking his only loss of his career in Sept. 2008, by winning his last seven fights, three by KO.
Send your questions now and join Khan Wednesday at 3 p.m. ET!
More Special Guests: Previous chats | SportsNation
Buzzmaster
(3:05 PM)
Amir is here!
Matt (Chicago)
How do you plan on dealing with Judah's speed?
Amir Khan
(3:07 PM)
I'm a quick fighter myself. I'm going to have him worry about my speed. I'm not going to be worried about his speed. I've fought some guys who are quick and sparred with some new guys who are quick in the gym. I don't think it will be a problem.
Scott (Chicago)
When you're in training, what foods/how much do you typically eat in a day? What foods do you avoid?
Amir Khan
(3:07 PM)
I try to avoid carbonated drinks and the normal sweet sugary stuff. Fried food is one thing I don't eat. I normally stick to a nice healthy diet.
James (Lexington, KY)
Amir! There are reports that Judah is having a hard time making 140lbs. How are you feeling leading up to the fight and how long do you see yourself at 140?
Amir Khan
(3:08 PM)
I made the weight quite easy. I want to maybe move up to 147 at the end of the year. But I'm making weight quite easily. I do what my dietician tells me. Stick to a diet.
Chris Fiegler (Latham,NY)
Where do you want to fight at in your career?
Amir Khan
(3:09 PM)
I think fighting somewhere like Dubai or somewhere in the Middle East would be huge. Or go back home to England. That's another place I'd like to fight.
Nick (Jersey)
Well i guess we have to talk to u since its too much to ask for Zab to make it to a chat. Do you feel this is a good matchup for you, and how many rounds do you see this going?
Amir Khan
(3:10 PM)
I think it's a good matchup for me. Zab Judah is awkward and he's going to try to make things not easy. I'm just going to go out there and box. I think a knockout will come. We'll put on a good show and as soon as I see him hurt, I'll put some pressure on him.
Richard ((Walla Walla))
Amir, how much of an influence was Prince Naseem Hamed on your career? Good luck Saturday!
Amir Khan
(3:10 PM)
I was a big fan of his. He had some big fights. He did inspire me, because at the time I was an amateur. I know him quite well as a friend. We speak often. Now we're friends, but yeah, he was an inspiration in my career.
Jeff (New York)
Zab Judahs a very crafty southpaw with good punch power and speed, how do you plan on attacking him and using your strengths?
Amir Khan
(3:11 PM)
I think I'll have to be very smart in the fight, use some angles and my strenghts which are my speed and my angles.
Matt (Chicago)
What do you think is Judah's biggest strength and biggest weakness?
Amir Khan
(3:12 PM)
Zab's biggest strengths are his power and he's quick and has good lateral movement. But I think he runs out of steam.
Scott (Chicago)
Who do you like in the Ortiz/Mayweather fight?
Amir Khan
(3:12 PM)
It's a great matchup. I think looking at on paper, I'm going for Mayweather. I think I'll go with Mayweather in the fight too, but I'm good friends with Victor Ortiz.
Austin (Cheeseburger West Side)
If you fought Manny, what round would you put him away?
Amir Khan
(3:13 PM)
Me and Manny probably wouldn't happen because we train together. We spar together and he's a tough guy to hit. If we fought, it would go the distance.
Josh (Iowa)
Best of luck this Saturday. Do you plan on staying at 140 to wait for the Bradley fight, or will you be moving up after Judah?
Amir Khan
(3:14 PM)
I would like to move up, because I don't think that Bradley would take the fight. He knows that if I'm in the division, I'm a big threat. He's a boring fighter to watch and he hasn't had many big fights. I would just move on, because I don't think Bradley would take it.
Matt (Chicago)
Who do you want to fight next if you win Saturday?
Amir Khan
(3:15 PM)
We never look forward to fights. There are a few names out there. But I'm ready to fight anyone really.
TstreeT (Philadelphia)
Have you ever considered Paul Williams or Matthyse as maybe potential fights and who'd you rather face ?
Amir Khan
(3:16 PM)
Maybe, if I move up in weight. There are so many big names out there. Maybe one day when I'm up to 147-154.
Austin (Cheeseburger West Side)
Do you think the best way to win is to jab Zudah? (do you like the play on words)
Amir Khan
(3:16 PM)
The best way to get the jab in is to be explosive and be alert every time. Not let him settle. I think in that way, you've won the fight.
Joel (Kansas City)
Aside from Manny, who do you think are some of the better fighters that Freddie Roach trains?
Amir Khan
(3:17 PM)
We've got some great fighters. Ceasar Chavez, Jr. We've got some big names. I really think some of these fighters can go all the way and achieve what Manny is achieving.
Amir Khan
(3:18 PM)
I want to put on a great performance on Saturday. Be tuned into HBO. Hopefully you'll support me. One day we want to fight the likes of Mayweather and those guys. I want to be one of the most exciting fighters in the world.