Chat with Victoria Azarenka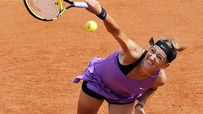 Azarenka's No. 4 ranking is her highest since turning pro in 2003.
Welcome to SportsNation! On Monday, the No. 4 player on the WTA Tour Victoria Azarenka drops by as she prepares to defend her title in the Bank of the West Classic hosted by Stanford University.
Last year's win was one of two on the year for Azarenka. She has already won twice more this season to increase her career win total to seven. Azarenka, playing her first tournament since being a semifinalist at Wimbledon, will be competing in a field that includes Maria Sharapova, Marion Bartoli and Serena Williams.
Fans can follow her on Twitter: @vika7.
Send your questions now and join Azarenka Monday at 3 p.m. ET!
More Special Guests: Previous chats | SportsNation
Buzzmaster
(2:59 PM)
Vika is here!
Master Ace (Alabama)
Did you have a chance to take some time off after Wimbledon?
Victoria Azarenka
(3:00 PM)
Yes, I had about a week off, a little less. After 5-6 days, I started doing something, to keep the body in shape. It was nice to have some time off.
Victoria (France)
How was it to travel when you were younger, without your family? I guess it makes you become mature way quicker than others. Do you think it has a result on who you are today and in your game or you mental ? Victoria, a big fan :)
Victoria Azarenka
(3:01 PM)
Definitely. It was hard to travel without the family. But I knew what I was doing. I was taking those sacrifices to be a tennis player. My family traveled as much as they could. But I've been traveling so much that I've gotten that independence.
Ovidiu Bujor (Romania)
I know the first match in a tournament is most of the times, the hardest match. How do you cope with that?
Victoria Azarenka
(3:02 PM)
It depends on the tournament. If there is one where you have a break before, it's always hard to get that momentum going. Also, if you just had a good tournament, you have to start a new one. You try to adjust and play match by match, like it's your last one.
Luke (USA)
In both 2009 and this year, you won the title on the hardcourts in Miami before making it to at least the quarterfinals of both the French Open and Wimbledon. Why do you think your game has transitioned from surface to surface so seemlessly and successfully?
Victoria Azarenka
(3:03 PM)
I think I play a pretty universal style. There are some players that master more the clay courts or hard courts. For me, I try to adjust my game on the surface. Somewhere you have to be more patient. Somewhere you have to be more aggressive. You have to accept the surface.
Alan (Texas)
Knowing that perhaps your favorite surface is hard courts, how do you like your chances in the US Open Summer series and the US Open?
Victoria Azarenka
(3:04 PM)
I'm really looking forward to this first tournament for me in Stanford. It's a great set of tournaments leading up to the big event. You can't go ahead. You have to take it one at a time.
Danny (Los Angeles)
You just tried surfing for the first time, did you like it and are you now a surfer? Where did you surf?
Victoria Azarenka
(3:05 PM)
Yeah, I actually really enjoyed it. It was amazing. I didn't understand how hard it would be. It was fun in the ocean and tried to stand up. I want to try more when I have time.
Anonymous (Buenos Aires)
I enjoy watching your friendships with Caroline Wozniacki and other players on Twitter - it's nice to see what players are like off the court. How much does friendship affect your game on-court, though? After a tough loss to a good friend, do you feel like your friendship suffers at all?
Victoria Azarenka
(3:06 PM)
I wouldn't say it affects it. We're all competitors, we're trying to be the best. On the court, we're trying to win. But we're also civilized normal people. Those are the people you spend the most time with. If it's enjoyable for you, why not. It makes it easier to live on tour.
Kwesi (Trinidad)
how many USO warmups are u playing?
Victoria Azarenka
(3:07 PM)
I'm going to play three tournaments prior to the U.S. Open.
Rich (FL)
Since you get to travel so much, is there one place you would like to go that you have not yet been?
Victoria Azarenka
(3:07 PM)
I would like to visit some of the island, because we never have tournaments there. It would be interesting to see nature and explore some of the wild world a little bit.
Keith (Long Beach, CA)
Vika....you are having a great year so far...Conrats! What do you need to do to get to No. 1 or win a Slam? Do you think it's mental or physical?
Victoria Azarenka
(3:08 PM)
There are a lot of things, you can't just pick just one. There is a lot of hard work, improvement, luck sometimes. Just determination to try and improve. It's no secret. Hard work and going every day to believe in yourself and just play.
Hamilton Shanks (Florida)
what is your favourite part of the US Open? is it the night matches, the atmosphere, the drama, or winning obviously?
Victoria Azarenka
(3:09 PM)
The fans and atmosphere is one of the best things. It makes it different than the others. The big city, the lights, there is a lot going on. Everyone comes to watch everyone play. The night sessions are especially nice. In the States, there are so many other outlets, we all really appreciate the fans coming.
Jeanie (USA)
Hi Vika, do you and Maria K plan to play more double together this year?
Victoria Azarenka
(3:10 PM)
Yes, we are going to play more matches. We are actually playing in Stanford here.
Keith (Long Beach)
Who do you think will be your biggest threat in the draw this year? Serena or Maria or someone else?
Victoria Azarenka
(3:11 PM)
That's a difficult question to answer. I never look at the draw. I can never predict. Those players are challenging and dangerous. Any day anybody can play the best tennis of your life, you just need to be strong enough to go through those battles.
John (California)
Hi Vika! You just made your first major semi-final, and you have been having a good year so far. Do you feel like you are getting closer to winning a slam? and Which is the one you want to win the most?
Victoria Azarenka
(3:12 PM)
Well, I feel that my game is progressing. I'm working hard on it and making sure that I'm getting better with every aspect of the game and my mentality. I don't want to get ahead of time, but those are the goals I'm working toward.
ruach (California)
Happy birthday in advance, Vika! How will you celebrate (besides defending your title at Stanford)?
Victoria Azarenka
(3:12 PM)
Well, I will answer this question when it happens. Let's hold off a little bit.
Zair (Toronto)
What kind of tournaments do you like to play - joined (with ATP) or WTA only?
Victoria Azarenka
(3:13 PM)
I don't know. There are so many great tournaments. The combined tournaments are nice. And we have WTA tournaments that are very nice. I never mind having a combined event, but that's a hard question to answer.
Victoria Azarenka
(3:14 PM)
Thanks for all of the questions. Thanks for following me and following tennis. I couldn't do it without you.