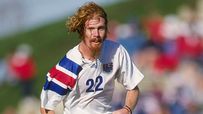 Lalas was the first American born player to play in the Italian Serie A.
Welcome to SportsNation! On Monday, former U.S. men's national soccer team and MLS member Alexi Lalas stops by to chat some soccer and Wednesday's MLS All-Star game (8:30 p.m. ET, ESPN2).
Lalas will help fans celebrate the all-star game, pitting the MLS all-stars against Manchester United, with the AT&T MLS All-Star Hub. The Hub event in SoHo will include guest DJs, MLS Street Teams and other New York City entertainment starting Monday through Wednesday.
Lalas spent 1991-98 on the Team USA, playing every minute of the 1994 World Cup. He also played in the MLS for the New England Revolution, MetroStars, Kansas City Wizards and Los Angeles Galaxy.
Send your questions now and join Lalas Monday at 1 p.m. ET!
More Special Guests: Previous chats | SportsNation
Buzzmaster
(1:01 PM)
Alexi Lalas shuld be here shortly to take your questions!
Kevin (Dallas)
Alexi, do you like this format of the all-star game? With the best from the MLS taking on a European team?
Alexi Lalas
(1:09 PM)
Yup. I like it. I think it makes it competitive, unique and entertaining.
Alexi Lalas
(1:10 PM)
We play an international game and too often all-star games are uninspired and farsical. I think MLS has hit upon a formula that works.
Anderson (Hollidaysburg)
What is the future of American bred players; College soccer or Pro academies? Do you agree with the direction it's headed?
Alexi Lalas
(1:11 PM)
I think it's a combination of both. I think that college soccer still has and will continue to have a place in player development, but I think that the developmental academies are becoming a more popular avenue for young players.
Alexi Lalas
(1:12 PM)
I think it's important to recognize the value of a college experience in terms of producing a mature and well rounded player and, more importantly, person. Some young players need the college experience in order to be good players.
Ryan (DC)
How cool do you think it is to have the all-star game and festivities in New York this year?
Alexi Lalas
(1:13 PM)
It's incredibly cool. It's a wonderful city and area and soccer city. It provides incredible media and marketing platform for the game, players and league. Plus, there will be some fantastic parties, which is always important in an all-star week.
Toni Bologna (Palo Alto)
Serie A was best league in world when you played. No longer is it the standard, no? Your opinion.
Alexi Lalas
(1:14 PM)
No. The EPL is where the players have migrated to, because of the prestige and the money. It's to be expected.
Alexi Lalas
(1:14 PM)
To be fair, the EPL has done a wonderful job of marketing themselves and creating one of the most entertaining spectacles.
Terf (The Lou)
At this point in your life, what would you rather be doing? Preparing your body to play in the All-Star Game or lounging around comfortably inside the AT&T All-Star Hub?
Alexi Lalas
(1:16 PM)
As much as I would love to be able to play, I got older and slower and the other guys didn't. I know my limitations right now and so these luxurious accomodations of the ATT lounge at the Hub will suit me just fine.
Greg (Boston)
Alexi, there was a lot of debate following the U.S. women's loss to Japan on if they "choked" or not....what do you think?
Alexi Lalas
(1:17 PM)
I don't feel it was a "choke" because I equate choking with a much greater disparity in score. However, it was a failure. The No. 1 ranked team in the world against a team they should beat and beaten consistently and also unable to preserve two one-goal leads.
Alexi Lalas
(1:18 PM)
But Japan deserves a tremendous amount of credit for taking a page out of the American playbook and showing the resilience and spirit that we ironically we praised the U.S. team for throughout the tournament.
mark (casper)
alexi do u think the mls has a legitimate shot to win on wednesday
Alexi Lalas
(1:19 PM)
Yes. I was just asked that question on Fox News and predicted a 2-1 victory for the MLS all-stars. Of course, this means they now have no shot of winning.
Bryan (Cincinnati)
What is your view on the coaching situation for the usmnt? Do you think we will only get a new coach for the next cycle? Do you think it should be a foreigner like Pia or from the USA like Bob? Lastly who are some of your favorite candidates for the job?
Alexi Lalas
(1:19 PM)
I don't think there is going to be any change for the forseeable future. But when the time comes to make a change, I would like to see a former player in that position.
Alexi Lalas
(1:20 PM)
It is something that we have yet to experience at U.S. men's national team level.
Lucas (Kentucky)
Do you think Louisville or Cinci will ever get and MLS team?
Alexi Lalas
(1:22 PM)
I think expansion will come, but it's going to be very selective and minimal. Certainly New York will be there and then whatever market has the best facility. As far as MLS on a whole, I think sometimes we kick ourselves for what we haven't done yet and we have to take a step back and pat ourselves on the back for how far we have come. It's pretty incredible the progress we have made on and off the field and unprecedented when you compare it to other sports and leagues.
TJ (DC)
Do you see DC getting back on track and making their way into the playoffs? A home loss to NE was a rough one and a waste of 3 potential points.
Alexi Lalas
(1:22 PM)
I think that DC is improved, but I still think that they are not a playoff team.
B. Anderson (Aloona, PA)
If, when, the Cosmos break into the MLS, what sort of positive effect to the league do you see in NYC having two MLS squads?
Alexi Lalas
(1:23 PM)
We've seen that rivalries are very important in MLS. I think in New York City to have another team that challenges the Red Bulls on and off the field will benefit both teams and the league as a whole.
Alexi Lalas
(1:25 PM)
It's been a pleasure talking. In their infinite wisdom, the corporation that is AT-T has given me the opportunity to take over their @ATT Twitter account on Tuesday from 2-3 p.m. The world will never be the same. ATT will never be the same. And they may have to change their password. Onward and upward.