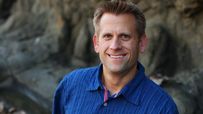 Welcome to SportsNation! On Monday, Sport Science host John Brenkus stops by to chat about his Emmy Award-winning TV show.
Sport Science uncovers sports' biggest myths and mysteries by utilizing cutting-edge technology to measure momentum, friction and the laws of gravity. In addition to his role as host of Sport Science, Brenkus, a Univeristy of Virginia graduate, is also the director and creative director of all BASE Productions programs.
Send your questions now and join Brenkus Monday at 3 p.m. ET!
More Sports Science: Chats | Index | Videos | Blog | @Sport_Science
Buzzmaster
(3:00 PM)
Hey folks, John is busy on a conference call, so he's running a few minutes late. No worries, though, he'll be right here when he's finished, which should be about 3:30 p.m. ET/12:30 p.m. PT.
Buzzmaster
(3:24 PM)
John should be here in a few minutes to take your questions!
Buzzmaster
(3:30 PM)
We've got John!
Mike (LA)
John, did you know much about X Games sports or skateboarding before working with Bob Brunquist? What's something you learned during that episode?
John Brenkus
(3:32 PM)
I'd been exposed previously to the Summer Games, because we did some segments the year before. What I learned is these guys are incredible athletes. Bob Burnquist has the coolest backyard in the world.
Darryl (WA)
John, in looking at hip rotation in golf, was hip rotation just a big factor in getting distance off the tee? Was it linked to anything else, like hitting off the fairway or accuracy?
John Brenkus
(3:33 PM)
It increases distances for every club, not just the driver. The hip rotation is a part of the kinetic linking change and it helps with every swing. Accuracy is effected by everything in the swing, not just hip rotation.
Jeff (RI)
John, I hope the day you were on the Wipe Out set was a hot one, because it looked like you were in the water a lot! Just how hard is it to complete that course?
John Brenkus
(3:34 PM)
It's very difficult to do it, if you've never done it before, which is the case with every contestant. If given enough time, I think it's something you could master. But when trying it for the first time, it's very difficult to figure it out. For example, if you don't know how squishy the big balls are, you have no idea how to prepare to even take a single step.
Cheesehead Sports Nut (Chicago, IL)
Is there a way to do a "lockout effect" Sport Science that looks at how the lockout will impact player's bodies since they did not go through the normal OTAs?
John Brenkus
(3:35 PM)
That's a segment that's too broad. Some players are in better shape than ever, while others might be out of shape. It's too hard to quantify what effect the lockout is or is not going to have.
Luke (Miami)
When working with Mark Monea, did you get the sense from him, or from other athletes like him who do tricks, that they study the physics behind what they're doing or is it all trial and error for them?
John Brenkus
(3:36 PM)
It's a combination of the two.
John Brenkus
(3:37 PM)
Most tricks start by kind of "winging it" but then they're taken to the next level when the athletes really put some thought into the physics. One thing I can tell you about the best athletes in every sport is they don't just "wing it" they apply their mind to their bodies as well.
Pete (RI)
John, when we're talking about a players mechanics or, for instance, Tim Tebow's delivery and passing motion, we're talking physics, aren't we? It's all about the science of the delivery. They can do drills to change the mechanics, but what they're really doing is changing the science behind how Tim throws, right?
John Brenkus
(3:39 PM)
Throwing a football, swinging a bat or hitting a golf ball are all examples of things athletes try to perfect. The reality is there is not only one correct way. All of these motions tap into the kinetic chain. Maximizing the kinetic chain is something all athletes try to achieve regardless of the motion. There are techniques proven to be more effective than others, but every time you try to look at "the textbook form" think of Jim Furyk's swing. It's far from textbook, but it's effective.
Seth A (Moline, IL)
If Sport Science can figure out the Cubs....it should win a Nobel Prize.
John Brenkus
(3:40 PM)
I'm a Redskins fan. I feel your pain.
Neal (Philadelphia)
When you first started doing Sport Science segments, were you amazed at how much science played a part in basically every sport?
John Brenkus
(3:41 PM)
Going into it, I knew science was the foundation for all sports. What's been great to learn along the way is how much all of the athletes care about perfecting their craft through science.
Jacob (Decatur, Il)
Is SS looking into doing segments on action sports at all, like mud runs or various sports such as hang gliding, wake boarding, and etc.? Or do you usually stick with whats hot at the momment or upcoming events?
John Brenkus
(3:42 PM)
We mostly focus on the major sports, but we like to branch out every now and then and do the more fringe sports. Afterall, the hot dog eating competition segments was one of our most popular.
Darryl (WA)
John, how impressed were you with Carl Edwards? He's physically fit and also has good reaction time.
John Brenkus
(3:43 PM)
I was quite surprised at his VO2 max level. I'm glad we were able to do that segment, because I think the general public just thinks NASCAR drivers are turning left all day long. It's an incredible demanding sport that requires elite athletes.
Jeff (LA)
How long does it take to put together a segment, once you start filming?
John Brenkus
(3:44 PM)
About a month from conception to delivery. But we frequently need to shorten that time frame and some times need to lengthen it.
Charlie (Austin)
how far out are you planning segments?
John Brenkus
(3:45 PM)
We're planning very far in advance. And also adjusting on the fly.
jesse (iowa)
Brenkus, you need to do more racing sport science episodes! other wise love the show
John Brenkus
(3:45 PM)
We will be delivering another NASCAR segment next week!
Greg (NY)
How much does a 68 mile an hour curveball mess up a hitter?
John Brenkus
(3:47 PM)
Hitting is all about timing and pitching is all about messing up that timing. The 68-MPH curveball is difficult to examine in a vaccuum, because it really depends on what pitches came before it. But, with that being said, we have computed what would happen to a batter if he swung at a 68 MPH curveball as though it was a 90 MPH fastball. It's ugly.
Jacob (Decatur, Il)
Going back to your schooling with your degree in basically the art of arguing, did you use a lot of science in your arguments and is that where you gained your knowledge of using it on your tv show?
John Brenkus
(3:49 PM)
Science is a great way to build an argument, but it doesn't answer the argument by itself, it needs to be put into a context. My major taught me about the framework of ethos, pathos and logos is essential to creating a compelling argument. The science simply helps in constructing a stronger argument with the proper framework.
John Brenkus
(3:49 PM)
Thanks for all of your support. More great segments coming your way!