Chat with Francesca Schiavone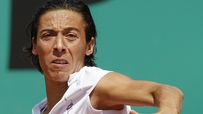 Schiavone won the longest Grand Slam match in the Open Era (4:44) at the Australian Open this year.
Welcome to SportsNation! On Monday, women's tennis player Francesca Schiavone, ranked 8th in the world, will stop by to chat some tennis from the Rogers Cup in Toronto, her first WTA event since Wimbledon.
Schiavone started the year by reaching the quarterfinals at the Australian Open and followed it up by getting back to the Finals at the French Open, an event she won last year. She is gearing up for the U.S. Open where she reached the quarterfinals in 2010.
Send your questions now and join Schiavone on Monday at 2:30 p.m. ET!
More Special Guests: Previous chats | SportsNation
Buzzmaster
(2:25 PM)
WTA Tour's Francesca Schiavone will be here in minutes to take your questions!
Buzzmaster
(2:26 PM)
We've got her!
Francesca Shellard (united kingdom)
your an amazing player, do you think you need to improve on anything? If so what?
Francesca Schiavone
(2:27 PM)
Of course, every shot I can work on. I want to work on my power and cleanness. The first and second ball off the serve.
Henry (Basking Ridge, NJ)
What inspired you to use a traditional topspin one-handed backhand over a two-handed backhand? Since you were the last Grand Slam winner who utilized that rare stroke, how would you encourage future tennis players in working hard at developing that backhand? To college players who uses a one-handed backhand like me, it is a joy to watch someone during this time period succeed with that stroke!
Francesca Schiavone
(2:28 PM)
It's just coming from when you are young and how you learn. Nobody teached me how to hit a backhand. I always hoped to hit it with one hand. It's just something natural that nobody can give to you. It's just something that comes along.
Lorenza Colzato (Leiden (The Netherlands))
dear Francesca, which tennis players inspired you when you were young? How does it feel to be become yourself an icon (at least in Italy)?
Francesca Schiavone
(2:28 PM)
Steffi Graf, Monica Seles, Andre Agassi. I had a lot of favorites.
Daniel (Switzerland)
Do you plan to play Fed Cup next year to win back your title?
Francesca Schiavone
(2:29 PM)
Yeah. Why not? It's a long way to get to the title. It seems easy, but it's not. I would like to play.
Jason (Michigan)
Is it an advantage being one of the oldest players on tour or is it a disadvantage?
Francesca Schiavone
(2:29 PM)
Advantage. I can use my experience. I know the places. I think it's great to be on the court every day.
Matt (Florida)
Hello... how many grand slams do you wish to get... which one that you do not have yet do you want out of the 3?
Francesca Schiavone
(2:30 PM)
Of course, right now it's the U.S. I've worked so hard to play on those courts.
Cheesehead Sports Nut (Chicago, IL)
Take yourself out of the equation, who do you think are the best current players on the WTA?
Francesca Schiavone
(2:31 PM)
I think Li Na is playing well right now. There are 7-8 players that could be considered the best.
gary oliver (london england)
francesca will you be coming to the london olympics ?good luck in u.s. open !gary, big london fan
Francesca Schiavone
(2:31 PM)
Oh yeah. I am looking forward to it. I'm really excited for it.
Buzzmaster
(2:32 PM)
Francesca had to run. Thanks for chatting!