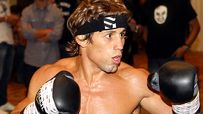 Faber held the WEC featherweight belt for over two years.
Welcome to SportsNation! On Tuesday, we'll head inside the octagon to chat with UFC's Urijah Faber.
Faber is preparing for UFC 139 in November when he'll face Brian Bowles in a bantamweight title eliminator. He's coming off a five-round decision loss to Dominick Cruz for the bantamweight belt at UFC 132 in July.
Faber is working with the UFC and the National Academy of Sports Medicine on UFC Personal Trainer, a mixed martial arts fitness video game. The game features more than 70 different MMA exercises and is available for the XBox Kinect, PlayStation Move and Nintendo Wii.
Send your questions now and join Faber Tuesday at 1 p.m. ET!
More Special Guests: Previous chats | SportsNation
Buzzmaster
(12:55 PM)
Urijah is early!
Drew (NY)
What are ur other hobbies outside of fighting?
Urijah Faber
(12:56 PM)
I get to travel a lot outside of the fight world. Most of the time, I just like to hang out with my friends. We have a close group of guys. We like to BBQ. Chilling in the sun.
Urijah Faber
(12:56 PM)
I also like to play some video games from time to time. When I have some time off, I'll play some games. Like the UFC Personal Trainer.
Tom (New York, NY)
What is your favorite feature of the UFC Personal Trainer video game?
Urijah Faber
(12:57 PM)
I like free workout on the bag. You can set a time and unload a bunch of punchs and kicks. It's like shadow boxing. It's nice to simulate getting some bag work in without hurting your hands. It's called free striking.
Gerald G. (Twinsburg, Ohio)
How do you bounce back from a loss to a guy that is so annoyingly cocky that in my opinion you clearly beat?
Urijah Faber
(12:58 PM)
You just have to stay positive. As far as wins and losses, you can't dwell on them. Fights like that are so close. I was proud of what I did out there. I just stay motivated and get the win next time.
Matt (Chicago)
What would you do differently if you fight Cruz again?
Urijah Faber
(12:58 PM)
I'd be a little more aware of the fact that there are points being taken. When I go in there, I just go for the kill and try to end the fight. I could try for some take downs and play to the judges a little more, even though I don't want to.
Drew (NY)
I dont have any of these systems, if i were to buy this game what system do recommend? (Please dont say all of them)
Urijah Faber
(12:59 PM)
Kinect is the best one as far as I'm concerned. That's what I have. The game is worth getting the equipment. Us fighters do the same workouts. I suggest going out to get it.
David (Spartanburg SC)
What do you feel has been the key to your success at combining your job as a professional fighter with the job of a successful businessman.
Urijah Faber
(1:00 PM)
Having a really positive attitude and a strong work ethic are the two biggest things. Also, creativity. You have to think outside of the box to get the business side of things going.
Matt (Chicago)
Have you watched your fight with Cruz, and if so how did you score it?
Urijah Faber
(1:01 PM)
Yeah, I've watched the fight a couple of times. I still thought I did enough to win. But it was so close you can't complain. It wasn't like I got ripped off. It was a really good fight. I enjoyed watching it.
Drew (NY)
Where is ur favorite vacation spot(s)?
Urijah Faber
(1:02 PM)
I take a little time off after a fight. I've been busy traveling. This whole month, I've been home maybe six days. My favorite place might be Puerto Vallerta, Mexico. I have a place there.
Kyle (NM)
Are youp lanning for your next fight?
Urijah Faber
(1:03 PM)
Yeah. I'm scheduled for Nov. 19 in San Jose. The winner of our fight gets another title shot. I like Brian as a person, but I want a title shot, so I'm going to have to beat him up.
Peter (RI)
Do you like fighting in the UFC? are you happy with being there now?
Urijah Faber
(1:04 PM)
I'm super excited about being here. It's the best place for our sport. You feel like you're on the biggest stage. That's where I feel like I belong.
Frederick (San Diego) [via mobile]
After coming off a tough fight with Cruz where does your confidence stand?
Urijah Faber
(1:05 PM)
My confidence is high as usual. I can thank my parents for that. It just motivated me. I felt like I was really close to winning that belt. I had some knockdowns and it was a competitive fight. I'll have to do more next time to get the W.
David (Spartanburg SC)
How many requests have you had from the ladies for you to fight in a blue speedo?
Urijah Faber
(1:05 PM)
I haven't had any requests for it, but I think I could pull it off better than he did. That was pretty hard to watch.
Marc (Malden, MA)
Big fan, but I thought you could have let your hands go a little more. Cruz started to slow down in the later rounds and I was hoping you would just throw caution to the wind and go after him.
Urijah Faber
(1:06 PM)
Yeah, I was trying to go after him the whole fight and I felt him slow down also. But he's pretty good when he's tired. The bottomline is that he's pretty hard to hit. I'll do better next time.
Urijah Faber
(1:07 PM)
Thanks for tuning in. It was fun talking to you guys. Go check out UFC Personal Trainer and get in shape.