Chat with Brad Keselowski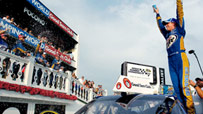 Welcome to SportsNation! On Thursday, we'll be joined in chat by the latest winner on the NASCAR Sprint Cup circuit, and two-time winner this season, Brad Keselowski.
Keselowski, driver of the No. 2 Miller Lite Dodge, drove all 500 miles at Pocono Raceway with a broken ankle and still got to Victory Lane. Getting his second win gave Keselowski, who sits 18th in the points standings, the inside lane at earning one of the two wild card berths into the Chase.
Send your questions now and join Keselowski Thursday at 1 p.m. ET!
More Special Guests: Previous chats | SportsNation
Buzzmaster
(1:04 PM)
We've got Brad!
Tracy Johnson (Las Vegas)
What types of theropy do they have you doing for your foot to prep for these races at the end of the season?
Brad Keselowski
(1:05 PM)
Well, I've been doing some physical therapy. I don't know what it's called, but it involves some stuff to reduce swelling and some electroshock therapy.
Chris Fiegler (Latham,NY)
I am Just Wondering how are you going to drive at Watkins Glen with a Broken foot since you are driving a Road Course?
Brad Keselowski
(1:06 PM)
Watkins Glen will be one of the toughest challenges of the year. I'm not sure how it will work. We'll find out. I'm sure there will be a lot of hard work. We'll just have to tough it out.
Ricky (North Carolina)
How much pressure is it to step into a car with a history like the 2 and sponsor Miller Lite and perform up to standards such high standards in your first 2 full seasons in Cup?
Brad Keselowski
(1:07 PM)
It's a lot of pressure, but it's part of the deal. I feel very lucky to have the opportunity I have and quiet the pressure that I have had. Hopefully I can keep winning and not have to worry about it.
David (Los Angeles)
Congrats on the win Brad! Does being around 20th in points allow you to take more chances than a driver between 8-12 in the points? And if so, is that more fun knowing you can go for wins each week and a 25th really doesn't hurt that much?
Brad Keselowski
(1:08 PM)
I don't think we need to change our approach at all. We've been racing very aggressive for wins. We've probably given away some top 10s, but we have gotten the two wins. Our strategy has serviced us well. I don't think we need to change it.
Chad (Illinois)
Did you actually have blood drained out of your ankle to reduce the swelling? I'm just trying to make sure I understood that correctly.
Brad Keselowski
(1:09 PM)
I did some different procedures to help that, yes. I didn't do anything medically, but I did do some things to help.
Kathy (Ann Arbor)
Sonoma is considered a technical track. What are the special characteristics of Watkins Glen? How will these characteristics challenge you in light of your injuries?
Brad Keselowski
(1:10 PM)
It's always a challenge. It's a very heavy breaking track. So you're use a lot of leg input and you'll do it several times. You don't get any long rest. All of the breaking you do is hard. It will hard to see how hard until you get out there and get going.
Jesse (Iowa)
What were your expectations going into Pocono with a broken ankle? We missed you at Iowa speedway!!!!!!!
Brad Keselowski
(1:10 PM)
I really didn't have any. We go to every race to win. Our expectation was to do well. With the speed that we had, we thought we had a shot at winning. I didn't see any reason to lower expectations because of my foot.
Tracy Johnson (Las Vegas)
I know you like to workout a lot. How has your injuries changed that? What are you doing instead?
Brad Keselowski
(1:11 PM)
I've spent more time on physical therapy, not much time to work out. I need to get back to it, but it's a part of the deal.
Dusty Smith (Watkins Glen NY)
Is your ankle going to keep you from running double duty this weekend?
Brad Keselowski
(1:11 PM)
Yes it will. Kurt Busch will be driving the 22 in replacement of me.
Miller (Somewhere)
Congrats on your win. Millertime!Is there anything in particular that you would credit for Penske's good year this year?
Brad Keselowski
(1:12 PM)
Thanks for the congrats. I would credit good team work and the good cars every week. Pushing forward.
Matthew (Columbia, NJ)
Brad, as a driver how do you feel about the Pocono races being shortened to 400 miles next year?
Brad Keselowski
(1:13 PM)
It doesn't really matter to me if it's short or long. It's all about what the fans like. If that's what they want, then I'm good with it.
Lindsay (Virginia)
Are you still planning to participate in the tire test at Martinsville next week?
Brad Keselowski
(1:13 PM)
Yes.
Thomas (MN)
Congratulations on your huge win on Sunday! Probably the question everyone wants answered is how you're feeling physically going into this weekend's race at the Glen?
Brad Keselowski
(1:14 PM)
It's been painful so far, but hopefully the different procedures I've done pay off. I'm in some pain, but that's what it's all about, fighting through the pain.
Chad (GA)
With where you are in points and the tracks coming up how do you feel about your chase chances?
Brad Keselowski
(1:15 PM)
I feel like we have a great shot at making the Chase. We're not in it by any means right now, but we're in good standing. We just have to do what we've been doing and we'll get those spots. We have some races coming up that I feel good about. We'll have to see how it comes together.
Jamerson (Georgia)
Who do you think are your biggest threats to take away a wild card spot for the Chase?
Brad Keselowski
(1:16 PM)
I think you have to look at Denny Hamlin for sure. All he has to do is win another race. David Ragan. In reality, someone is going to have to win another race to knock us out. That will be a tall order. We'll just have to see how that all goes. Paul Menard is in that group too.
jesse (iowa)
Brad are you going to run in the nationwide sereis full time in 2012?
Brad Keselowski
(1:16 PM)
I'm not running it full time this year and I certainly don't plan on doing more next year. Exactly how many races, that's TBD.
AJV (Scranton, PA)
Hey Brad. First of all, how's the foot? Secondly, do you think you still would have won on Sunday if the track conditions did not change after the rain? Also, what do you think your chances are in the chase if you hang on to a wildcard spot?Thank, AJ.
Brad Keselowski
(1:17 PM)
That's a really tough question. We made an adjustment on the car right before the yellow came out. It's hard to say whether or not that change was what made my car better or the track changing. To be honest, I really don't know.
Derek (MN)
Will you take as many risks now to get into the chase considering you have 2 wins and the other drivers outside the top 10 only have 1?
Brad Keselowski
(1:18 PM)
We're not going to change anything we've been doing. We've been pushing for wins all along.
Nick (KAwkawlin Michigan)
Brad how hot does it get in the car when your racing? Big shoutout from Michigan
Brad Keselowski
(1:18 PM)
It's a pretty good rule of thumb that it's about 40 degrees hotter in the car than it is outside.
Ed (Bay City, MI)
Great work last weekend! Could you please explain a few of the basic differences in the way the car will be set up this weekend? Stay in the top 20 and good luck in the chase.
Brad Keselowski
(1:19 PM)
Obviously, since you're turning right, the weight percentages on the car are different. That's the biggest differences are the weight biases. We'll do other small things. It's not as much as you'd think.
Kevin (Boston, MA)
Brad, what are the final laps like when you are closing in on a win? I would think the temptation to overdrive the car must be huge...how do you fight that?
Brad Keselowski
(1:20 PM)
Absolutely. That's a spot on assessment. For me, it's having a mental discipline. You just focus on the task at hand and not overdrive the car. You can't do it. You can't let that happen.
Cody Johnson (Indiana)
I know you must be sick of al of the ankle questions and chase questions, so here's a different one. If you could pick just one track t owin at, which would you pick?
Brad Keselowski
(1:22 PM)
Oooh. Wow, that's really tough. I would be interested in winning Michigan, because it's my home race. The Bristol night race. Daytona. The Brickyard. That's a tough question. Daytona is the biggest race in our sport, but there are some other races that might interest me more. I would say it's a toss up between Indy and Michigan.
Nick (MI)
Nice to see a MI native doing so well in sports I think you along with people like Greg Jennings and Derek Jeter are one of the best athletes from Mi. Do you feel to that your are one of MI's greatest athletes?
Brad Keselowski
(1:23 PM)
It's very flattering to be compared against those guys. They're pretty exceptional, you're right. I don't compare myself to those guys. I just try to do my own thing. It's a different sports world. Certainly being from Michigan and winning races is a real honor.
Brad Keselowski
(1:26 PM)
I have a deep appreciation for the fans and thanks for following. Hopefully we'll see you out at the races. Follow me on Twitter: @keselowski or on my website BradRacing.com.