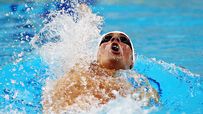 Lochte won seven NCAA titles.
Welcome to SportsNation! On Tuesday, we'll hit the pool when U.S. Olympic swimmer Ryan Lochte stops by to talk about his preparations for the 2012 London Olympic Games.
Lochte, a six-time Olympic medalist, picked up four medals at the 2008 Beijing Games, winning his two golds while setting world records in the 200m backstroke and 4x200m freestyle relay. While his 200m back world record was broken in 2009, Lochte just set the 200m individual medley world record in July. Lochte also won a gold and silver at the 2004 Athens Games.
In preparation for the 2012 Games, Lochte has been using the G Series Fit while working with the Gatorade Sports Science Institute. Fans can follow his training on his website RyanLochte.com and his Twitter: @ryanlochte.
Send your questions now and join Lochte Tuesday at 2:30 p.m. ET!
More Special Guests: Previous chats | SportsNation
Buzzmaster
(2:19 PM)
Six-time Olympic medalist Ryan Lochte will be here at 2:30 p.m. ET to take your questions!
Buzzmaster
(2:34 PM)
Ryan is here!
Bianca (Mass)
With London a year away, when will you decide what events you are going to swim? Are we going to have to wait and see at Trials?
Ryan Lochte
(2:35 PM)
Yeah, pretty much. Right now, I'm just getting back into my training mode. Around December is when I'm going to sit down and talk to my coach about the events that I'm going to be choosing.
Dane (NJ)
What is the most important aspect of your dryland training?
Ryan Lochte
(2:36 PM)
Right now, I would say my most important is two things: the Strongman competition stuff that I do. It's a lot different. And, I would probably say my core work. In swimming, the most important thing is your core. Doing sit ups, abs. Those two are the most important things of my dryland training.
Michelle (Santa Monica, CA)
Will you be training in Florida for a while or do you have any plans for moving to a new area?
Ryan Lochte
(2:37 PM)
As of right now, I'm staying right here in Gainesville at the university training with my strength coach and swim coach. After the Games, I will decide where I want to live and train in my next career.
Brittany (Bay Area)
How are you approaching the 2012 London Olympics differently (or more strongly) than the 2008 Beijing Olympics?
Ryan Lochte
(2:38 PM)
The only thing different is I have a lot more confidence than I've had going into 2008. With everything that's happened in 2010 and 2011, I just feel more confident and I'm a lot more focused and ready.
Jessica (Scottsdale)
What did u learn from training with Gatorade that you didn't know before? I love seeing your cameo in their new spots! About time us swimmers get the same love as the Jeters and other pro athletes in their ads! good luck with 2012!
Ryan Lochte
(2:39 PM)
Honestly, I would have to say the sports nutrition and how it impacts my performance. I wasn't really big into nutrition before, but once I hooked up with them, they taught me that what I put into my body is as important as my cap and goggles every day.
Kevin (CT)
Anyone who has ever been in the water wants to have a meet like Michael Phelps did in Beijing. What was it like watching that up close like you did? Was it distracting at all?
Ryan Lochte
(2:40 PM)
It wasn't distracting. It was amazing. I think everyone learned from that. A lot of people said that could never be done. Michael did it. It shows that it can happen. It gave me a motivational boost. I want to become the best swimmer out there. It definitely helped me out.
Lea (Maryland)
What is going through your head when you're racing?
Ryan Lochte
(2:41 PM)
Not much. At that point, in the middle of the race, I'm just focusing on the stuff I've done in training like my stroke technique. Racing the people next to me and getting my hand on the wall first.
Ali B. (Orange County, CA)
How do you deal with bad races?
Ryan Lochte
(2:42 PM)
Since I train so many different events, I take each race at a time. So, if I have a bad race, no matter what the outcome is, when I touch the wall, I forget about it. I'm always looking forward and never to the past. You have to forget about it and focus on the next one.
Mary (MD)
Since you have so many different events, do you think it helps you versus being a specialist?
Ryan Lochte
(2:43 PM)
I think it helps out. I do so many events that there are not that many swimmers out there that do as many events I do, except maybe Michael. It is hard, but at the same time, after doing it so long in training for those events, it becomes easier. It's just like practice makes perfect. The more you do something, the easier it becomes.
Karina (Columbus, Ohio)
What is your favorite thing about G Series Fit?
Ryan Lochte
(2:44 PM)
It's good! I love it. Everything. Before, I was never very big into eating before practice. What the Gatorade Institute taught me, especially with the G Series bites, they help out a lot. It gives me energy and I'm able to perform at my highest level in practice.
Megan (Minnesota)
What is the most difficult part of training for you, and how do you over come it?
Ryan Lochte
(2:46 PM)
For me, especially at the University of Florida, they believe in the old school approach of train, train, train, get the yardage in. It's hard to get back into that pool knowing you're going to get your butt whooped in practice. So, just going to the pool knowing that you're going to have to get your yardage in.
Kimi (Irvine)
Which event (stroke and/or distance) is your favorite to race?
Ryan Lochte
(2:46 PM)
My favorite to race would probably be the 200 IM. It's short you do one length of each stroke. It's more of a sprint event.
Geena (MA)
What are you looking forward to most about London 2012?
Ryan Lochte
(2:47 PM)
Besides after the Olympics and doing some shopping out there, just being in the Olympic atmosphere. You meet SO many different people. It's so much fun. That's probably what I'm looking forward to the most. That and getting some gold medals.
Bernardo (Chicago, IL)
What's on your iPod that you listen to before you race?
Ryan Lochte
(2:48 PM)
I don't really listen to music before my race. I feel like if I listent to music before my race, I'll feel like I'm in the zone and I don't want that because I dont' want to think about swimming until I'm in the blocks. But if I am listening to music, it's usually hip hop and Li'l Wayne and Jay-Z.
Shawna (Ft Worth Texas)
Do you think the change of your physique has changed your stroke in any way leading to your faster times? if so, what changes in your daily workouts have you made to achieve this with your body?
Ryan Lochte
(2:50 PM)
My body has changed since 2008. I've gotten a lot bigger. So, I've gotten a lot more muscular. That's due to my weight training. It has helped me in the water. Most of my events are not sprint events or distance events, they're mid-distance. I needed to be bigger than I was in 2008. It's different because your stroke does change and you have to adapt to it.
Ali (California)
Approximately how many yards/hours a week do you swim?
Ryan Lochte
(2:51 PM)
Oh, I lost count. We swim 9 times a week. I would say including if it's just in the pool, we swim around 20 hours a week. But with dryland and weight training, I'd say 35 hours a week. Yardage, I'd say we go 70,000 meters a week.
Layla (FL)
Do you ever get tired of answering the same questions over an over again?
Ryan Lochte
(2:51 PM)
No...it's kind of like swimming, the more you do it, the easier it becomes.
Alec (Phoenix oregon)
when will you stop swimming and what will you do after you stop
Ryan Lochte
(2:52 PM)
I told myself I will stop swimming once I'm not having fun any more. I don't see that happening any time soon. My biggest goal is to go to the 2016 Games, so two more Olympics and then I'll decide if I want to keep going for 2020 or hang up the Speedo and figure out what I want to do next, which is designing clothes.
Risa R (MN)
How do you handle the pressure to be the best?
Ryan Lochte
(2:53 PM)
I kind of don't let that pressure get to me. It goes through one ear and out the other with me. When people say that you're the best swimmer in the world right now, I don't think I am the best in the world yet. There is a goal that I want to accomplish in the sport and I have not reached that yet.
Rob (Jacksonville, FL)
My kids are 6 and 7 and love swimming on there summer swim team, we've been reluctant to start year around due to burnout. How old were you when you started year around and what do you recommend.....oh and GO GATORS!!
Ryan Lochte
(2:54 PM)
When I was a kid, I was just having fun. I was enjoying it. I did so many other sports besides swimming. I never got burned out. I wasn't the best swimmer growing up. I didn't have my dreams become a reality until my first year in college.
Jennifer (NASHVILLE, TN)
How did your collegiate career at the University of Florida help you train and become the person you are today?
Ryan Lochte
(2:55 PM)
It helped me out a lot. I feel like I have the best swim coach in the world and the best weight training coach in the world. That's basically where my swimming career started here at Florida.
Marc (Charlotte)
Do you prefer to grill with charcoal or gas?
Ryan Lochte
(2:56 PM)
I love cooking out. I do like to grill. I can't get enough of steaks. I do have a grill outside on the pool deck. It's a gas grill.
Karina (Columbus, Ohio)
Did you always want to be a swimmer? Or was there a time when you aspired to be something else?
Ryan Lochte
(2:57 PM)
Growing up in Daytona Beach, especially in high school, I was a better basketball player than I was a swimmer. I always wanted to become a basketball player before I wanted to become an Olympian.
Ryan Lochte
(2:57 PM)
Thank you. Keep loving and supporting me like you have. I couldn't do it without you guys.