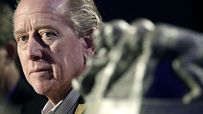 Manning has two sons in the NFL: Peyton (Colts) and Eli (Giants).
Welcome to SportsNation! On Wednesday, former NFL quarterback and Ole Miss great Archie Manning stops by to chat about the upcoming NFL and college football seasons.
Manning played 13 seasons in the NFL, 10 with the New Orleans Saints. Despite playing on only one Saints team to finish over .500, Manning still threw for over 20,000 yards in his career and 125 TDs. He was the second overall pick in the 1971 draft coming out of Mississippi and was inducted into the College Football Hall of Fame in 1989.
Manning is working with the Liberty Mutual Coach of the Year Award to honor excellence in coaching on and off the field, while also raising money for charity. Entering its sixth year, the award has donated more than $1.2 million.
Send your questions now and join Manning Wednesday at 4:15 p.m. ET!
More Special Guests: Previous chats | SportsNation
Buzzmaster
(4:06 PM)
Former NFL great Archie Manning will be here at 4:15 p.m. ET to take your questions!
Buzzmaster
(4:16 PM)
We've got Archie!
Stu Noxapater Mississippi [via mobile]
As we get close to the kickoff of the college football season, do you see any team in the SEC that might be a surprise contender for the SEC Championship?
Archie Manning
(4:17 PM)
I think the power has shifted and the West was really strong last year. Auburn was strong. Alabama and LSU are loaded. The team you have to look out for is Arkansas. You don't hear as much about Florida as you used to. I think Will Muschamp will go out there and do a good job.
david oxford ms [via mobile]
What do you think Ole Miss needs to have to be a national contender?
Archie Manning
(4:18 PM)
It would be really great if we could get out of the box good with a win over BYU. That won't be easy. They're returning a good team. Ole Miss has some inexperience at the QB position. If they can get off to a good start and get their QB some experience, they could have a good year. They've got a very tough schedule.
Chris ( NH)
Archie, who are some coaches that you think will be in the running for the Liberty Mutual Coach of the Year award this year? I think Nick Saban's crew might win a national championship, so I would think he'll be int he running.
Archie Manning
(4:20 PM)
He very well could. He has won it in the past. I mentioned Arkansas in the SEC. Bobby Petrino, I think he's an outstanding coach. I think Bob Stoops at Oklahoma. He's had outstanding teams there for years. There will always be some surprises. This award, it will be for someone who does well, but for someone too who runs a really solid program. We've had some hiccups in college football recently, but I think most coaches do run a good program and have integrity and try to build good men.
Adam R (Albany)
Mr. Manning, what was the first thing you said when Peyton and Eli said they wanted to play in the NFL?
Archie Manning
(4:21 PM)
I can't remember them saying they wanted to play in the NFL. They said they wanted to play college football. I told them that was a great goal, but told them there were other things they needed to do, like do well in school so the college that you like wanted them. They worked really hard and accomplished their goals.
ethousand, atlanta [via mobile]
What do u think of Michael Vick being an elite quarterback? Do you think he can led the Eagles to a Super Bowl?
Archie Manning
(4:22 PM)
He's certainly capable of doing that. He's elite with his athleticism. He seemed comfortable with the Eagles last year. He's determined to overcome the problems he's had. The Eagles have surrounded him with some really good players. We'll see what happens.
Evan- Muncie, IN [via mobile]
What's the most challenging part of watching your sons play? Do you talk to them about different situations or do you guys try to not talk football all the time?
Archie Manning
(4:23 PM)
Not really. That's what their coaches are for. I'm just their dad, not their coach. We talk football, but I don't get into the X's and O's.
Mark (Pa)
Which qb in college do you think has the same skills has you had?
Archie Manning
(4:24 PM)
(laughs) Well, there are lots and lots of players in college and pro that are better players than me. In college, I was a running QB. We were a sprint out offense, so I had a big transition going into pro ball.
Troy (Jackson, MS) [via mobile]
Hey Archie! Big fan of you and your family. How hard is it as a father to listen to criticism of your sons from the media?
Archie Manning
(4:25 PM)
I just kind of accept that is part of it in this day and time. If you're a QB in the NFL, you'll be subjected to criticism. I don't go around looking for good things people are saying, so I'm not looking for the bad either. I'm proud of them, so to me that's just part of the game.
Dave (NJ)
Will you vote on the Coach award?
Archie Manning
(4:25 PM)
I'll probably be casting a few votes. I watch a lot of college football, so I'll be voting.
Jacob [via mobile]
Do you think Peyton will be ready by week 1?
Archie Manning
(4:26 PM)
I really just don't know. I know he's dedicating this week to getting in some practice with his teammates and seeing if he's able to do the job.
victor (louisiana)
hi arch Do you have any predictions for a national champ ion and who wins it all in 2011?
Archie Manning
(4:26 PM)
I'll throw a team out there, Alabama and Oklahoma.
Patrick (NYC)
What was your favorite type of defense to face as a player?
Archie Manning
(4:27 PM)
A real weak one.
Archie Manning
(4:27 PM)
Slow and non-athletic.
brad thomas hines (hammond,louisiana) [via mobile]
Huge fan of the manning's. When did cooper,Peyton,and eli start showing interest in football? When did you start working with them/teaching
Archie Manning
(4:27 PM)
They weren't playing football into junior high school. They had an interest before then, but it was mostly playing it out in the yard.
Rick (Toronto)
If there was one receiver today that you wish you had on the Saints, who would it be?
Archie Manning
(4:28 PM)
Oh yeah, I could name you about a dozen. I think Andre Johnson from Houston. I think even I could get the ball out there for him to catch it.
Chris Fiegler (Latham,NY)
When will we ever see Eli & Payton face each other in the Super Bowl?
Archie Manning
(4:29 PM)
Well, that would be awesome, but it would be tough on our family. I would love for each of them to get back to a Super Bowl.
Archie Manning
(4:30 PM)
I hope everyone votes for the Liberty Mutual Coach of the Year Award. The fans have a big say in who wins, so go vote at CoachoftheYear.com.