Chat with Patrick Peterson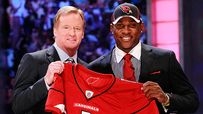 Peterson was the fifth overall pick in the June NFL draft.
Welcome to SportsNation! On Tuesday, Arizona Cardinals rookie cornerback Patrick Peterson stops by to chat as the NFL season moves into Week 1.
Peterson was the top defensive back in college football in 2010, earning two national awards (Thorpe and Bednarik) as well as being a consensus all-America selection. He picked off four passes in 2010 at LSU, returned two punts for touchdowns, while amassing 135 tackles.
Peterson has joined the fight against childhood obesity by partnering with WAT-AAH!, a brand of bottled water aimed at spreading, to kids, the message of healthy hydration and creating awareness against childhood obesity.
Send your questions now and join Peterson Tuesday at 4 p.m. ET!
More Special Guests: Previous chats | SportsNation
Buzzmaster
(3:57 PM)
Patrick is here!
KEvin (NYC)
How do you feel LSU prepared you for playing in the NFL?
Patrick Peterson
(3:58 PM)
LSU prepared me to the best of their ability, which was very good. Coming to the NFL and being in this environment is nothing new. Coach Miles preparing us for Saturday and for camp is very similar. LSU definitely got me prepared for the NFL. I would like to thank those guys for sharing that information with me.
Kiran Joshi (Fort Lee, NJ)
Hello, what is your motivation, besides making money, for playing in the NFL. What is your motivation for joining the fight against childhood obesity?
Patrick Peterson
(3:59 PM)
My motivation is to send a message across the world to little kids that are having trouble with obesity. It's the No. 1 thing in our childs' lives. We have the power to talk to kids and change their minds that soft drinks and those things aren't that good for them. Water is the healthiest thing. Nothing wrong with it.
Jeremy (Chicago, IL)
How does it feel going up against Larry Fritz in practice all the time
Patrick Peterson
(4:00 PM)
It feels great. Larry is going to get me prepared to make plays and I hope that I do the same for him.
Kevin (VA)
Why 21?
Patrick Peterson
(4:01 PM)
I definitely was sad to see 7 go. 21 was worn by legends. It's such a legendary and well known number. But it hurt me to the heart to find out I couldn't wear 7 anymore.
Jeremy (Chicago, IL)
Any pre-game rituals?
Patrick Peterson
(4:01 PM)
I had one in college. But since this is my first year, I don't have any now. But I have plans on creating new ones. I'll be figuring that out.
Jeremy (Chicago, IL)
How does the injuries of your fellow CB's affect you?
Patrick Peterson
(4:03 PM)
They don't just effect me. They effect the whole secondary. It was one of those freak accidents that happen in football. With me stepping into the job, I want to make plays. Everybody in the Arizona organization knows that we had a playmaker there, so it's something I have to do as well.
Tony White
Why choose a water bottle over a sports drink like most other professional athletes?
Patrick Peterson
(4:04 PM)
When I first had the opportunity, and they presetned the opportunity to me, I thought it was a no-brainer. Not that there's anything wrong with sports drinks, I just wanted to do something different. It sends a different message to kids to slow down this childhood obesity.
Benjamin (Concord)
How has Larry Fitzgerald helped in getting you ready for the season?
Patrick Peterson
(4:05 PM)
Well, the routes, first of all. They are so precise. He is always on the money in and out of his breaks. I know I'll be facing a good guy each week. He's one of the top receivers in the game. He works hard. He plays every snap. He forces me to do the same. That's how he's getting me prepared for Sundays.
Lester (Austin, TX)
What's been the biggest change you've notice from preparing for the college season to preparing for the NFL?
Patrick Peterson
(4:05 PM)
Well, the difference between college and the NFL. More games. The main thing is you need to take care of your body. These guys don't put as much wear and tear on us. There's only 12 games in colelge versus 16 here. That's probably the main thing.
Fronz (Buffalo)
Hey man good luck this season! I heard you partnered with WAT-AAH! What made you decide to invest in this particular brand?
Patrick Peterson
(4:07 PM)
First, I believe they've been sending a good message. They're making it cool. Making it fun. They have four different labels. One water for the body, energy, immunity and the mind. They have the opportunity to drink the water and see it work. It will change some minds. That's why I went with this particular water company.
David (Florida)
How good is Beanie looking so far? Have a good year in him this season? How fun is it to cover Fitz? The guy is a beast!
Patrick Peterson
(4:07 PM)
Beanie has been looking great. In my eyes, he's had a good camp. He's working at his craft as the whole team will. He's a great guy, great teammate. I can't wait to see what he does for us this season.
Tyler (ATL)
Patrick How often do you get noticed on the street?
Patrick Peterson
(4:08 PM)
Hopefully it will come. It comes with making plays. If I do those things on the field, hopefully I'll be making those plays that get me recognized "on the street" and worldwide.
Jr (Arizona)
Any goals you set for yourself this season?
Patrick Peterson
(4:09 PM)
I have, but I don't want to disclose those goals. I'd rather keep them to myself.
Edan (Lyn)
This is an exciting move, congrats! Will we be seeing you in any Wat-Aah campaigns anytime soon?
Patrick Peterson
(4:10 PM)
Hopefully, as the water company any of those things planned, I would love to do it. It's all upon if they want to put me in promotions. Whatever they have planned, I'm all for whatever they ask of me.
Patrick Peterson
(4:10 PM)
Thanks to all of my fans for supporting me. It will be a fun season. I won't let you guys down. Go Cardinals!